There's no better cocktail than a refreshing Spritz Veneziano, or Aperol Spritz, to sip on a warm evening before dinner or on a lazy afternoon.
The Italian cocktail is made with just three main ingredients (Apreol, sparkling wine, and sparkling water), requires no skill to make other than uncorking the bubbly, and can be mixed up in about 1 minute- what's not to love about that?
Jump to:
The Essentials
To build a spritz, just remember the 3:2:1 formula, 3-parts sparkling wine; 2-parts Aperol (or other amaro): 1-part sparkling water or soda. Traditionally served in a stemmed jumbo wine glass, the cocktail is mixed right in the glass, so no special equipment is needed.
How to make
Fill glass about 3 oz. of chilled Prosecco or other sparkling wine, about ⅔ full.
Use a jigger to measure 1 ½ oz. of Aperol. Note: I use 1 oz. because I like my spritzes a little less sweet.
Stir, add ice, and top with a splash of sparkling water or soda.
Garnish with an orange slice and enjoy.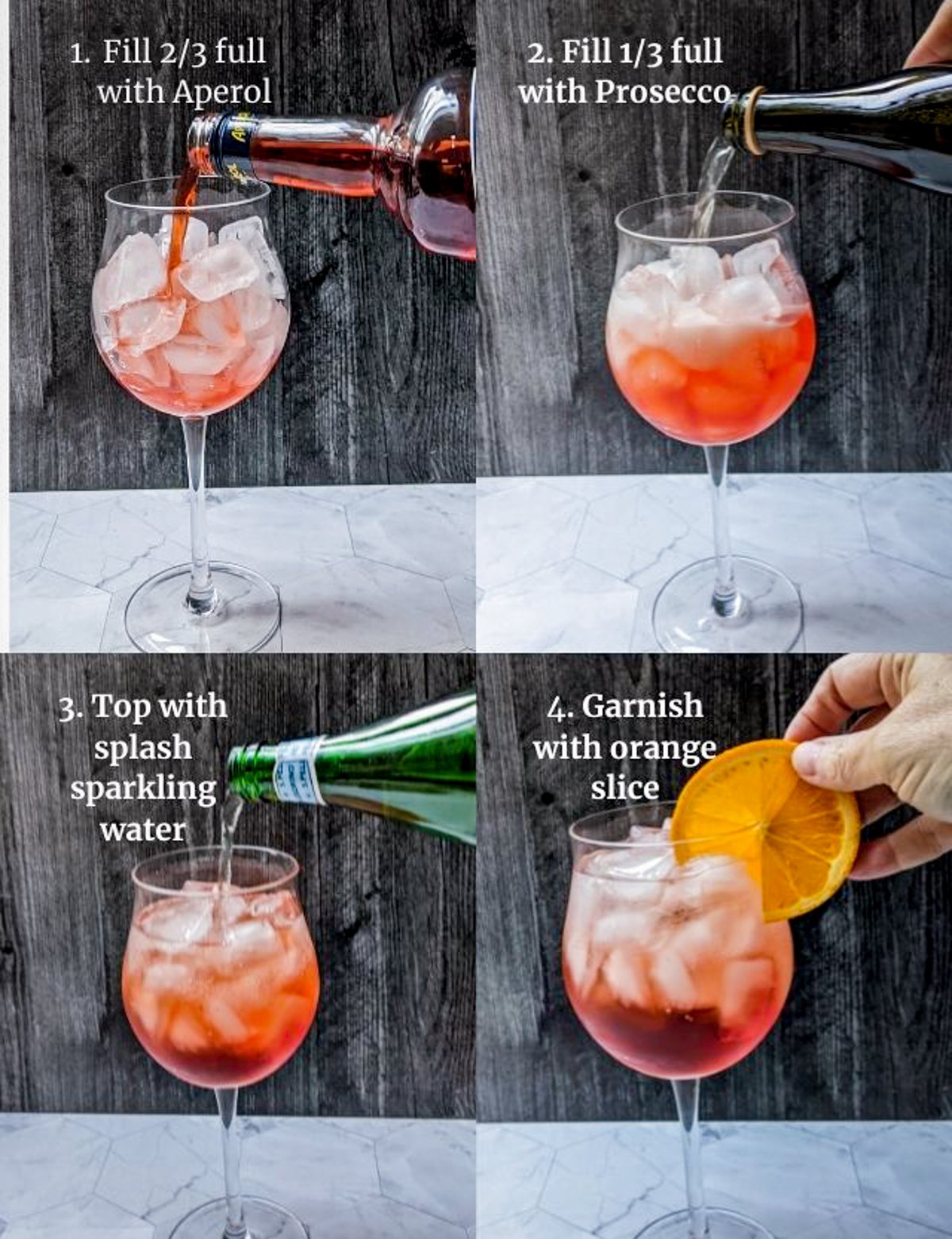 Cocktail FAQs
What is Aperol?
With a vibrant crimson color and ingredients that include herbs, citrus, and roots, Aperol is a hint bitter, a touch fruity, and alcoholic, but with a low proof enough (around 11 percent) that it won't overwhelm a drink. The apertivo, a beverage to be sipped before dinner to stimulate your appetite, was created in Italy by the Italian Barberie Company and the recipe has remained unchanged since 1919. Aperol is considered an amaro, which is a group of Italian herbal liqueurs known for their bitter and herbal profile. Aperol is now owned by The Campari Group
What are armaros?
Armaros are a wide, loosely defined category, but for the most part belong to a family of Italian liqueurs, all with a slightly bitter, herbal profile, like Aperol. They are traditionally sipped after dinner as digestivos. The craft of making amaro began in Italian monasteries in the 15th or 16th century, based on healing traditions of herbalism and became a popular bottle business in the 1800s. Many amaros are popular in the US today, including Aperol and Campari.  It's worth it to explore this category further, as you'll be amazed at their vast variety and flavor profiles.  Some of my favorites include Averna,  Fernet Branca, and Dell'a Etna.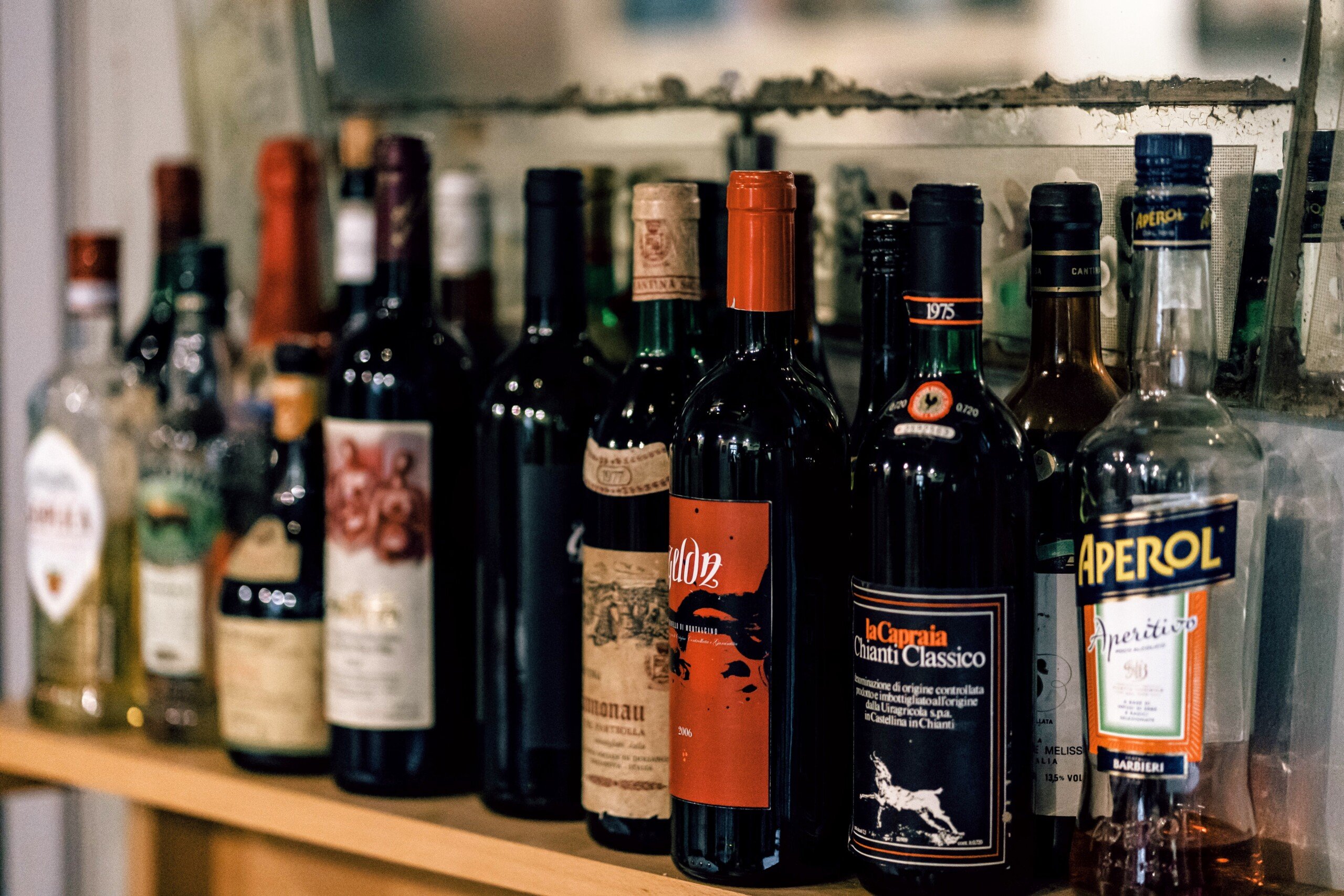 What other drinks can I make with Aperol?
The spritz if certainly the most popular cocktail to make with Aperol, but there are many others. Here a few:
The Paper Plane: Combine 4 equal parts in cocktail shaker with one cube on ice: Aperol, bourbon, Amaro Nonino, and lemon juice. Shake well and strain into glass with ice.
Venezia Margarita: Add a splash of Aperol to your favorite margarita on the rocks.
Ten Spot Cocktail: Combine 1.5 oz gin in a cocktail shaker with ½ oz each Aperol, lime juice and grapefruit juice. Shake and strain into champagne glass.
Cocktail Tips
Choose quality ingredients. The sparkling wine takes up the most real estate in this drink, so when deciding on bubbles, choose a quality prosecco or other sparkling wine. Just be sure it's dry, open it fresh, and serve it fast.
Don't forget to garnish!
We drink with our eyes first, so make your Aperol spritz shine with a simple orange garnish.
Orange wheel: Slice a small navel or blood orange into ¼inch thick slices. Tuck a slice into the mixed spritz so it's up against the inside of the glass.
Orange wedge: Cut a navel orange lengthwise, then slice about ¼ -inch thick. Cut a small slice in the center of the orange flesh and slip it onto the edge of the glass.
Other garnishes: Fresh mint sprigs; Small edible flowers, such as nasturtiums; Frozen raspberries or blueberries
More drinks to try
Comments and ratings
If you've tried this Spritz Veneziano or any other recipes and drinks on our site, please leave a comment and rating below. We love hearing from you!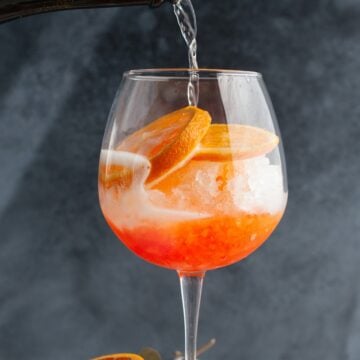 Spritz Veneziano | Aperol Spritz Cocktail
The Aperol spritz, or Spritz Veneziano as it's known in Italy where the cocktail originated, is a refreshing blend of sparkling wine, Aperol, and sparkling water or club soda. It's one of the easiest cocktails to mix, as it's done right in the glass (stemmed is traditional) using a 3:2:1 ratio -- 3 parts sparkling; 2 parts Aperol; 1 part club soda. I like to go a little lighter on the Aperol, and usually use 1 part, but that's up to you to taste and decide.
Hop on over here to watch how to make an aperol spritz cocktail
Ingredients
3

ounces

chilled sparking wine

such as Prosecco

1-2

ounces

Aperol

Splash club soda or sparkling water

Orange slices for garnish
Instructions
Fill a large wine glass with ice. Add the Prosecco, filling about ⅔ full and then add the Aperol. Top with sparkling water, stir well.

Garnish with an orange slice, and enjoy!
Notes
In Italy, the Aperol Spritz (or Spritz Veneziano)is served as an aperitivo, or aperitif—a pre-dinner cocktail that's usually light on alcohol and refreshing. The aperitivo is meant to stimulate the appetite but not weigh down the palate, or get you too tipsy.
Nutrition
Serving:
1
g
Calories:
230
kcal
Carbohydrates:
30.4
g
Protein:
1.6
g
Sodium:
8.1
mg
Sugar:
22
g
Let's connect!
Be sure to FOLLOW US on FACEBOOK, INSTAGRAM and PINTEREST Many thanks!