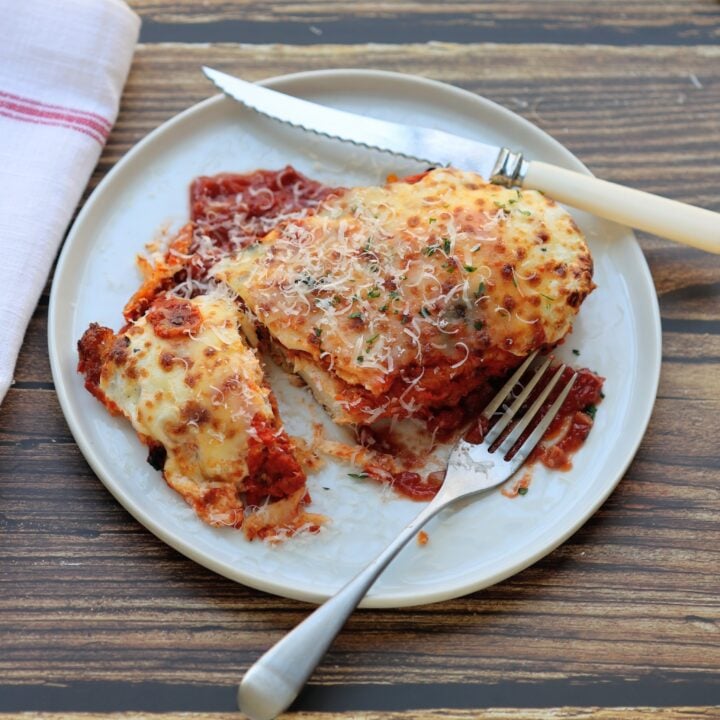 Easy Crispy Chicken Parmesan
This streamlined chicken parmesan delivers crispy cutlets smothered in a delicious, slightly sweet sauce and dripping with melty mozzarella in just 3 easy steps. It's quick, it's easy, and it's perfect for either a weeknight dinner or weekend guests. Look for thin-cut chicken cutlets, it will save you time not having to pound them thin.  See notes below if you can't find thin-cut.
Love it! ❤️ Going to make again. I used shredded mozzarella instead of slices. It was good!
Ingredients
1 ½

cups

panko breadcrumbs

¼

cup

freshly grated Parmesan

plus more for garnish

2

large

eggs

beaten with 1 Tbs. water

½

cup

all-purpose flour

or rice, oat, or spelt flour

1 ½

pound

thin-cut boneless skinless chicken cutlets

Kosher salt and freshly ground black pepper

Vegetable oil

4

ounce

fresh mozzarella thinly sliced

2 to 3

cups

homemade or jarred marinara sauce
Instructions
Cook the chicken: Mix the panko crumbs and ¼ cup of parmesan cheese on a large sheet of waxed paper or parchment. Place the flour on a separate sheet of waxed paper. In a shallow bowl, beat the eggs with the water.  Season the chicken with salt and pepper, then coat each piece of chicken in flour and shake off excess. Dip the chicken into the egg mixture and then into the bread crumb mixture; repeat steps for remaining chicken and set aside on a plate.

Preheat the oven to 400°F. Heat ¼-inch of oil in a deep cast-iron skillet over medium-high heat. When pan is hot but not smoking, add chicken. Cook until golden brown, 5 to 7 minutes, flipping halfway through. Transfer to a paper towel-lined plate to drain.

Spoon 1 ½ cups of sauce into a 9-x-13-inch baking dish and arrange the chicken on top. Spoon a little sauce over the cutlets, then top with the mozzarella slices. Bake until the cheese is melty, 10 to 12 minutes, then broil until the cheese is golden brown, 3 minutes. Garnish with additional parmesan cheese and parsley and serve hot.
Notes
A small cast-iron skillet is great for pounding the chicken if you can't find thin-cut cutlets and don't have a meat mallet.
If you can't find thin-cut chicken cutlets, you can buy regular boneless, skinless chicken breast and pound the thin. Use a sharp knife to cut horizontally through each breast half. Move the knife through so the meat eventually opens like a book. Separate the two halves. (Trim and discard any visible fat or skin.) Place a chicken cutlet between two pieces of plastic wrap. Then, using a meat tenderizer or small cast-iron skillet, pound the cutlets until they are ¼-inch thick. Repeat with each cutlet. Pat the chicken dry and season both sides with salt and pepper.
For another Italian option, try this:
Lasagne Bolognese
Nutrition
Serving:
1
serving
Calories:
585
kcal
Carbohydrates:
52.6
g
Protein:
61.2
g
Fat:
12.6
g
Cholesterol:
228.4
mg
Sodium:
1280.6
mg
Sugar:
9.6
g