The Lemon Impossible Pie is the simplest pie you'll ever bake. There's no crust to roll out and no need for fancy equipment. Simply blend all of the ingredients in a blender, then pour it into a pie dish and bake. It creates a smooth and creamy pie that's a bit like custard and a puff pastry style crust along the bottom. Not impossible at all, in fact, really easy to make!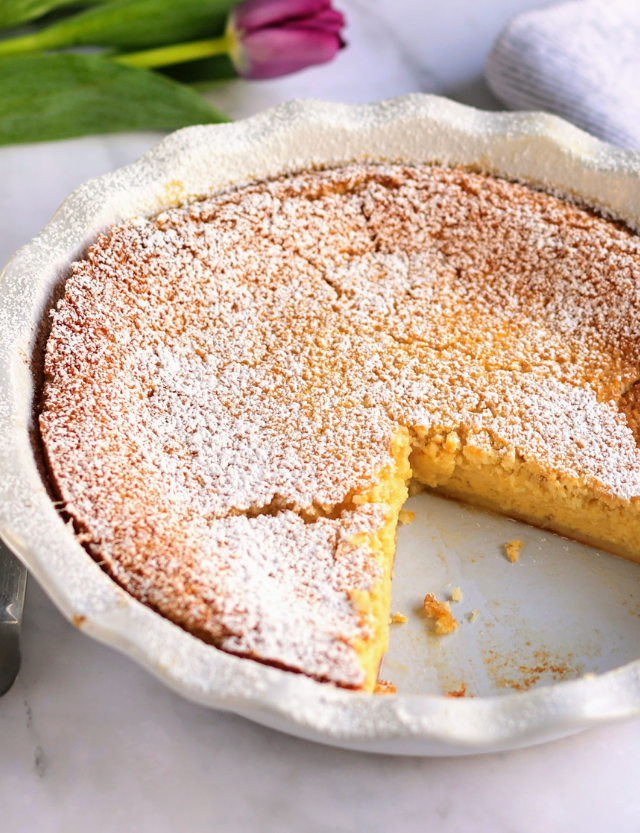 What is impossible pie?
The pie was originally created by Bisquick. The "impossibility" of the so-named pie comes into play during baking, when a "crust" magically forms on the bottom. The dish is sometimes also known as Amazing, Mysterious or Blender Blender Pie because you use a blender to create a smooth and creamy filling for it. The result is something that's a bit like a cheesecake with a quasi-crust on the bottom. And can be adapted in a myriad of ways.
How to serve lemon impossible pie
Another great thing about this pie is there's no need to serve it with anything apart from some confectioner's sugar and a little shredded coconut, if you'd like. But if you do want to add something, then vanilla ice cream makes a great summer topping. Or you can mix the sugar with whipped cream to make a sweet version of whipping cream to add.
What you need to make Lemon Impossible Pie
Almond milk (or other milk)
Large eggs
Granulated sugar
All-purpose flour
Baking powder
Table salt
Grated lemon zest
Fresh lemon juice
Lemon paste or regular extract
Shredded coconut (optional)
Confectioners' sugar, for dusting
How to make the recipe
Preheat the oven to 350°F. Take a 9-inch pie pan and grease it.
In a blender, combine the ingredients except for the coconut and confectioners' sugar.
Pour into the pie dish after it has been greased.
The center should be firm and the top golden brown after around an hour. The center will have a small wobble once it has finished cooking, which will solidify as it cools.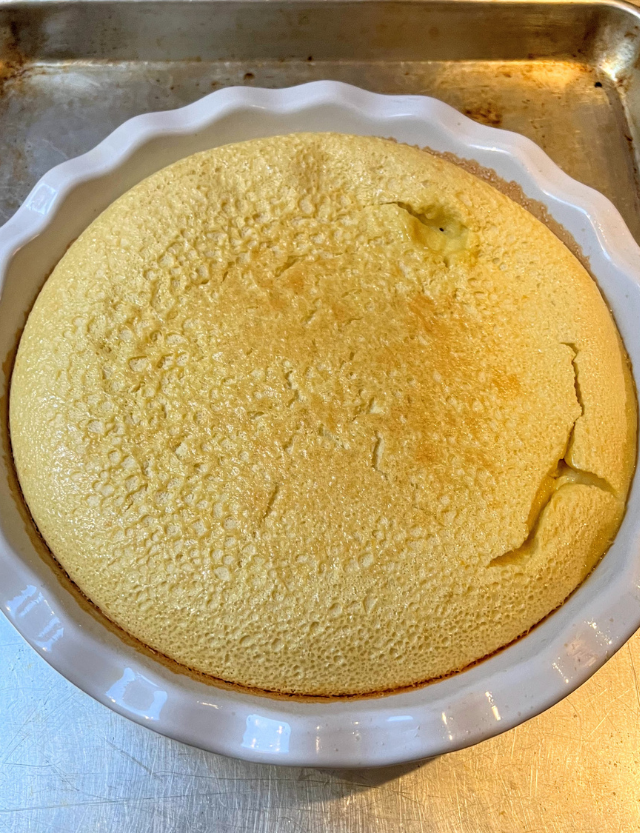 Set the pie on a wire rack to cool completely.
Keep in the refrigerator for 8 hours or overnight. Dust with confectioners' sugar before serving and serve as desired.
Storing the recipe
Store the pie in the refrigerator for up to 5 days once it is cooled due to the milk in it. You can also freeze the pie, it is best to keep it on a pie dish or similar tray then cover with kitchen wrap and freeze. Use within three months, allowing it to defrost thoroughly before eating.
Recipe tips
To make the pie without a blender, follow the instructions and beat the mixture vigorously by hand.
You can use this recipe to make an identical version with limes in place of lemons. Just use the fresh lime juice and zest with some lime extract and follow the rest of the process.
Some people also add blueberries to their pies if you want to enhance the flavor. They work well with lemons and add a ton of nutritional goodness too.
Coconut is optional on the top but is very tasty, you can use grated coconut just as easily or even grate your own if you have a fresh coconut ready to go.
For an elegant (and edible!) decoration, decorate the top of the pie with these Candied Lemon Slices from Moon and Spoon and Yum!
Lemon Impossible Pie with Coconut
This Lemon Impossible Pie recipe is the easiest pie you'll ever make—no lie. There's no crust, you whiz all the ingredients together in a blender, then pour it into a pie dish and bake. The results are a smooth, creamy filling of a baked egg and a custard, and a kind of puff pastry-like crust at the bottom, and a crusty coconut topping on top. Impossible? Yes, it's kind of like magic!
Ingredients
2

cups

almond or other milk

4

large eggs

¾

cup

granulated sugar

½

cup

all-purpose flour

½

tsp.

baking powder

¼

tsp.

salt

2

tsp.

grated lemon zest

2

Tbs.

fresh lemon juice

½

tsp.

lemon paste or regular extract

Confectioners' sugar, for dusting
Instructions
Preheat the oven to 350°F. Grease a deep 9-inch pie pan.

Combine all of the ingredients, except the confectioners' sugar, and in a blender and process until blended.  Pour into the prepared pie dish. Bake until center is firm and the top is golden brown, about 1 hour. The center will have a slight wobble to the center, which will set as it cools.

Set the pie on a wire rack and let cool completely. Just before serving, dust with confectioners' sugar, cut into wedges and serve.
Nutrition
Serving:
1
slice
Calories:
265
kcal
Carbohydrates:
46.4
g
Protein:
4.7
g
Fat:
7.3
g
Cholesterol:
93
mg
Sodium:
186.4
mg
Sugar:
38.6
g