This Chicken Fried Rice recipe is quick and easy and makes use of leftovers to save time. Ready in under 20 minutes, this recipe is perfect for busy weeknights!
Full of fresh veggies like shredded cabbage, bell peppers, garlic, and ginger that can easily be swapped and customized to your tastes. The homemade stir fry sauce is packed with flavor using gochujang sauce to give this dish a mix of sweet, spicy, and savory flavors.
Jump to:
Essential Ingredients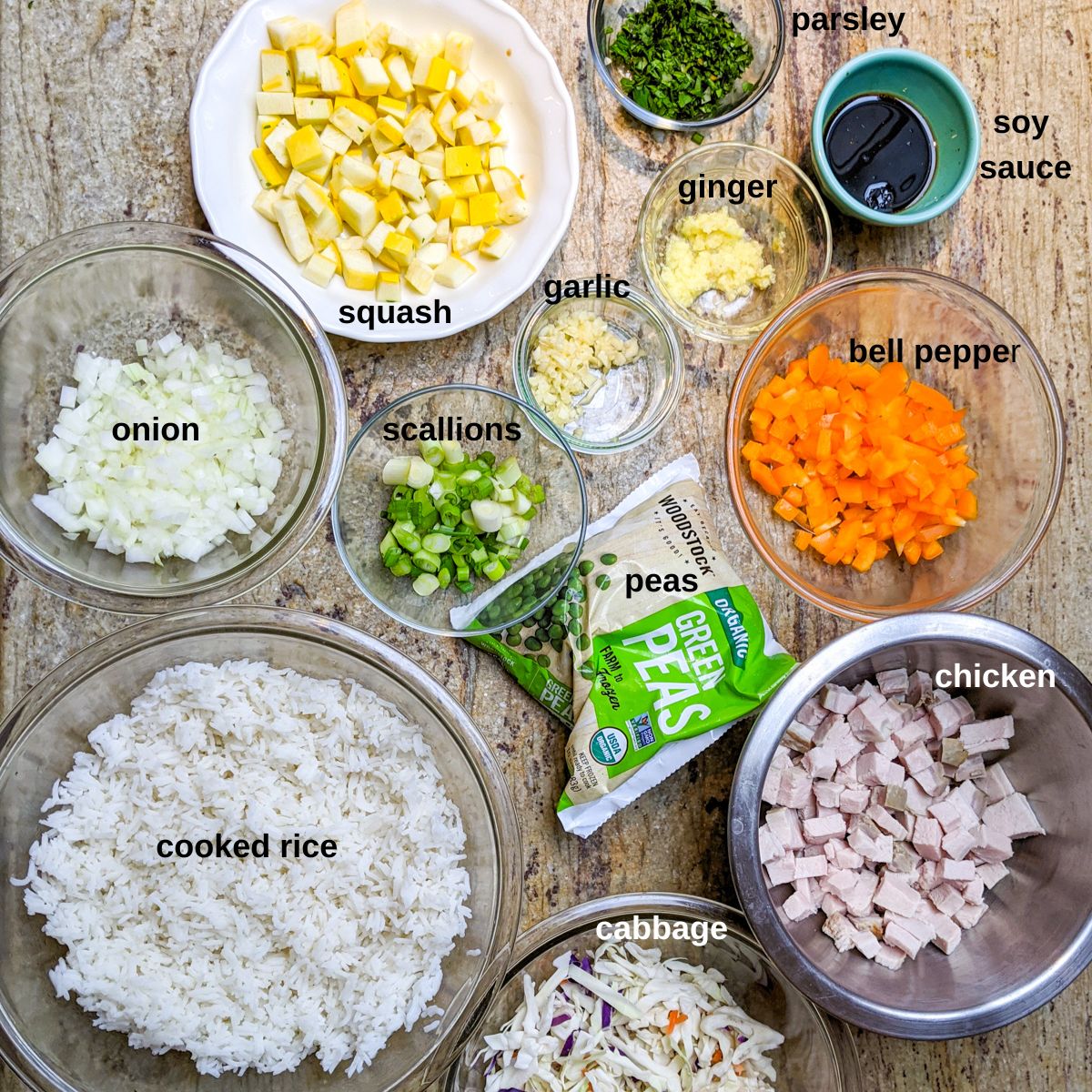 For the Stir-Fry Sauce:
Low-Sodium Soy Sauce
Rice Vinegar
Toasted Sesame Oil
Gochujang Sauce
For the Fried Rice:
Peanut or Vegetable Oil
Grated Fresh Ginger
Grated Garlic
Shredded Cabbage
Bell Pepper
Frozen Peas
Cold Cooked Rice
Eggs
Diced Cooked Chicken
Chopped Scallions
Salt
Ground White Pepper
How to make Chicken Fried Rice
Let's start by making the sauce: In a small bowl mix together the soy sauce, rice vinegar, sesame oil, and gochujang sauce until well blended. Set aside.
Now for the stir fry: Heat a 14-inch wok or large cast-iron skillet over high heat. Swirl in 1 Tbs. of the peanut (or vegetable) oil, add the grated ginger, garlic, shredded cabbage, diced bell pepper, and frozen peas. Using a metal spatula, stir-fry the vegetables for 2 to 3 minutes or until they begin to soften. Transfer the vegetables to a plate.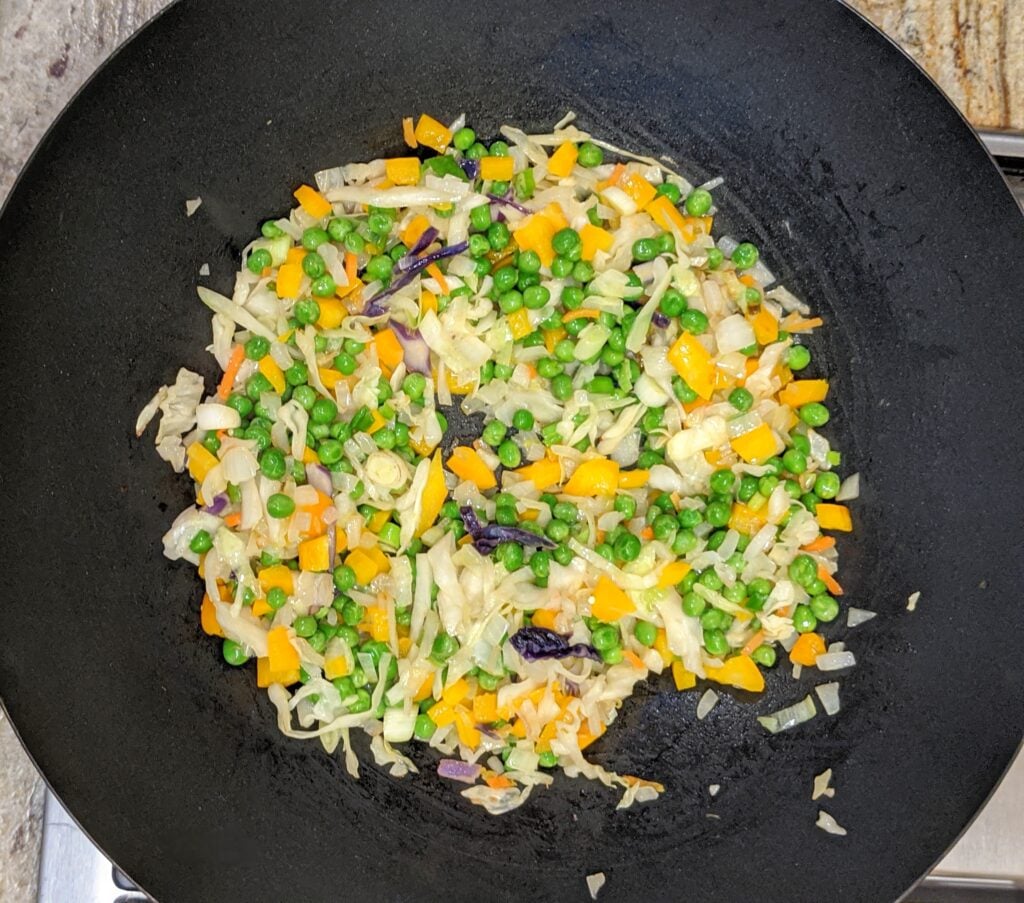 Swirl in another 1 Tbs. of oil. Add the cooked rice and stir-fry 2 to 3 minutes, breaking up the rice with the spatula until it is heated through.
Clear a spot in the center of the pan. Add the eggs, tossing with a fork and cooking them quickly. Stir the cooked eggs into the rice mixture.
Pour in the sauce and stir to mix. Add the cooked chicken and chopped scallions, sprinkle on the salt and pepper, and stir-fry for 2 minutes or until the mixture is heated through. Serve right away. Enjoy.
Recipe Tips
To store the fried rice, let it cool completely then store in an airtight container for up to 4 days. You can also freeze this recipe for 3 months. Reheat in the microwave or on the stovetop until warmed through.
You can use any type of rice you like: brown, white, jasmine, long grain. However, the rice should be cold. Day old is best (and a great way to use up leftovers) but you can also make the rice a few hours ahead of time. The cold temperature allows the rice to firm up and gives it the perfect texture when stir frying.
You can swap the chicken for shrimp, beef, or tofu.
This recipe can easily be changed up depending on the ingredients you have on hand. Baby corn, water chestnuts, snap peas, shredded carrots, and broccoli florets are all great additions. Omit any of the ingredients you don't like.
Add red pepper flakes or sriracha sauce for a spicy version.
Recipe FAQs
What Is gochujang sauce?
Gochujang sauce is a traditional Korean sauce. More specifically it's made from Gochujang which is a fermented Korean chili paste. The sauce lends a mix of bold, sweet, spicy, and earthy flavors. You can generally find it in the international foods aisle of your local supermarket.
Can I use cauliflower rice instead of regular rice?
Yes, you sure can. Cauliflower rice is a great healthy alternative to traditional white, jasmine, or basmati rice. You can use fresh (be sure to make ahead and get it nice and cold like you would with regular rice as instructed) or you can use frozen to save time! If you go the frozen route you won't need to make the rice ahead of time and can just dump it in and cook.
More Great Easy Dinners
You can never have too many easy dinner recipes! Try this Sheet Pan Mac and Cheese, Easy Crispy Chicken Parmesan or this fabulous Indonesian fried rice, called Nasi Goreng Kampung from Caramel and Spice.