Rustic and comforting, this dessert is super-quick and easy to make—no mixer involved and just 15 minutes of prep!
The secret to the sweet, juicy flavor of this Peach Blueberry Crisp is using fresh, ripe, in-season fruit. The buttery, cinnamon-scented topping provides just the right crunchy contrast to the tart, juicy filling. I love to serve the crisp warm with vanilla ice cream or softly whipped cream—it tastes like summer in every bite!
Jump to:
Essential Ingredients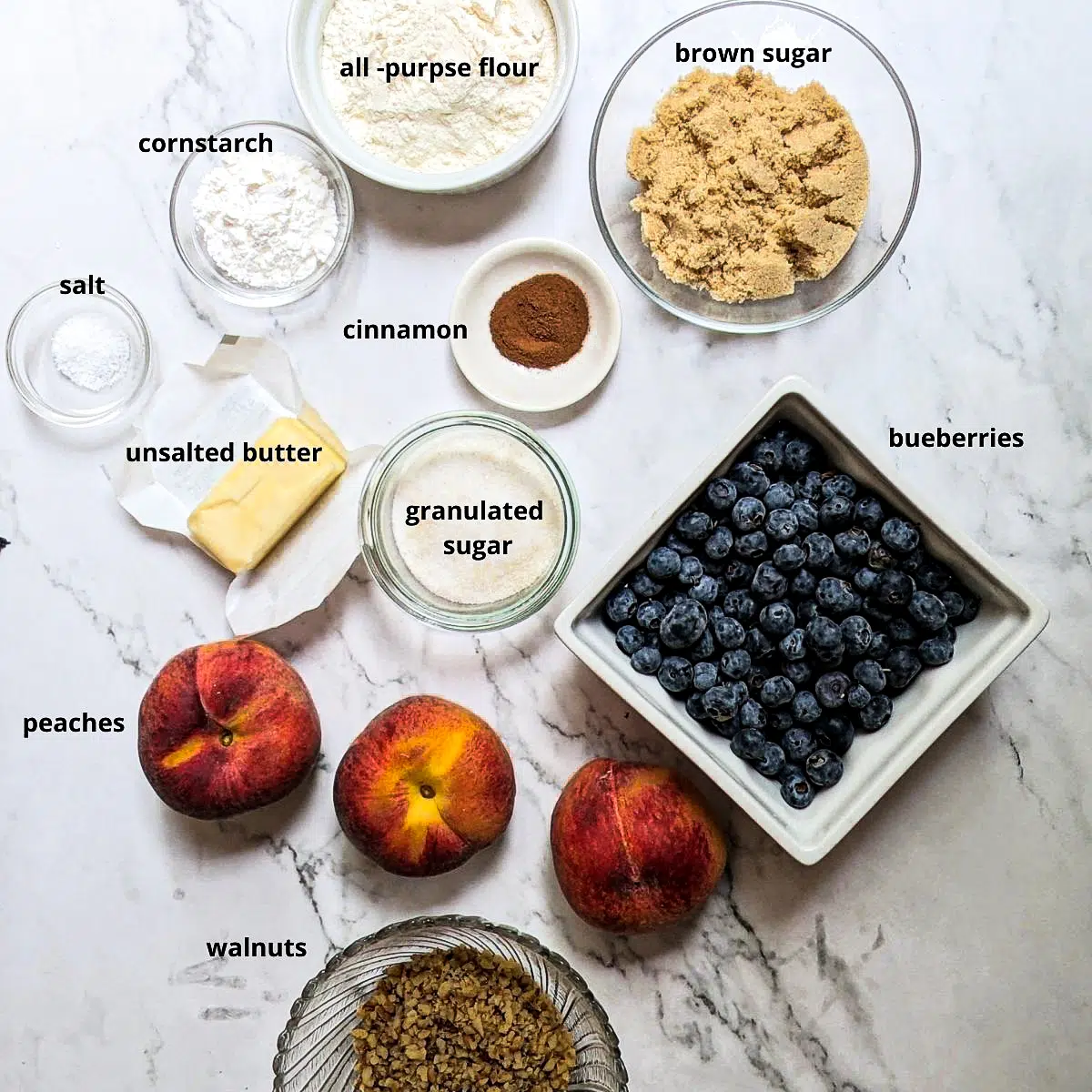 Peaches: If the peaches I'm using are good quality and perfectly ripe, I do not peel them, but you certainly could. A perfectly ripe peach should be firm and heavy in the palm of your hand; it will give a little when gently pressed. Also keep on mind that bigger is better when it comes to peaches. Bigger peaches will be sweeter, juicer and more fully developed in flavor.
Blueberries: Pick the berries over and discard any immature berries or berries past their prime. Remove any stems and rinse the berries briefly in a colander. If ou are using frozen blueberries, do not thaw before using.
Cornstarch: Cornstarch, a starch derived from corn, is a thickener, and that's precisely what it does in this crisp—it thickens the fruit's juices.
How to make a Peach Blueberry Crisp
1. Make the topping by combining the flour, brown sugar, cinnamon, and salt in a small bowl. Using a pastry blender or your fingers, work the softened butter into the flour mixture until it clumps together when pressed. Stir in the walnuts.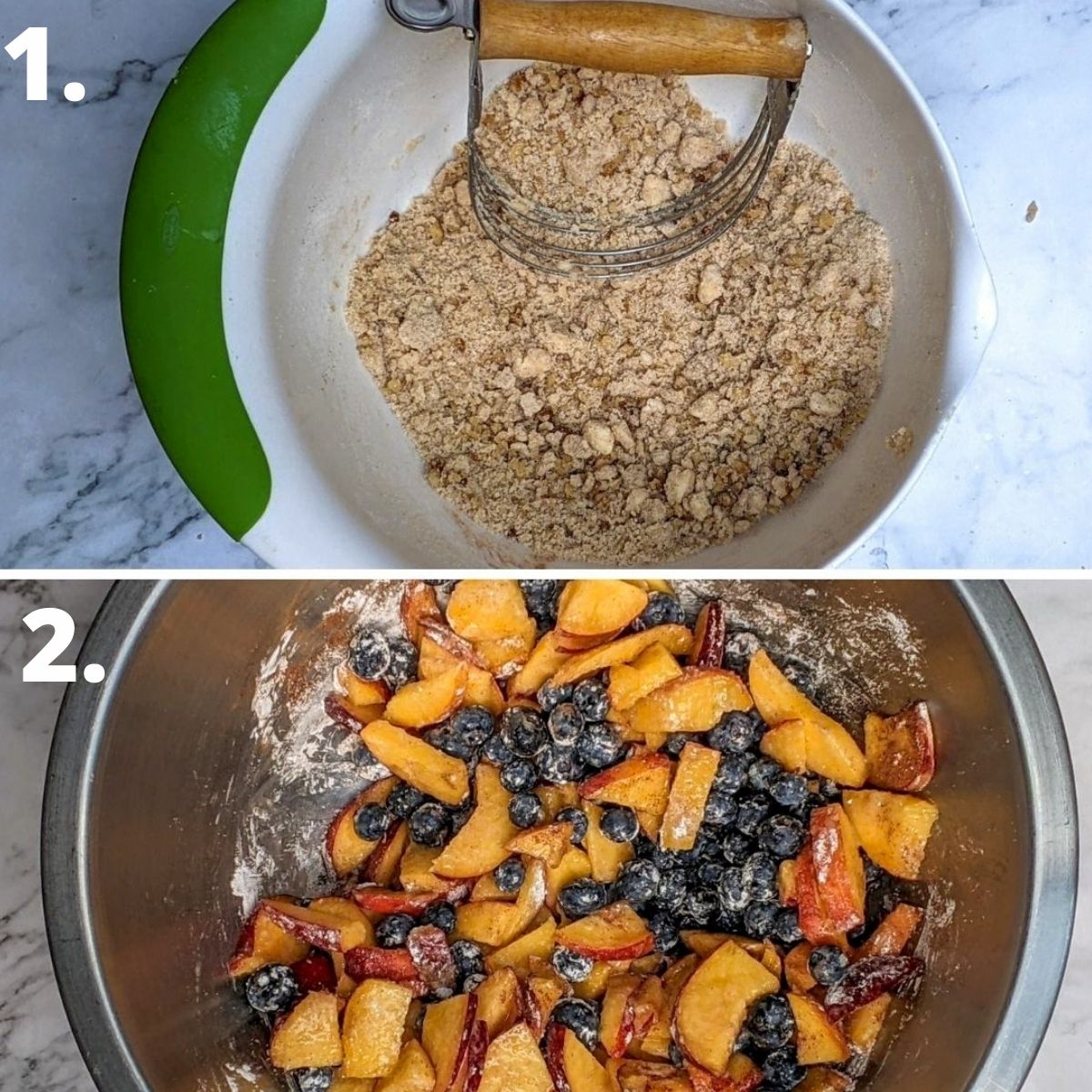 2. In a large bowl, combine the blueberries and peaches. Add the granulated sugar, cornstarch, cinnamon, and salt.
3. Scrape the fruit mixture into a buttered 9-inch square (or similar-capacity) glass or ceramic baking dish. (You could also divide the fruit into small ramekins for individual crisps; just remember that the cooking time will be shorter). Set the pan on a baking sheet to catch overflowing juices. Top the fruit with the topping, pressing it into clumps with your fingers.
4. Bake at 375°F until topping is crisp, and the juices are bubbling, 40 to 50 minutes. Let cool for about 20 minutes before serving.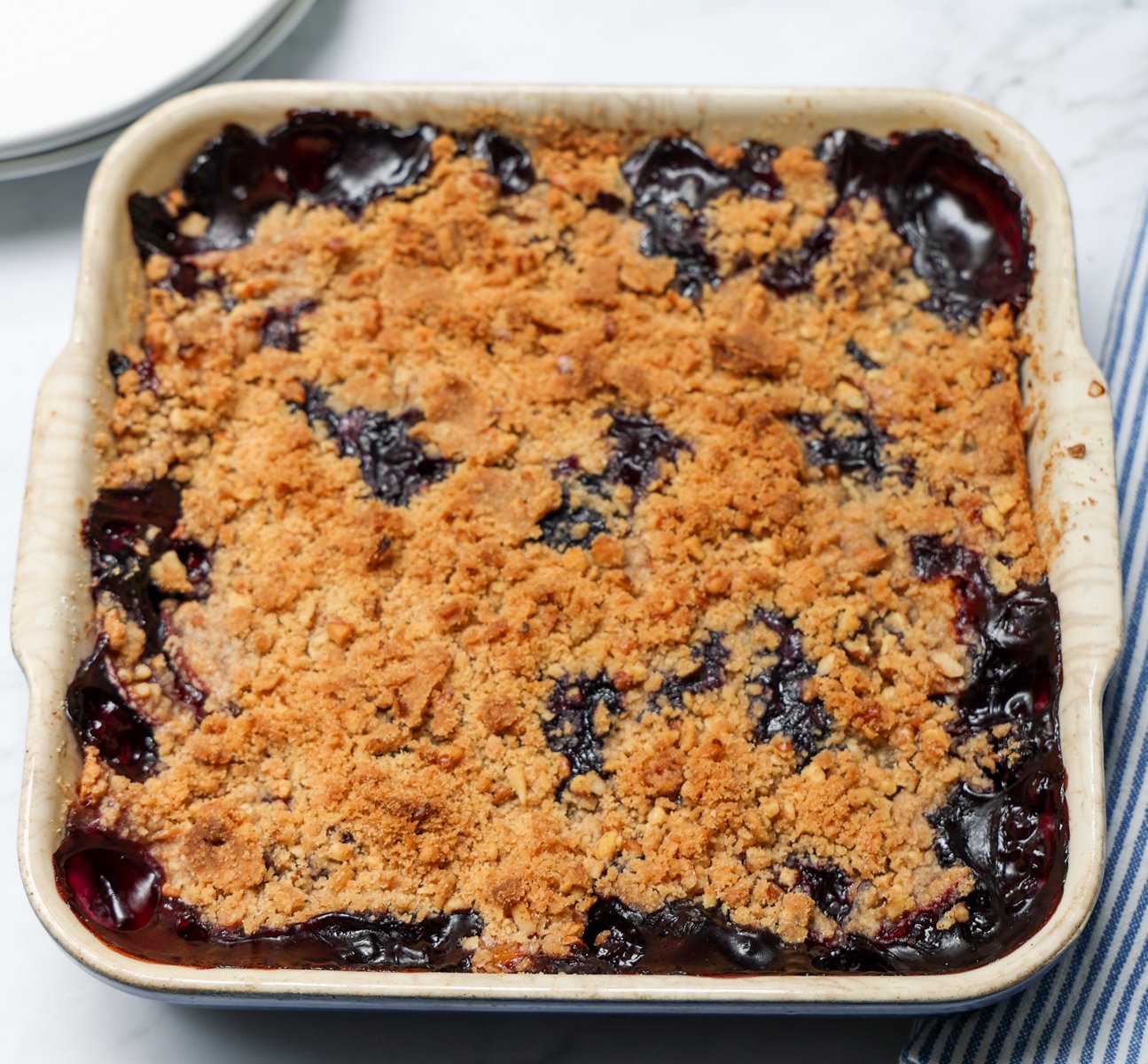 Recipe Tips
This dessert is best served the same day it's made, as the topping can tend to absorb the fruit's juices and become soggy.
However if you are eating it the next day, you can reheat it in a 400°F oven for about 15 minutes.
Bring the fruit to room temperature before using. Cold fruit can bake unevenly.
To peel peaches if desired: Quickly blanch the peaches before you peel them. Cut an X into the bottom of each peach. Drop the peaches into the boiling water and cook just until the skin begins to loosen, 30 to 60 seconds. Drain the peaches and then plunge them into cold water to stop them from cooking further. The peel should slip right off.
Recipe FAQs
What is the difference between a crisp and a cobbler?
Both of these desserts involve juicy fresh fruit that is baked, but the difference between them has to do with the topping. A crisp has a streusel-like crumb topping, where a cobbler has a thick top crust usually made with biscuits or pastry. That, my friends, is the only difference!
What other fruit can I use?
You can use a myriad of fruits for this crisp. Think of fruits that are in season together for some great combinations; strawberries, rhubarb, and cherries in early summer, peaches, plums, nectarines and blueberries at summer's height, and apples and pears in the fall and winter. Fresh berries and cherries work best when they're used in combination with other fruit, as they can get too mushy on their own.
What are other easy baked fruit desserts?
You may know of other types of homey, baked fruit desserts, including Betty, Crumble, Pandowdy, and Grunt. Basically, the difference among all of these are the different types of toppings. The Betty uses bread cubes or breadcrumbs; crumbles are like crisps but with oats; the pandowdy has a pie crust topping that is broken during baking and pushed down to absorb the juices; and the grunt is topped with a dumpling. But no matter how you top it, these desserts are easy, delicious, and so homey and comforting!
More Fruit Dessert Recipes
Try these recipes below as well as this Apple Crumble recipe from Splash of Taste!
Ratings and comments
If you've tried this Peach Blueberry Crisp or any other recipes on our site, please leave a comment and rating below. We love hearing from you!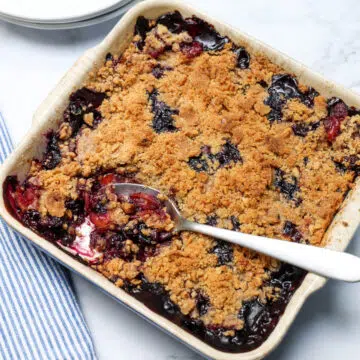 Peach Blueberry Crisp
If you're dreaming about a juicy Peach Blueberry Crisp, then it must be summer! And dream no further, as this recipe is quick, easy, and tastes simply amazing.
Ingredients
For the Topping
¾

cup

all-purpose flour

½

cup

packed light brown sugar

½

tsp.

ground cinnamon

⅕

tsp.

salt

5

Tbs.

unsalted butter

⅖

cup

coarsely chopped pecans
For the Filling
3

cups

blueberries, (about 1 lb.)

about 1 lb. room-temperature blueberries, washed and drained on paper towels3 medium peaches /4 cup granulated sugar1 ½ Tbs. cornstarchPinch salt

4

medium

peaches (about 1 lb.), halved, pitted, and sliced ½- inch thick

¼

cup

granulated sugar

1 ½

Tbs.

cornstarch

Pinch salt
Instructions
Preheat the oven to 375°F. Lightly butter a 9-inch square metal or ceramic baking pan.

Make the topping: In a small bowl, combine the flour, brown sugar, cinnamon, and salt. Using a pastry cutter or your fingers, work the butter into the flour mixture until it clumps together when pressed. Mix in the walnut.

Make the filling: In a large bowl, combine the blueberries and peaches. Add the granulated sugar, cornstarch, cinnamon, and salt and toss to coat. Spread the fruit into the prepared baking pan.

Pressing the streusel into small lumps, sprinkle it over the fruit. Bake until the fruit is bubbling in the center and the topping is crisp and well browned, 45 to 50 minutes.

Cool slightly and serve warm. 
Nutrition
Serving:
6
g
Calories:
351
kcal
Carbohydrates:
45.6
g
Protein:
3.5
g
Fat:
18.7
g
Cholesterol:
25.4
mg
Sodium:
6.4
mg
Sugar:
31.3
g
Let's connect
Be sure to FOLLOW US on FACEBOOK, INSTAGRAM and PINTEREST Many thanks!