This Blueberry Clafoutis recipe is a rustic French dessert that's super easy to make: Just mix up the batter, pour it over the blueberries, and bake until golden-brown. It will puff in the oven as it bakes and slightly collapse once removed. Serve it warm or at room temperature.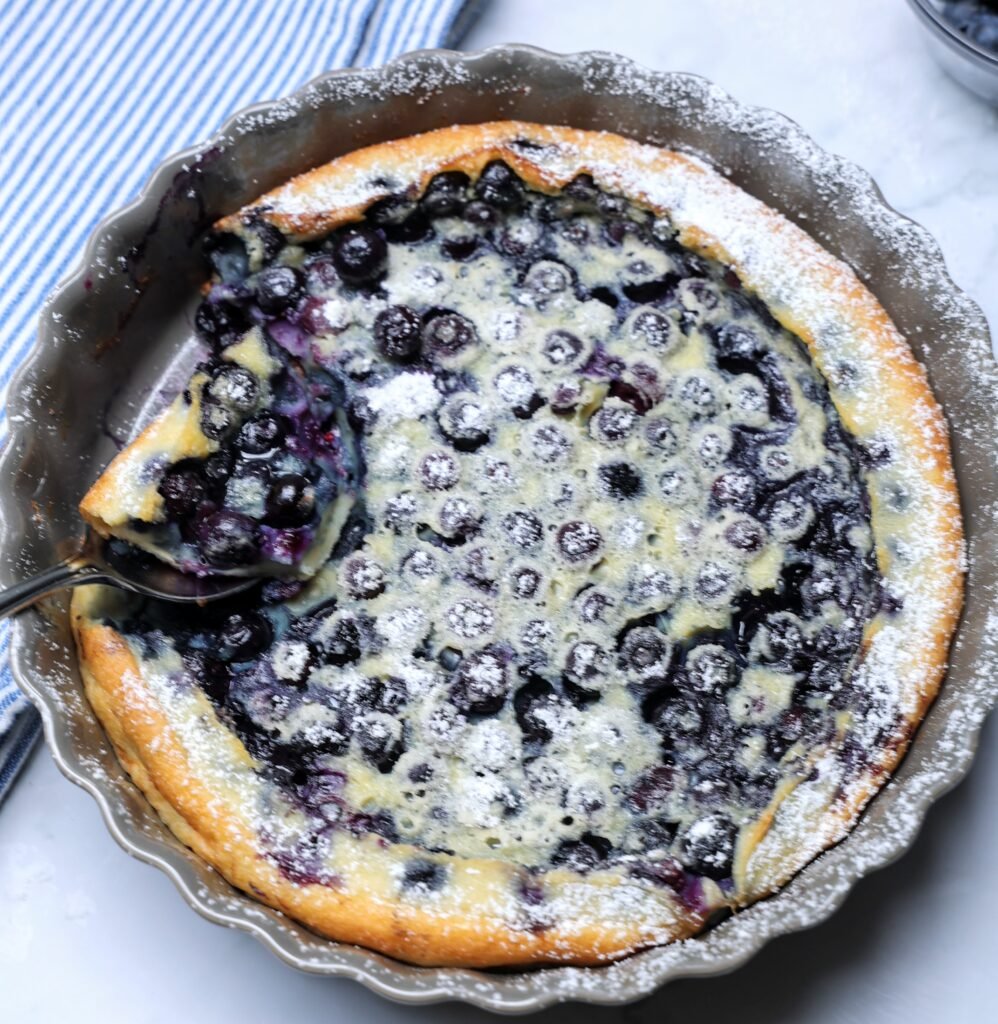 What is Clafoutis?
A clafoutis (CLA-foo-tea) is a custardy, fruit-studded French dessert that is a bit like a puffy pancake. There are many variations of the dessert, but they all involve an eggy custard that gets poured over fresh fruit and baked.
Can I use other fruit?
This dessert can be made with lots of other fruits, including apricots, cherries (which are traditional), apples, pears, raspberries, blackberries, plums, peaches, nectarines, and fresh figs. You can also add nuts, citrus zest, and spices.
Essential Ingredients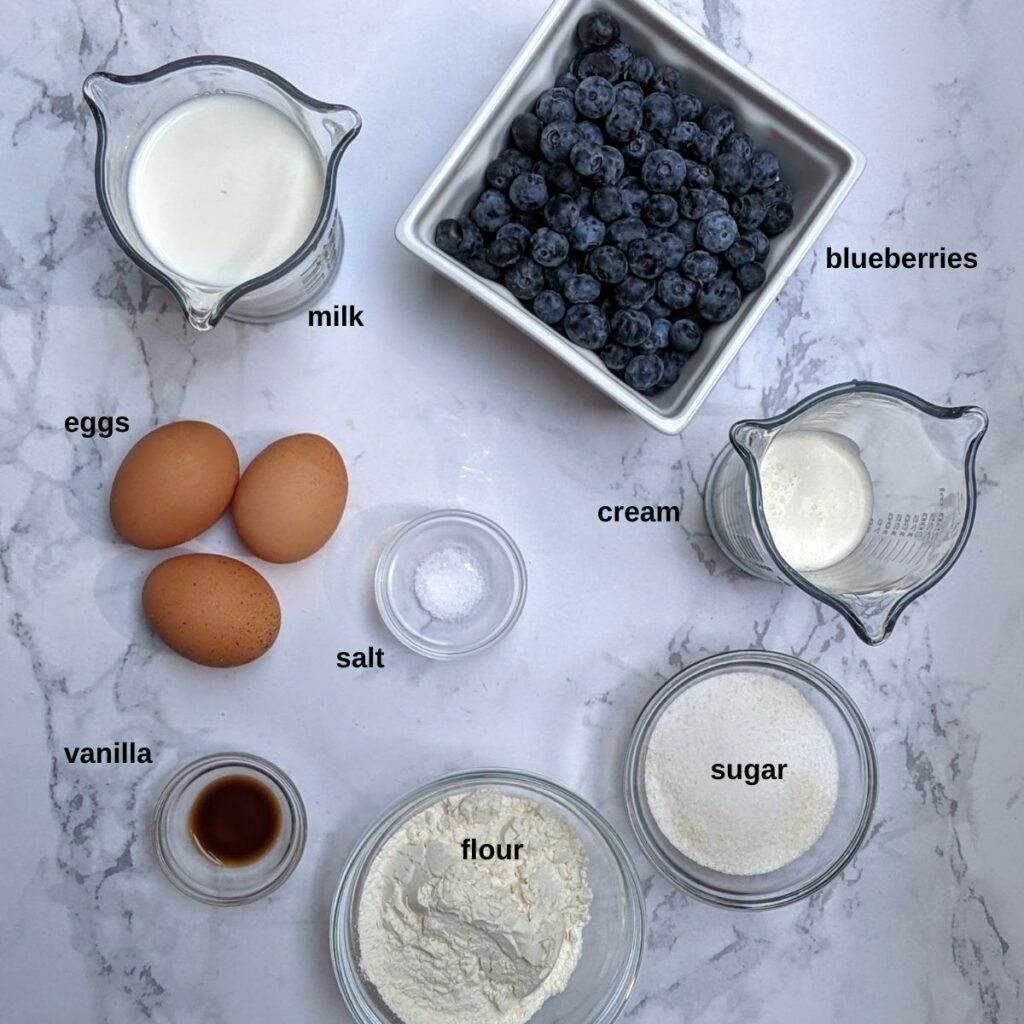 Eggs: The eggs give the clafoutis flavor, color and its light, puffy texture. Use large eggs for this recipe.
Milk: You can use dairy or non-dairy milks for this dessert. I often make the dessert with coconut milk, but almond and soy are all good choices.
Cream: Dairy and non-dairy are both okay to use for this. I have had good success with Silk's Heavy Whipping Cream Alternative
All-purpose flour: Sifting the flour before measuring will give the clafoutis a light texture and remove any lumps.
Sugar: This recipe uses a minimal amount of sugar and is not very sweet, which lets the sweetness of the fruit shine through.
Blueberries: Since the recipe does not use much sugar, choose the freshest, ripest berries you can for this dessert. Be sure to remove any stems from the berries.
How to make the clafoutis
1. Generously butter a 9 to 10-inch round quiche dish or pie pan.
2. Combine the milk, cream, sugar, eggs, vanilla extract, salt, and flour in a mixing bowl and beat with an electric mixer on medium until pale and frothy, for 5 minutes.
3. Arrange the berries in the prepared dish and pour the batter over it. Shake the pan gently to release any air bubbles.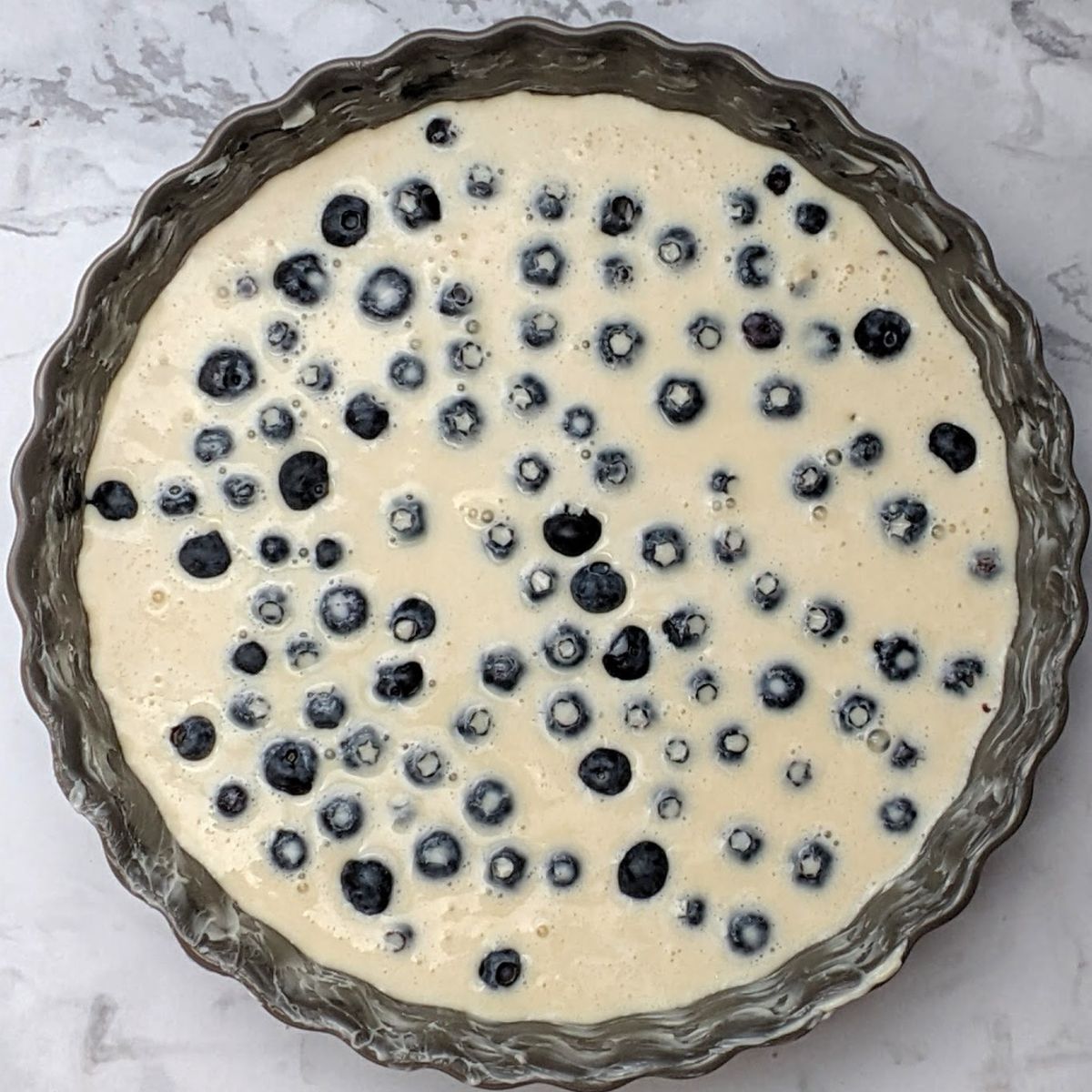 4. Bake the clafoutis until golden and puffy, about 40 minutes. Remove the dish from the oven and let it cool slightly. Dust with confectioners' sugar and serve by scooping it out with a large spoon.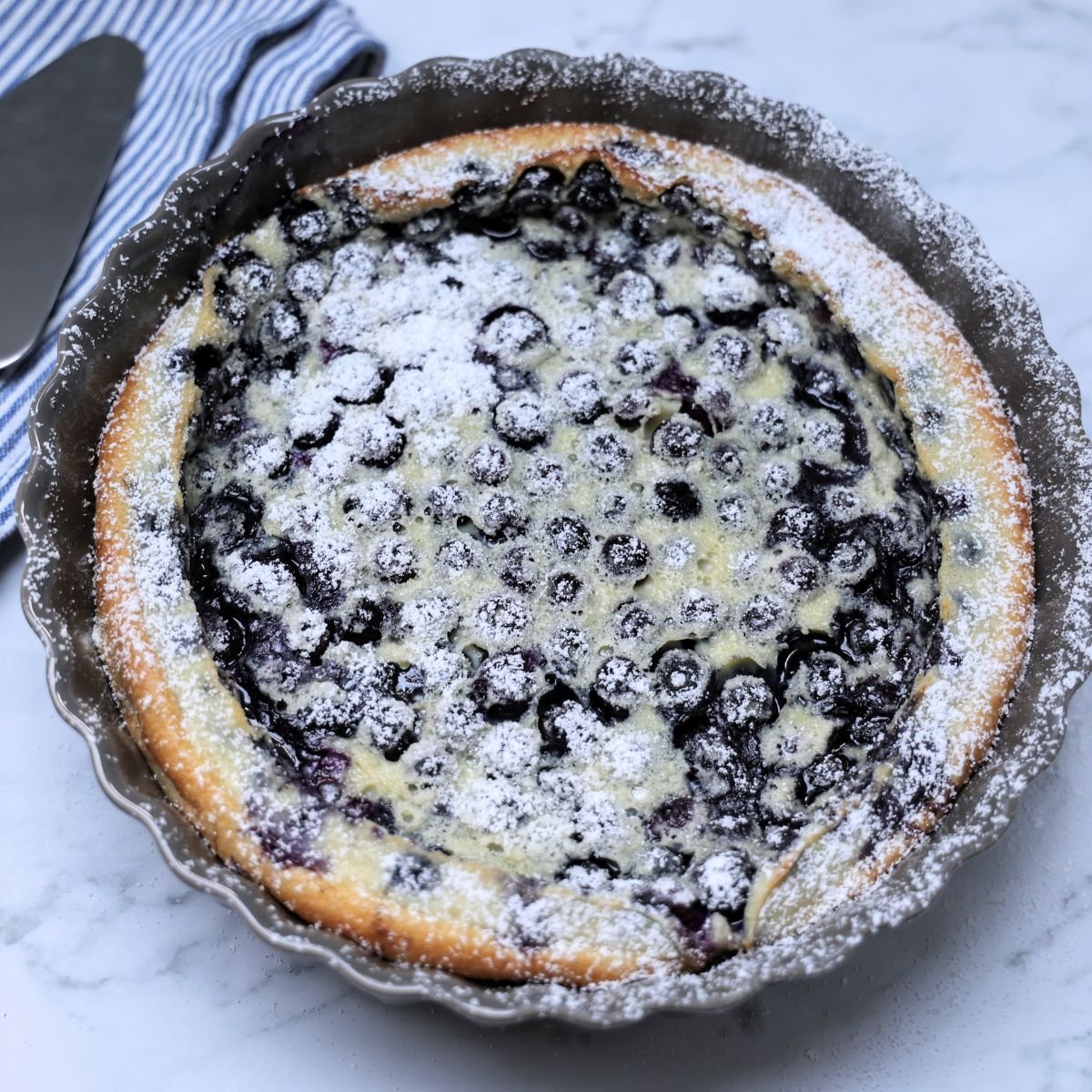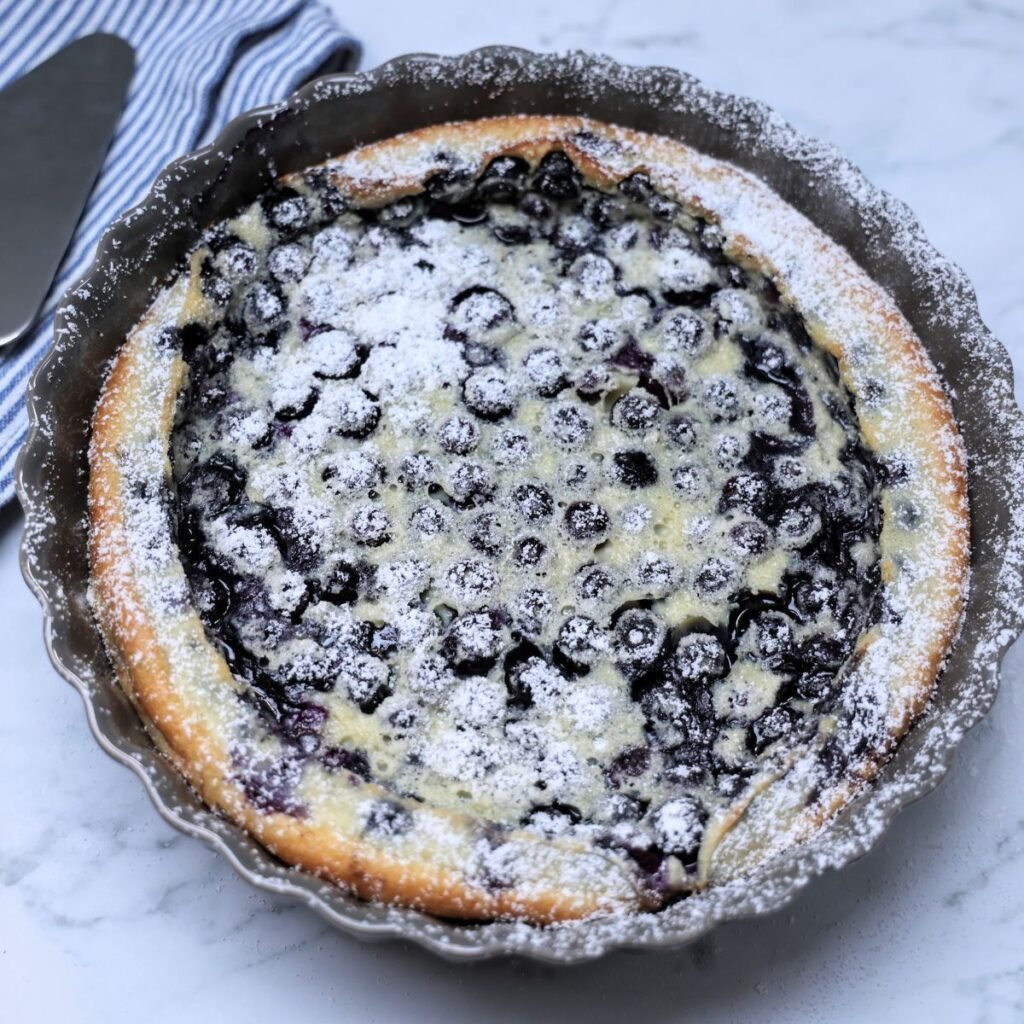 Recipe Tips
If you're making this for a dinner you can make it several hours ahead. The leftovers will keep for about 3 days in the refrigerator.
This clafoutis is great for dessert, and will easily impress and please your guests, but I also enjoy it for breakfast. It's eggy custard with fresh fruit is perfect in the morning, too!
Blueberry Clafoutis
This rustic, French-inspired Blueberry Clafoutis recipe (pronounced CLA-f00-tea) is so simple to make yet so amazing to eat. The recipe has dairy on non-dairy options, so everyone can enjoy it. You can make this dessert with any ripe but relatively firm fruit that will remain intact, such as cherries, apricots, peaches, or fresh figs. 
Ingredients
Butter

for greasing1 cup dairy or non-dairy milk, such as coconut¼ cup heavy cream or non-dairy cream such as Silk's Heavy Whipping Cream Alternative¼ cup sugar3 large eggs2 tsp. vanilla extract⅛ tsp. salt⅔ cup sifted all-purpose flour2 cups fresh blueberriesConfectioners' sugar for dusting
Instructions
1. Preheat the oven to 375°F. Butter a shallow baking dish (such as a 10-inch quiche mold or pie plate).

2.  Combine the milk, cream, sugar, eggs, vanilla extract, salt, and flour in a medium bowl and beat with an electric mixer on medium until pale and frothy, about 5 minutes.

3. Scatter the berries in the prepared pan. Pour the batter over the fruit.

4. Bake the clafoutis until it's puffed and brown and a knife inserted in the center comes out clean, about 40 minutes. Let cool slightly or to room temperature, as you like, and dust with confectioners' sugar before serving.
Nutrition
Serving:
6
g
Calories:
146
kcal
Carbohydrates:
28.6
g
Protein:
6.5
g
Fat:
4.5
g
Cholesterol:
99.5
mg
Sodium:
55
mg
Sugar:
25.8
g