Irish Soda Bread is a classic recipe that makes a simple and delicious loaf of fresh bread for any occasion. You can enjoy it with butter and honey or jam or serve it alongside a range of different dishes. Because it is a little sweet, it works well with both coffee and tea. Let's take a look at how to make this classic bread recipe.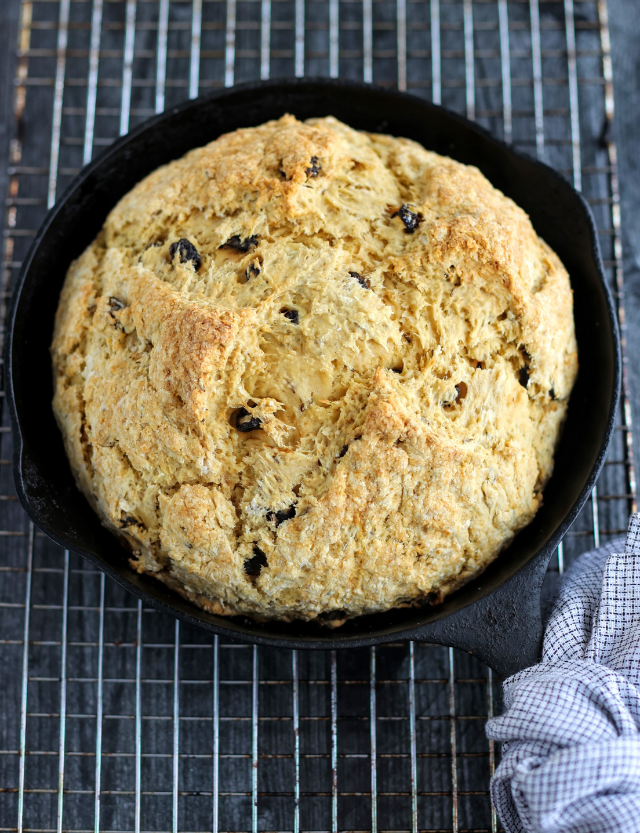 What makes Irish soda bread different?
The most famous variation of soda bread recipe is Irish Soda Bread, which isn't the only kind but is nevertheless the most popular. It's been around for a long time and the recipe hasn't changed much.
Soda bread uses baking soda as a leavening agent in place of yeast and this makes the process of creating them much simpler. Yeast bread needs to be watched carefully to get the right loaf but soda breads are a lot more hands-off and casual.
Is soda bread the same as sourdough?
Is sourdough bread and soda bread the same thing? The short answer is no.
Sourdough bread requires no commercial yeast to rise because it is slow-fermented. To rise, it uses a sourdough 'starter,' which is a combination of fermented flour and water that contains wild yeast and good bacteria.
Sourdough bread's distinct sour flavor and chewiness come from the fermentation process itself. It also gives sourdough its characteristic tangy flavor and slightly chewy texture.
Soda bread is a type of quick bread that employs baking soda (or, sodium bicarbonate) as a leavening agent instead of yeast.
The major benefit of this type of soda bread is that it cooks quickly. Once the dough is mixed, all you have to do is form and bake it before eating.
What you need to make Irish Soda Bread
All-purpose flour
Baking powder
Baking soda
Table salt
Light brown sugar
Corn or vegetable oil
Caraway seeds
Raisins
Large eggs
Buttermilk
Butter
Granulated or sanding sugar
How to make the recipe
Preheat the oven to 350°F. In a large mixing bowl, combine the flour, baking powder, baking soda, and salt. Add the sugar and mix well.
Stir in the oil. Using a fork, mix the flour mixture until the crumbs are fine. Add the caraway seeds and raisins and stir to combine.
In a small mixing dish, combine the eggs and buttermilk. Stir with a wooden spoon in the flour until smooth. (The dough will be sticky.)
Turn the dough out on a floured surface and knead briefly. Shape it into a round and place it in an 8-inch cast iron skillet or round cake pan that has been greased.
With a sharp knife, score an X on the top and drizzle with melted butter. Then sprinkle with sugar.
Remove from the oven and let cool for 30 to 40 minutes. Remove to a wire rack and let it cool completely, about 5 minutes. Use a serrated knife to slice as you like.
What can you bake the bread in?
There are many choices for the baking pan. A seasoned 10-12 inch cast iron skillet, a greased or lined 9-10 inch cake pan, or a greased or lined 9-10 pie dish.
I don't suggest using a loaf pan because the loaf inside may not bake evenly. This dough is best suited for a flatter loaf.
Storing the recipe
Cover and store any leftover bread at cool room temperature for up to 2 days, or in the refrigerator for up to 1 week.
Bread that has been baked and cooled will last up to three months frozen. Whole loaves or individual pieces may be frozen. Reheat leftovers in the refrigerator or at room temperature before serving.
Recipe tips
The cross in the center of this Irish bread might seem like a decorative step but there's a practical element to it. It allows the dough in the middle to heat up properly and ensures the bread cooks evenly throughout. So don't forget to add it!
If you want to add some extra toppings you can sprinkle some oats on the top or add them inside or some seeds such as sesame, sunflower, or even pumpkin seeds.
Print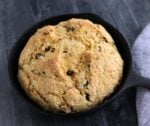 Irish Soda Bread
Author:

Prep Time:

15 minutes

Cook Time:

40 minutes

Total Time:

55 minutes

Yield:

One

8

-inch loaf

1

x

Category:

Breads

Method:

Bake

Cuisine:

Irish
---
Description
All hail Irish bakers for giving the world Irish soda bread! Simple ingredients, no yeast, amazing flavor—this traditional version is great sliced, toasted and slathered with butter and jam.
---
3 ½ cups unbleached all-purpose flour
1 Tbs. baking powder
1 tsp. baking soda
1 tsp. table salt
¼ cup backed light brown sugar
3 Tbs. corn or vegetable oil
2 tsp. caraway seeds
1 cup raisins
2 large eggs
1 ¼ cups buttermilk
1 Tbs. butter, melted
Granulated or sanding sugar for top
---
Instructions
1. Preheat the oven to 350°F. In a large bowl, whisk together the flour, baking powder, baking soda, salt. Stir in the sugar. Add the oil and mix until fine crumbs form. Stir in the caraway seeds and raisins. In a small bowl, mix the eggs and buttermilk. Gradually add to the flour mixture, stirring until a dough forms. (Dough will be sticky.)
2. Turn the dough out onto a floured surface and knead briefly, adding more flour if necessary. Shape into a round and place in a greased 8-inch cast iron skillet or round cake pan. Using a sharp knife, score an X in the into the top, brush with the melted butter, and sprinkle with sugar.
3. Bake until golden brown and center appears set, 30 to 40 minutes. Remove to a wire rack and let cool for 5 minutes, then transfer to the rack to cool completely.
---
---
Nutrition
Serving Size:

serves 6 to 8

Calories:

307

Sugar:

16.4g

Sodium:

403.9mg

Fat:

7.6g

Carbohydrates:

53.9g

Protein:

7.2g

Cholesterol:

42.9mg
Keywords: irish soda bread
Print
---