Home fries (or skillet breakfast potatoes) are a special treat in my house on the weekends, but they're also ideal for dinner. Breakfast for dinner will be a hit with a fried or over-easy egg and home fries!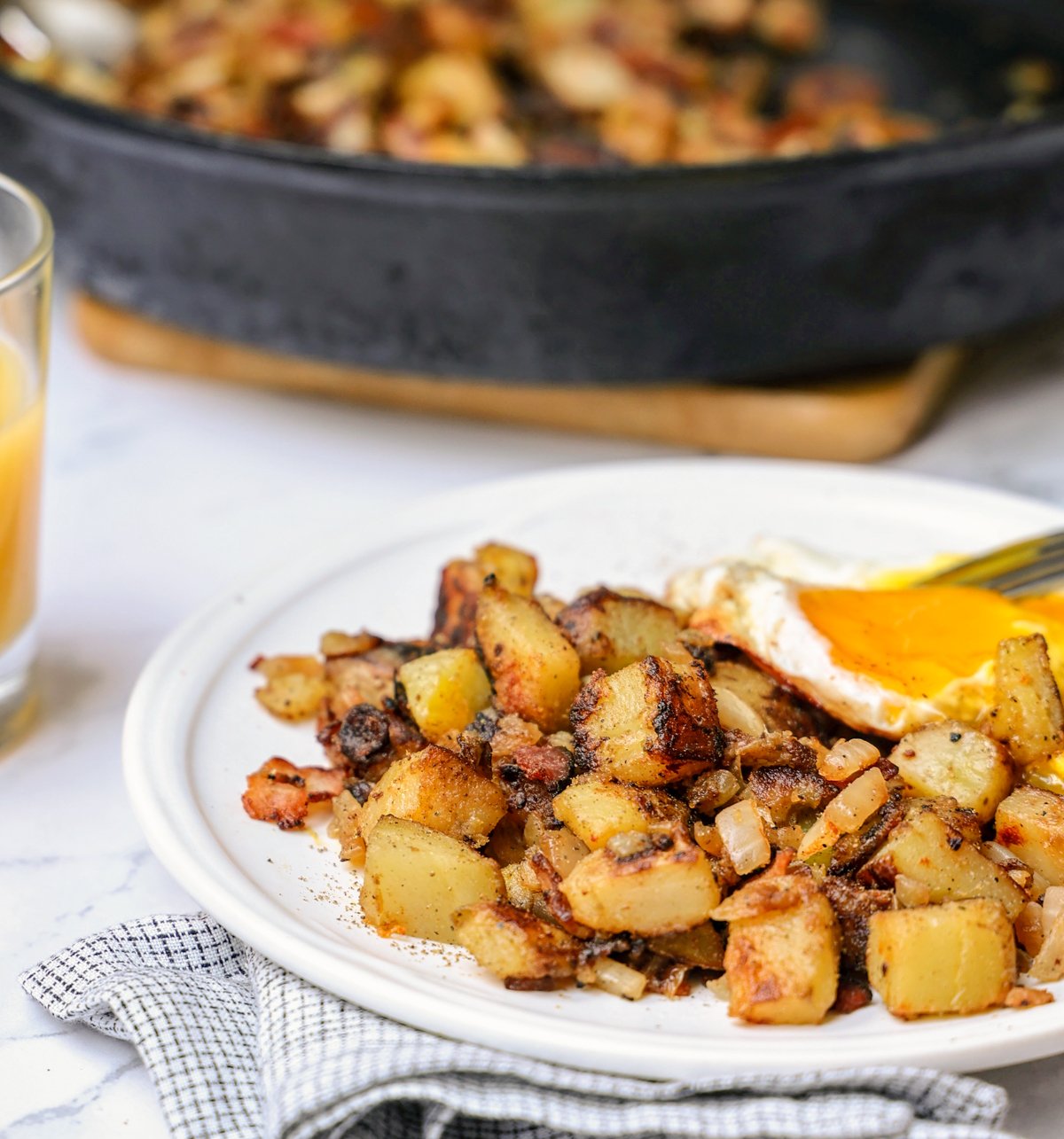 Crispy on the outside, creamy on the inside, and filled with bits of onion and bacon, these skillet breakfast potatoes are a cinch to make and will disappear quickly! They come together in one pan and in under 30 minutes!
Jump to:
Essential Ingredients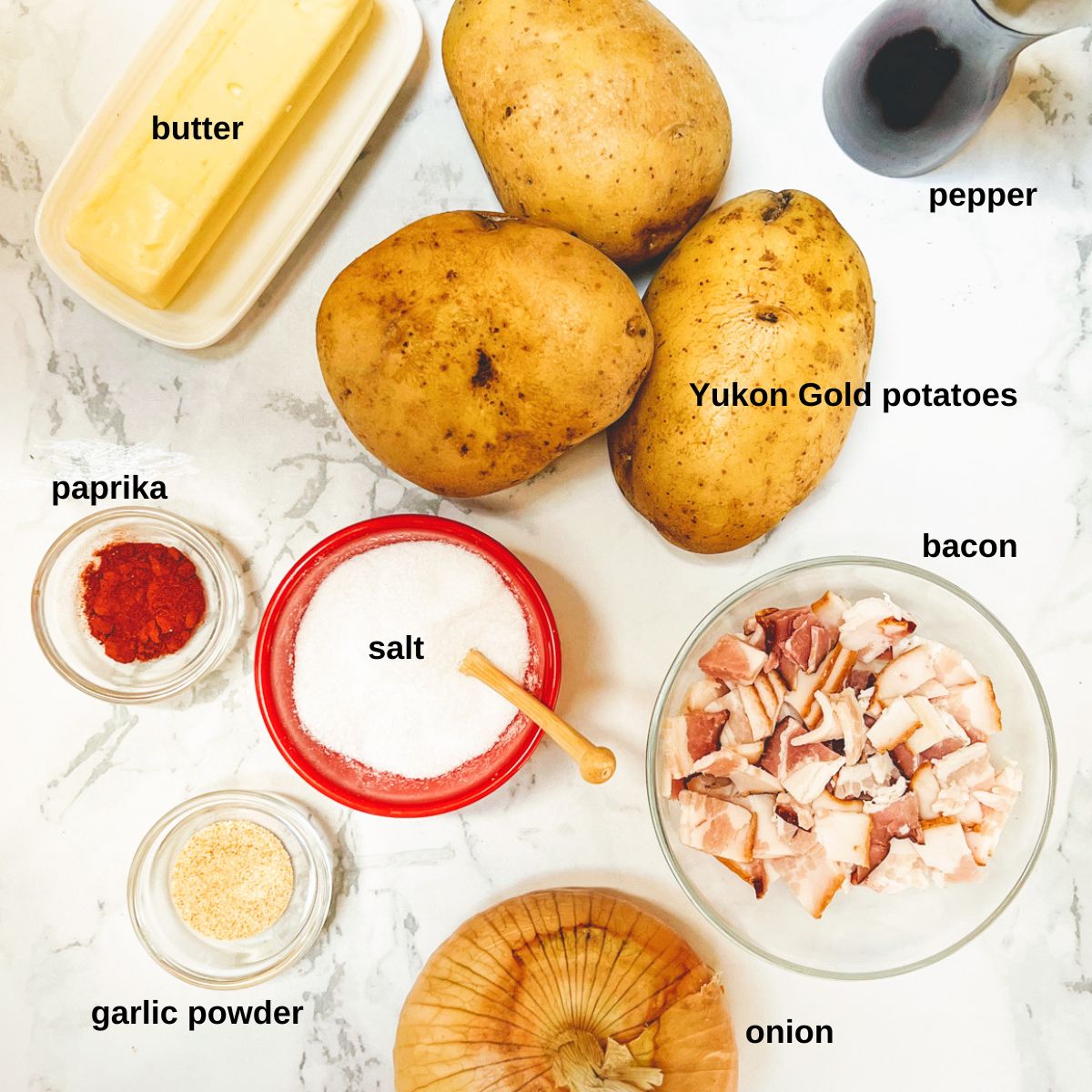 Potatoes: I prefer to use Yukon Gold or russet potatoes as they have a high starch content, which means they will cook up with a soft and creamy inner texture, but will get crisp on the outside. I also like to use the potatoes unpeeled, as the skin adds extra texture, but you could peel them if you'd like. Stay away from waxy potatoes, such as red-skinned or fingerlings. They won't break down as well as Yiukon gold or Russet and therefore will remain firmer, so not the soft and creamy texture you'll want. 
Bacon: It's not necessary to include bacon in the recipe, but I love the flavor and texture it adds. Pancetta is a good substitute, though it is unsmoked, and won't contribute bacon's smoky flavor.
Smoked paprika: Adding a sprinkling of paprika to the potatoes at the end imparts both flavor and color. Spanish and Hungarian paprika are generally better than the generic paprika found in supermarkets. I opt for Spanish smoked paprika (pimentón de la Vera) as I think it adds the best flavor. You can find it in specialty groceries. And you should have no trouble finding Hungarian paprika in many supermarkets.
How to make the recipe
1. Place the potatoes and 1 Tbs. butter into a microwave-safe container. Cover with plastic wrap and microwave on High for 10 minutes, shaking the container halfway through. If the potatoes aren't tender, continue to cook for 2 minutes at a time until done enough.
2. Meanwhile, cook the bacon in a cast iron skillet until crisp and golden brown. Remove to a plate.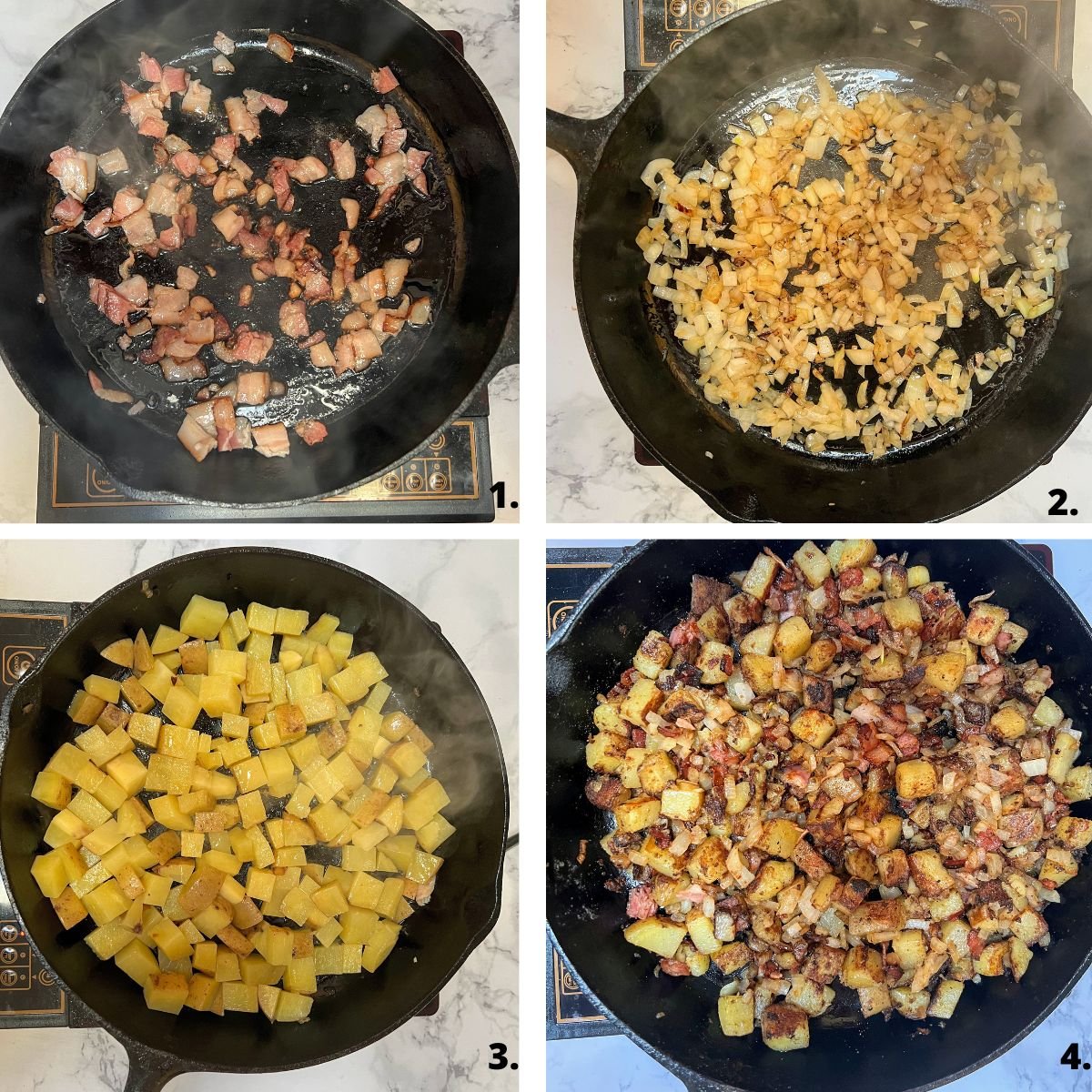 3. Add the onion and cook, stirring frequently, until softened, about 5 minutes. Remove from the skillet and set aside with the bacon.
4. Melt 2 Tbs. butter in the skillet then add the potatoes, pressing gently with a spatula to make a single layer. Cook without moving them for 5 minutes.
5. Gently flip the potatoes, again pressing into a single layer, and cook the other side for several minutes. Keep flipping and cooking this way until browned and crispy.
6. Once browned, add the bacon and onions and stir together to heat. Season with garlic powder, paprika, salt, and pepper then serve while hot.
Recipe tips
If you do find you make too many potatoes, you can let them cool and store them in the refrigerator for 2-3 days. You could also freeze them in a freezer bag or airtight container. To reheat them, pop them back in the skillet to heat them up and make sure they are crispy again.
If you want to add more ingredients to the mix, you could add some bell peppers along with the onions. They take a little longer to cook than onions so start cooking them as soon as you start the potatoes to ensure they are tender enough.
Recipe FAQs
What's the difference between skillet fried potatoes, home fries, and hash browns?
The distinction between home fries and hash browns is primarily in how they are sliced. Home fries are diced, whereas hash browns are grated. That distinguishes skillet fried potatoes from hash browns since home fries are cut smaller. If you're in the south, you may hear them referred to as country fried potatoes.
Should I cook the potatoes before frying?
The first time you make this breakfast potatoes recipe, you might be tempted to try it without cooking the potatoes first. And trust me, it never works as well! You don't get that creamy inside and crispy outside if you don't par-boil or cook them first. I tend to use the microwave for this as it is quick and simple. Another option is to boil the sliced potatoes in some water until they are tender. This means when you are cooking them in the skillet, they don't take as long and there's less chance they will get too brown and hard
Comments and ratings
If you've tried this Skillet Breakfast Potatoes or any other recipes on our site, please leave a comment and rating below. We love hearing from you!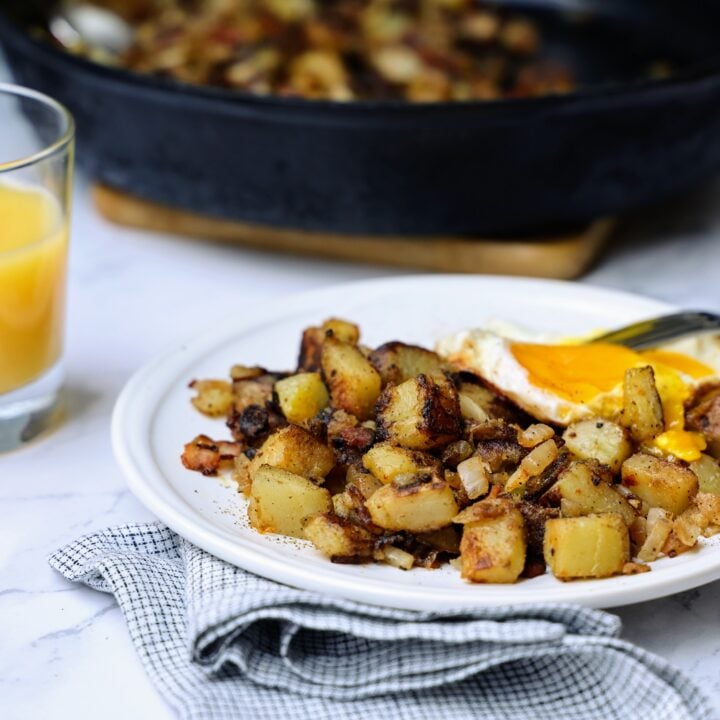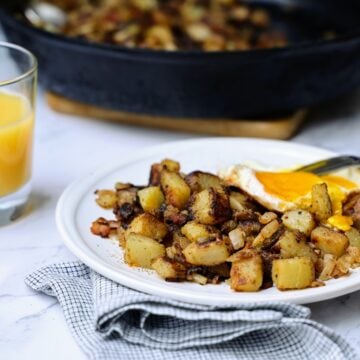 Skillet Breakfast Potatoes | Home Fries
In my house, home fries (or skillet breakfast potatoes) are a welcomed treat on the weekends, but honestly, they are great for dinner, too. Add a fried or over-easy egg, and breakfast for dinner will be a big hit! 
Ingredients
2

lb.

Yukon Gold potatoes, scrubbed, and cut into ½ to ¾-inch cubes

3

Tbs.

butter

4

slices bacon, chopped

1

medium onion, finely chopped

¼

tsp.

garlic powder

Salt and fresh ground pepper to taste

Smoked or regular paprika, to taste
Instructions
Put the potatoes and 1 Tbs. butter into a microwave-safe bowl. Cover tightly with plastic wrap and microwave on High for 10 minutes, shake the bowl halfway through. (If the potatoes are not tender, continue to microwave at 2 minute intervals.)

Meanwhile, cook the bacon until brown and crispy. Remove to plate. Add the onion and cook, stirring often, until softened, about 5 minutes. Remove to plate with the bacon.

Melt the remaining 2 Tbs. butter in the skillet. Add the potatoes to the skillet, press into a single layer with a spatula, and cook undisturbed for 5 minutes. Flip and stir the potatoes, press into a single layer and cook undisturbed for several minutes. Continue to flip, stir and press into singe layer until the potatoes are browned and crispy.

Add the bacon and onions to the potatoes and cook, stirring, until heated through. Season with the garlic powder, salt, pepper, and paprika.  Serve hot. 
Nutrition
Calories:
254
kcal
Carbohydrates:
28.7
g
Protein:
5.8
g
Fat:
13.4
g
Cholesterol:
27.6
mg
Sodium:
522.1
mg
Sugar:
2.3
g
Let's connect!
Be sure to FOLLOW US on FACEBOOK, INSTAGRAM and PINTEREST Many thanks!