Shrimp and sausage gumbo is a hearty and flavorful dish that combines the best of Cajun and Creole cuisine. This classic Louisiana stew features succulent shrimp, smoky sausage, and a rich roux-based broth seasoned with a medley of spices.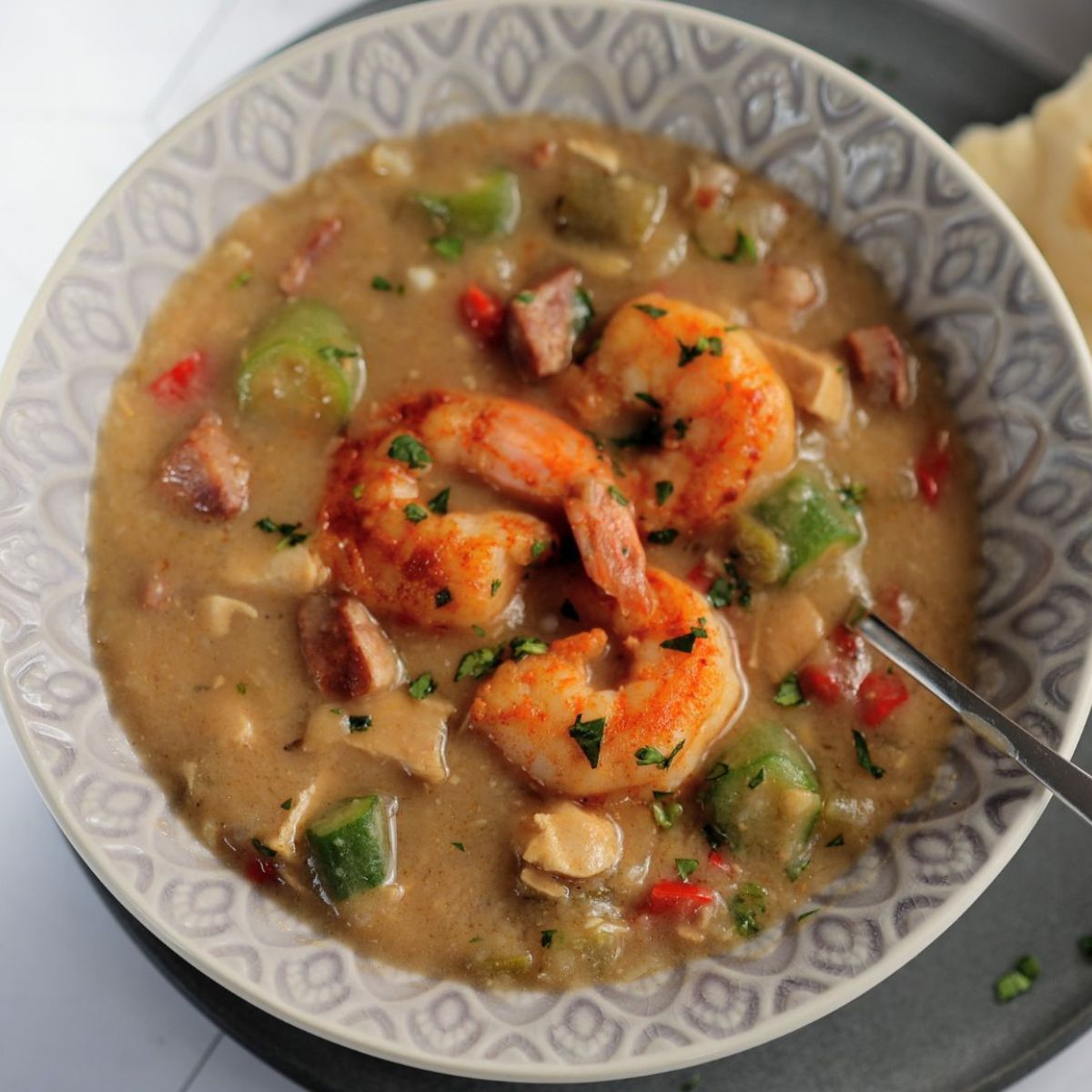 Shrimp gumbo is traditionally served over a bed of rice, creating a satisfying and comforting meal. With its bold flavors and comforting warmth, shrimp and sausage gumbo deliciously brings a taste of the South to your table.
Jump to:
Essential Ingredients
Andouille sausage: This is a smoked sausage with roots in French and Louisiana cuisine. Its robust and smoky flavor adds depth and great flavor to this gumbo. It also makes a great combination with shrimp.
Shrimp: When I buy gumbo, I always consider sustainability. Look for shrimp labeled as sustainably sourced or certified by organizations like the Marine Stewardship Council. Opt for shrimp that are caught or farmed using practices that minimize environmental impact. You'll find that they also taste the best!
Okra: Okra is a popular ingredient in gumbo, known for its unique texture and ability to thicken the stew. When cooked, okra releases a natural thickening agent that adds body to the gumbo. It also imparts a subtle flavor and enhances the overall taste of the dish, making it a key component in traditional gumbo recipes.
Recipe Tips
Develop Flavor: Start by building a flavorful base with a well-cooked roux. Allow it to darken to a deep brown, but be cautious not to burn it. This will add depth and richness to your gumbo.
Quality Ingredients: Use fresh and high-quality shrimp and sausage for the best results. Opt for smoked sausage like andouille for its distinctive smoky flavor that pairs well with seafood.
Sauté the Trinity: Sauté a combination of onions, bell peppers, and celery known as the "holy trinity" until softened. This aromatic blend serves as a flavor foundation for your gumbo.
Spice it Up: Embrace the Cajun and Creole flavors by adding spices like paprika, cayenne pepper, thyme, and bay leaves. Adjust the spice level to your preference, balancing heat with other flavors.
Slow Simmer: Allow your gumbo to simmer low and slow to allow flavors to meld and develop. This will also ensure that the shrimp and sausage are cooked to perfection and tender.
Add the Shrimp Last: To prevent overcooking, add the shrimp to the gumbo towards the end of cooking time, as they require less time to cook and can become rubbery if overdone.
Allow Resting Time: Let your gumbo rest for a little while before serving. This will allow the flavors to further meld together, resulting in a more cohesive and delicious dish.
Recipe FAQs
What is roux?
A roux is a mixture of equal parts flour and fat (usually butter) that serves as a thickening agent in cooking and sauces.
What is gumbo?
Gumbo is a flavorful and robust stew originating from Louisiana, particularly associated with Creole and Cajun cuisine. It typically consists of a rich, savory broth, often thickened with a roux, and includes a variety of ingredients such as meat or seafood, vegetables, and aromatic spices like cayenne pepper and thyme. Gumbo is served over rice and is known for its complex flavors and cultural significance in Southern cooking.
How do you serve gumbo?
Gumbo is traditionally served over a bed of fluffy white rice, allowing the flavorful broth to mingle with the grains. It is common to garnish gumbo with a sprinkle of chopped green onions and serve it alongside hot sauce or filé powder, giving diners the option to add additional heat and flavor to their liking.
More recipes to Try
Shrimp and Sausage Gumbo
Is it a soup? Is it a stew? Should it be made with a roux? Does it have okra? The gumbo debate rages on, but I can tell you this much: This gumbo recipe is a rich, soul-warming broth punctuated by succulent shrimp, juicy chunks of chicken, spicy andouille, and crisp-tender okra. Years ago, my husband and I frequented a local restaurant just to order their gumbo, which was soul-nourishing with amazing flavor. They went out of business long ago and since then I've spent countless hours trying to replicate their dish. According to my husband, my version eclipses theirs. I'm not sure he's being completely honest, but regardless, it's a dish you'll want to cozy up with and savor. Serve with crusty bread.
Ingredients
½

cup

all-purpose flour

¾

cup

plus 3 Tbs. vegetable oil

1

medium

onion

chopped

2

small

bell peppers

preferably red and green, cored, seeded and chopped

2

stalks

celery

chopped

2

cloves

garlic

minced

8

ounces

andouille sausage

cut lengthwise and sliced ¼-inch thick

8

cups

good-quality chicken stock

2

bay leaves

3

Tablespoons

Worcestershire sauce

1

teaspoon

dried thyme

¼

teaspoon

crushed red pepper flakes

Salt and fresh ground black pepper

8

ounces

chopped cooked chicken

10

ounce

package frozen sliced okra

thawed and drained

8

ounce

large shrimp

peeled and deveined

1

teaspoon

smoked paprika

Chopped fresh parsley

for serving
Instructions
In a heavy-bottomed medium saucepan, heat ½ cup of the oil over medium heat for 1 minute. Slowly add the flour, whisking until blended. Cook over medium-low heat, whisking almost constantly, until the roux is a mahogany brown color, about 20 minutes. Remove the pan from the heat.

In a large Dutch oven, heat 2 Tbs. of the oil over medium heat. Add the onion, peppers, and celery and cook, stirring often, until the vegetables are softened, about 8 minutes. Add the garlic and cook, stirring for 30 seconds. Stir in the roux until well blended.

Add the stock, bay leaves, Worcestershire sauce, thyme, red pepper flakes, ½ tsp. salt and ½ tsp. pepper. Cover and simmer over low heat for about 20 minutes. Add the chicken and okra and cook, stirring occasionally, until heated through. 

Sprinkle the shrimp with the paprika. Heat 1 Tbs.of the oil in a medium skillet over medium heat. Add the shrimp and cook, stirring often, until no longer translucent, 3 to 5 minutes.

Ladle the gumbo into serving bowls. Top each a few shrimp and sprinkle with parsley. 
Nutrition
Serving:
1
bowl
Calories:
520
kcal
Carbohydrates:
21.2
g
Protein:
25.7
g
Fat:
37.8
g
Cholesterol:
99.6
mg
Sodium:
708.8
mg
Sugar:
6.6
g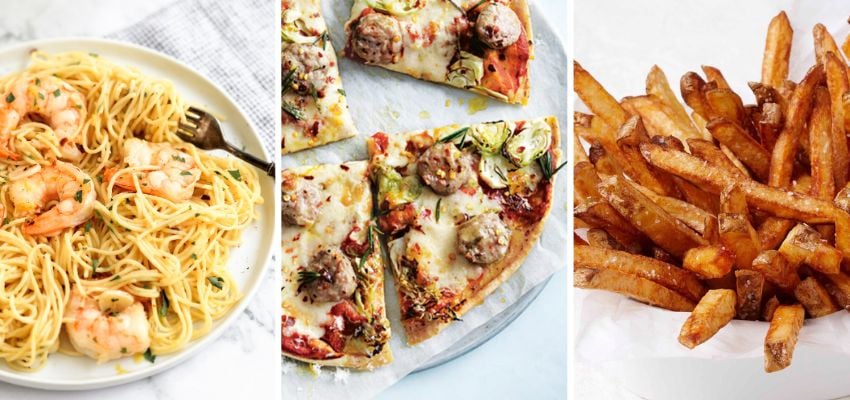 Let's connect!
Be sure to FOLLOW US on FACEBOOK, INSTAGRAM and TIKTOK Many thanks!