This Edamame Succotash recipe is a modern, fresh take on the southern classic corn and lima bean dish. It's great as is, or topped with grilled salmon, steak, or chicken.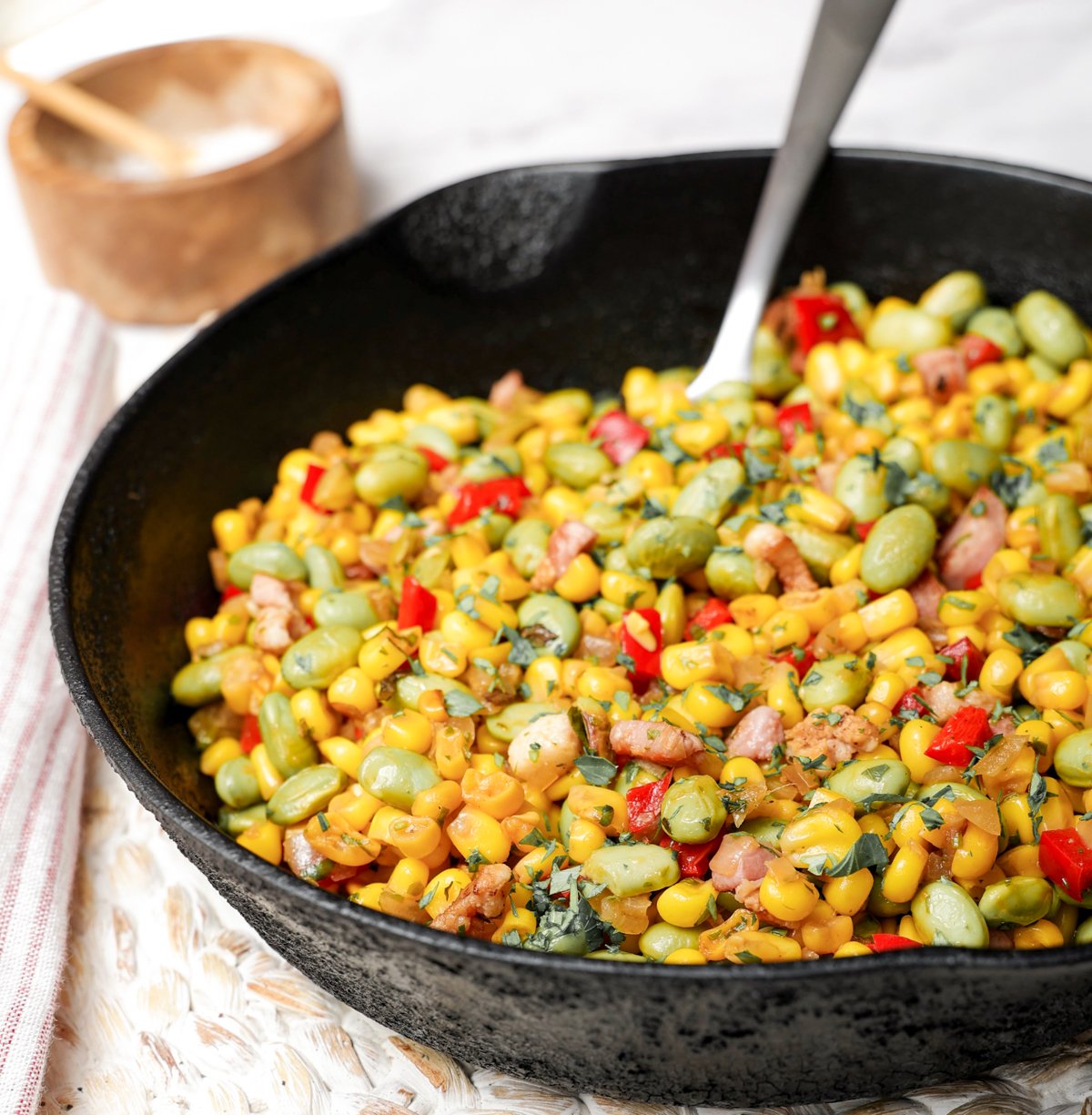 The edamame (fresh green soybeans) have a sweet nutty flavor and make a tasty stand in for the traditional lima beans in the dish. The succotash is so fresh tasting and colorful, but perhaps the best part is that it's on the table in under 30 minutes!
Jump to:
Essential Ingredients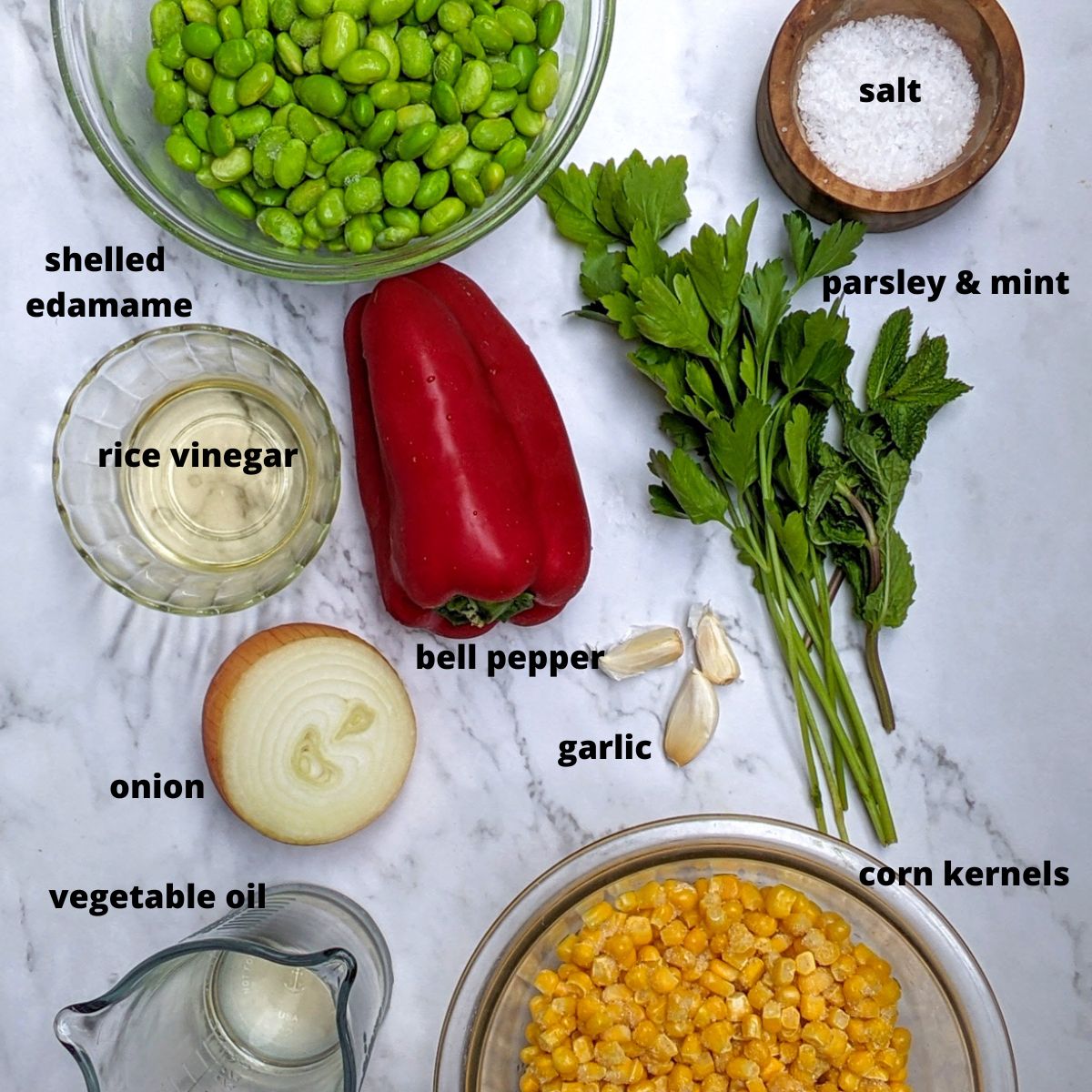 Edamame: Look for shelled edamame, which are par-cooked, in the frozen section for this recipe. Although the pods are great for snacking, if you use them here, you'll need to first cook and remove the beans from the pod.
Corn: Buying fresh, sweet corn and cutting the kernels from the cob is the best option for this dish, but if that is not available, go with a good-quality frozen brand.
Pancetta: Pancetta is the Italian version of bacon. It is cured, but it isn't smoked, so the flavor isn't as assertive. If you can't find pancetta, bacon is a good substitute.
Fresh herbs: I like using a mix of fresh parsley, mint  for the dish, but you can also use cilantro, basil , dill or even tarragon.
How to make succotash
Recipe FAQs
What is edamame? 
These lean, green, Japanese beans are a type of soybean that are picked young, plump, and tender as opposed to field soybeans, which are harvested when mature and dry. They have a sweet, nutty flavor with a high protein content and are often served as a snack.
What is succotash?
Some say succotash has New England roots, while others contend that its roots are firmly planted in the South, but one thing we know for sure is that it originated with the 17th century Native Americans. This mixed vegetable dish has 3 essential ingredients, corn, beans, and squash, which are considered the Three Sisters, in native culture. And its name comes from the Narragansett Indian word "msickquatash," which means "simmering corn dish." There's a wide variety of other ingredients can be added to the dish, including bell peppers, onions, herbs, celery, tomatoes, and potatoes. Today, there are as many versions of this dish as there are cooks who make it.
What can I use other than edamame and lima beans?
Yes, other beans you can use include fava beans, cranberry beans, and black-eyed peas.
Recipe Tips:
You can make the succotash ahead, cover and refrigerate for up to 2 days.
Look for shelled edamame in the frozen section of large supermarkets, natural-foods stores or Asian markets.
Comments and ratings
If you've tried this Edamame Succotash or any other recipes on our site, please leave a comment and rating below. We love hearing from you!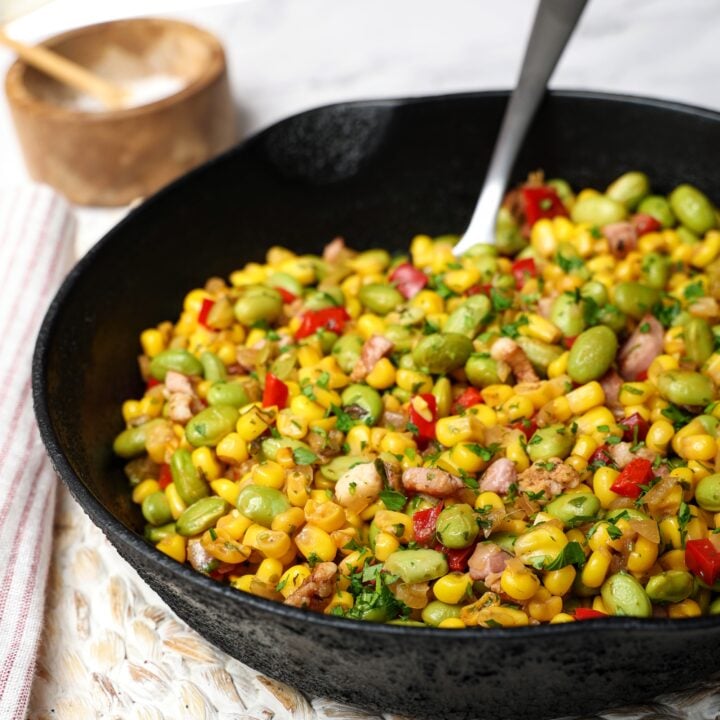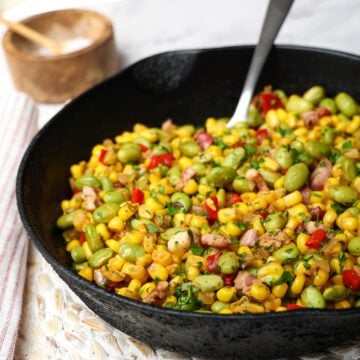 Succotash Recipe with Edamame
This succotash recipe with edamame is a modern take on the southern lima bean and corn dish.  You can certainly use lima beans here, but the edamame, which are green soybeans, give the dish a boost of flavor and protein. The succotash is great as is or served with grilled steaks, chicken or fish. Look for shelled edamame in the frozen section of large supermarkets, natural-foods stores or Asian markets.
Ingredients
1 ½

cups

frozen or fresh shelled edamame

4

oz.

chopped pancetta or bacon

1

Tbs.

vegetable oil

¾

cup

chopped red bell pepper

½

cup

chopped onion

2

cloves garlic, minced

2

cups

fresh or frozen corn kernels

3

Tbs.

dry white wine or water

2 ½

Tbs.

rice vinegar

3

Tbs.

chopped fresh parsley

2

Tbs.

chopped fresh mint or basil

½

tsp.

salt

Fresh ground pepper to taste
Instructions
Bring a large saucepan of lightly salted water to a boil. Add the edamame and cook until tender, about 4 minutes or according to package directions. Drain well.

Meanwhile, in a large nonstick or cast-iron skillet, cook the pancetta, stirring often, until crisp. Transfer to a bowl. 

Add the bell pepper, onion and garlic to the skillet and cook, stirring often, until vegetables start to soften, about 2 minutes. Stir in the corn, edamame and wine and cook, stirring frequently, for 5 minutes.

Remove the skillet from the heat. Stir in the reserved pancetta, vinegar, parsley, mint, salt and pepper. Serve warm or at room temperature. 
Notes
The succotash can be made ahead, covered and refrigerated for up to 2 days.
You can use beans other than edamame and lima, such fava beans, cranberry beans, and black-eyed peas.
Nutrition
Serving:
6
g
Calories:
201
kcal
Carbohydrates:
15.5
g
Protein:
8.8
g
Fat:
12.4
g
Cholesterol:
12.3
mg
Sodium:
135.8
mg
Sugar:
5.6
g
Let's connect!
Be sure to FOLLOW US on FACEBOOK, INSTAGRAM and PINTEREST Many thanks!