Print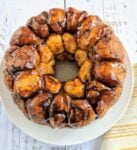 Salted Caramel Monkey Bread
Author:

Prep Time:

20 minutes plus rising

Cook Time:

30 minutes

Total Time:

6 minute

Yield:

serves 8 to 10

Category:

dessert

Method:

Bake

Cuisine:

American
---
Description
Who can resist warm monkey bread coated in melted caramel? This decadent dessert made of pull-apart bites is perfect to feed a crowd or bring to a potluck. Homemade dough makes this version irresistible, and the hint of salt in the caramel elevates it to something special!
---
For the dough:
2 ½ tsp. (1 envelope) active dry yeast
¼ cup warm water (105-110°F)
1 ¼ cups whole milk
2 Tbs. butter, plus more for greasing
1 large egg
¼ cup granulated sugar
1 tsp. table salt
4 ½ cups all-purpose flour
For the Salted Caramel:
1 cup (lightly packed) dark brown sugar
2 tsp. ground cinnamon
½ cup (1 stick) unsalted butter
Flaky salt, such as Maldon
---
Instructions
1. Make the dough: In a small bowl, sprinkle the yeast and a pinch of salt over the warm water. Let stand until the mixture is foamy, about 10 minutes.  
2. Meanwhile, in a heavy saucepan, heat the milk and butter over medium-low heat just until the butter is melted. Remove the pan from the head and let the mixture cool until lukewarm. Stir in the egg, sugar, and salt, and then the yeast mixture.
3. Transfer the mixture to the bowl of a stand mixer fitted with the dough hook. Beat in 2 cups of the flour until blended. Add another 2 cups of flour and beat on medium speed until the dough is shiny and smooth, 6 to 8 minutes. Add additional flour, tablespoon by tablespoon if necessary, until the dough removes easily from the sides of the bowl. 
4. Transfer the dough to a large greased bowl, cover with plastic wrap and let rest in a warm, draft-free spot until doubled in volume, about 1 hour. 
5. Turn the dough out onto a lightly floured surface and pat into a flat square about ½-inch thick. Using a pastry cutter or knife, cut the dough into small pieces, about 1 ½ inches in size. Roll each piece into a ball.
6. Make the caramel coating: Generously butter a Bundt pan. Combine the sugar, cinnamon, and salt, if using, in a medium bowl. Melt the butter in a saucepan, then pour into a small bowl. Dip each ball of dough in the melted butter, then roll in the cinnamon-sugar mixture to coat evenly.
7. Layer the balls in the prepared pan, staggering the rolls as you build and sprinkling each layer with a little salt (not too much). Cover the pan with plastic wrap and let rest in a warm, draft-free spot until doubled in volume, about 1 hour. Alternatively, refrigerate the dough overnight, then bring to room temperature and let it rise until doubled.
8. Preheat the oven to 350°F. Remove the plastic wrap from the pan. Bake the bread until golden brown and the caramel is bubbling. Set the pan on a wire rack to cool for 5 minutes, then invert onto a serving plate and serve right away.
---
---
Nutrition
Serving Size:

1 serving

Calories:

535

Sugar:

32.4g

Sodium:

515.4mg

Fat:

17g

Carbohydrates:

86.8g

Protein:

9.9g

Cholesterol:

65.2mg
Keywords: monkey bread, salted caramel,