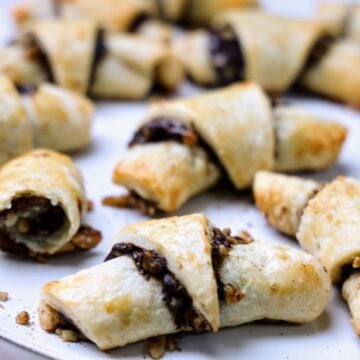 Chocolate-Nut Rugelach
These chocolate nut rugleach were a fast and best-selling item at the bakery I used to own in Connecticut, called Great Cakes. We could barely keep up with their demand, and once you taste these rugelach you'll know why. Made with a rich, tender cream cheese pastry and a dark chocolate and cinnamon nut filling, they are simply irresistible.
Ingredients
For the Dough
8

ounces

cream cheese softened

6

tablespoons

3 oz. unsalted butter, softened

¼

cup

confectioners' sugar

2

cups

plus 2 Tbs. all-purpose flour; more as needed

½

teaspoon

kosher salt
For the Chocolate Filling
6

ounces

coarsely chopped dark chocolate

1

tablespoons

unsalted butter

¼

cup

heavy cream
For the Nut Filling
¼

cup

brown sugar

½

cup

finely chopped walnuts

1

tablespoon

cinnamon
Instructions
Make the dough: In bowl of a stand mixer fitted with the paddle attachment (or in a large bowl using a hand-held electric mixer), beat the cream cheese, butter, and sugar on medium speed until light and fluffy, 2 minutes. Add the flour and salt, and then mix just until a smooth dough forms. Divide into 4 equal disks, wrap in parchment or plastic and chill for 1 hour or up to overnight.

Make the chocolate filing: Combine the chocolate, butter, and cream in a heatproof bowl over a small saucepan of simmering water. Whisk until melted and smooth. Set aside.

Make the Nut Filling: In a small bowl, combine the sugar, nuts and cinnamon until blended.

Fill and shape: Position a rack in the center of the oven, and preheat the oven to 375°F. Line 2 large rimmed baking sheets with parchment paper. Remove one dough disk form the refrigerator and place on a lightly floured work surface. Roll into a 9-inch circle. Spread one-fourth of the chocolate filling on the dough, leaving a ½-inch edge, and sprinkle with the nut mixture. Cut the dough into 12 equal wedges. Roll each wedge into a crescent shape from the outside edge in. Arrange on prepared baking sheets. Brush with the egg wash, and dust lightly with coarse sugar, if you like.

Bake until golden-brown, 20 to 25 minutes. Repeat with the remaining dough and filling. Cool completely before serving.
Notes
How to make square-shaped rugelach: Remove one dough square from the refrigerator, and place on a lightly floured work surface. Roll the dough into an 8-inch square. Spread one-fourth of the filling on the dough, leaving a ½-inch edge at the top and bottom. Slice the square in half. Starting at a long end, roll each half into a cylinder from the outside in, and then cut each rolled half into six evenly sized pieces. Proceed as directed in recipe above. Raspberry-Nut Rugelach: Omit the chocolate filling and use 2 Tbs. raspberry jam (or any flavor jam). Proceed as directed by recipe. Store rugelach in an airtight container at cool room temperature for up to 3 days, or wrap airtight and freeze for up to 3 months.
Nutrition
Serving:
36
g
Calories:
55
kcal
Carbohydrates:
3.1
g
Protein:
0.5
g
Fat:
4.7
g
Cholesterol:
13.2
mg
Sodium:
38.4
mg
Sugar:
2.6
g