Here are reviews of five new Trader Joe's products in stores now (March 2023).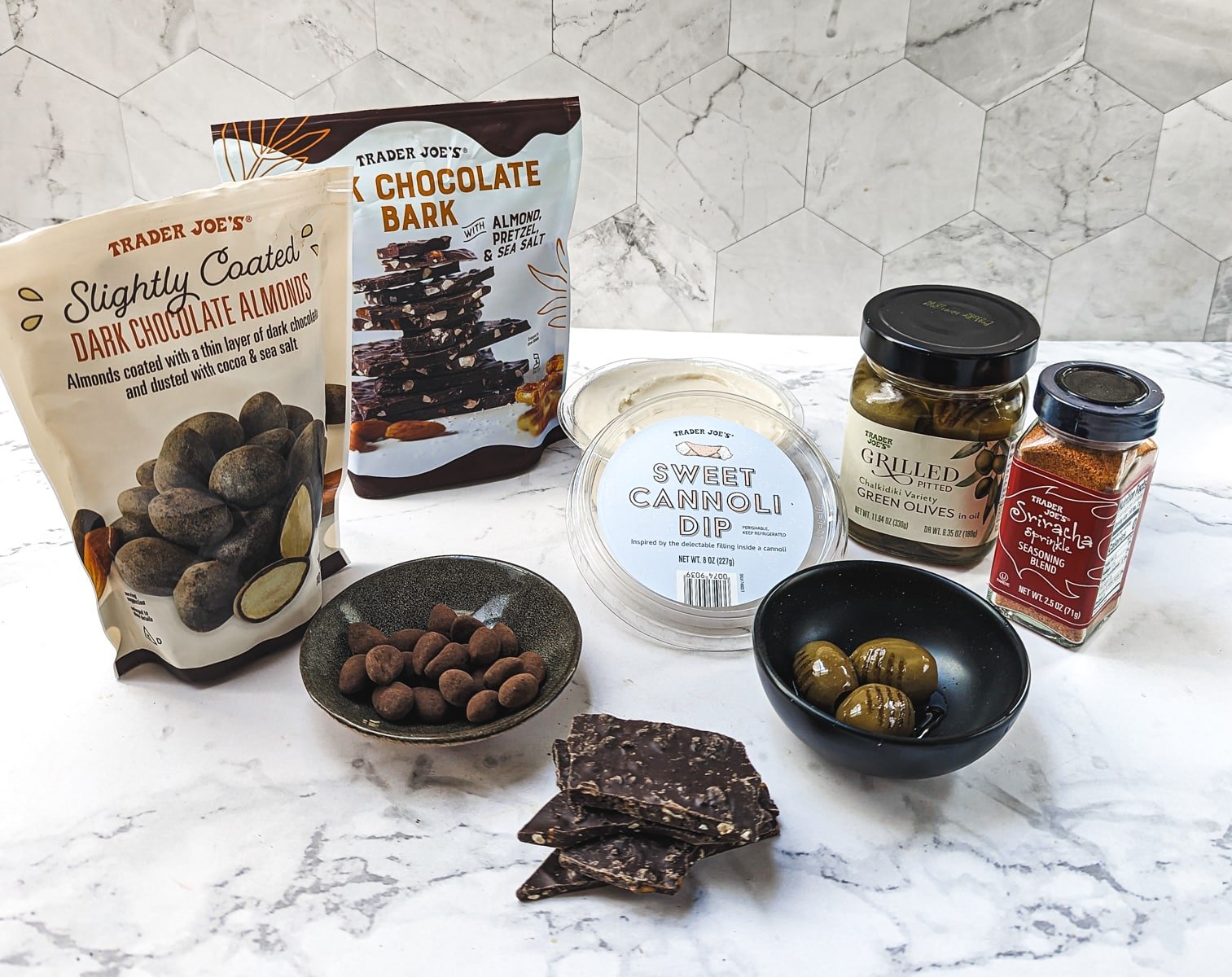 While my devotion to Peanut Butter Filled Pretzel Nuggets (which are now officially in the Trader Joe's Product Hall of Fame), TJ's Everything Seasoning, and St. André Triple Cream Brie will hold steady, I'm always excited when new TJ's products drop. The stores have a constantly-evolving new product inventory section, so if you don't already, check it out your time there. It makes a trip to one of their stores like a new adventure each time!
Also, read about TJ's customers favorite products for 2002.
1. Sriracha Seasoning Blend: A delicious deconstruction of Sriracha Sauce's garlicky, fiery flavor profile, this blend provides all the same tart, peppery, and garlicky notes in a convenient, sprinkable form. And because its a dry spice, it's great for adding a bit of heat to your next dry rub, or a little extra oomph in your burgers, egg salad, or breading for fried chicken. Or sprinkle some over warm popcorn, fresh fries, grilled shrimp, chicken or vegetables
2. Slightly Coated Dark Chocolate Almonds: These are addicting! Dry-roasted almonds with a thin coating of dark chocolate and finished with a dusting of cocoa powder and salt. Each Slightly Coated Dark Chocolate Almond that you pop in your mouth has a delightful crunch, with enough salty sweetness to more-than-slightly satisfy your snack cravings.
3. Dark Chocolate Bark with Almonds, Pretzels, and Sea Salt: this gets a thumbs up from me! Smooth dark chocolate with crunchy almond bits, crispy pretzel pieces and sea salt all come together for an amazing bite. The pieces of almond and pretzel are small and distributed evenly throughout, so you're always getting chocolate with a little something extra. The salt hits just the right note - leaving a very pleasant aftertaste. This is the perfect ending to a meal when you don't want a heavy dessert.
4. Sweet Cannoli Dip Made with a base of cream cheese, sour cream, and ricotta, this is a remarkably rich dessert dip full of sweet, vanilla-tinged, ever-so-slightly tart notes and a velvety, frosting-like consistency—just like what you'd find within a freshly baked cannoli. Try it as a spread on crackers or short cake, as a layer in a super luxurious trifle, or mixed with berries and melon for a full-flavored fruit salad. Of course, our favorite way to indulge might be the one most tied to its inspiration: joyfully scooped up with crispy, crunchy cookies to create a kind of deconstructed, shareable, sweet cannoli appetizer.
5. Grilled, Pitted Olives: These were a bit of a miss, unfortunately. The flavor was good, but they are sitting in a jar of sunflower oil, and they are very oily. It's a good concept, and you do get a bit of the smoky-grilled flavor, but the oil makes them unappealing in my book.
Recipes to try
Let's connect!
Be sure to FOLLOW US on FACEBOOK, INSTAGRAM and PINTEREST Many thanks!