These Trader Joe's Thanksgiving products can elevate your holiday feast with ease and confidence. From TJ's Cranberry Sauce with Orange Zest and Cornbread Stuffing Mix to Crispy Fried Onions and the turkey itself, these items will add flavor, and convenience, to your holiday table.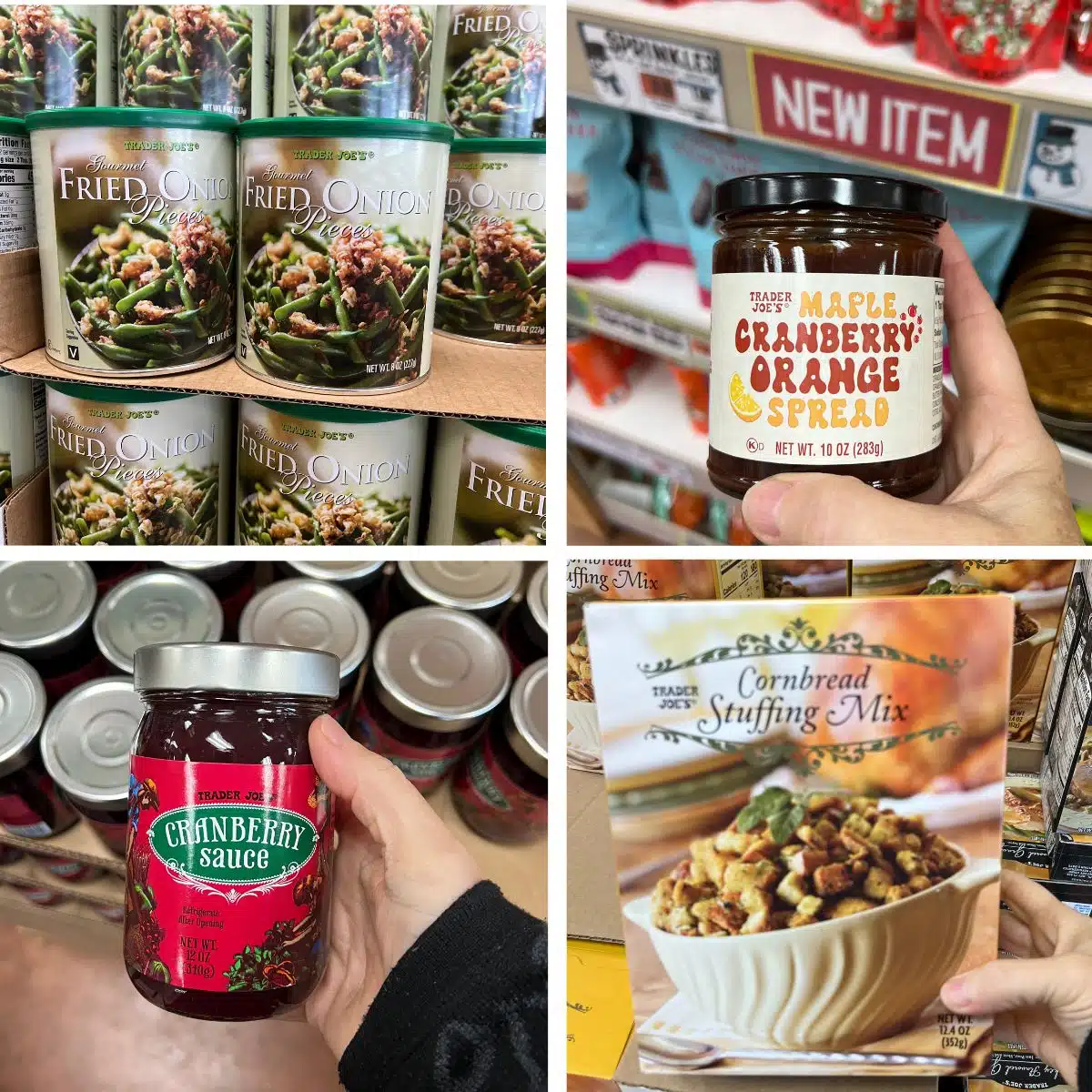 With high-quality ingredients and unique twists on classic dishes, Trader Joe's Thanksgiving offerings are a tasty and time-saving choice for a memorable celebration.
Products to Try
Trader Joe's Cornbread Stuffing Mix is made with lightly toasted cornbread croutons and seasoned with traditional poultry spices—such as oregano and sage—along with other familiar flavors, like chicken broth, onion, celery, garlic, and mushrooms. Just combine butter, water, and the contents of the seasoning pouch in a saucepan and bring to a low boil for 3 to 5 minutes. Then fold in the bread and let it set for about 10 minutes. You'll have fluffy, savory, flavorful stuffing with minimal effort!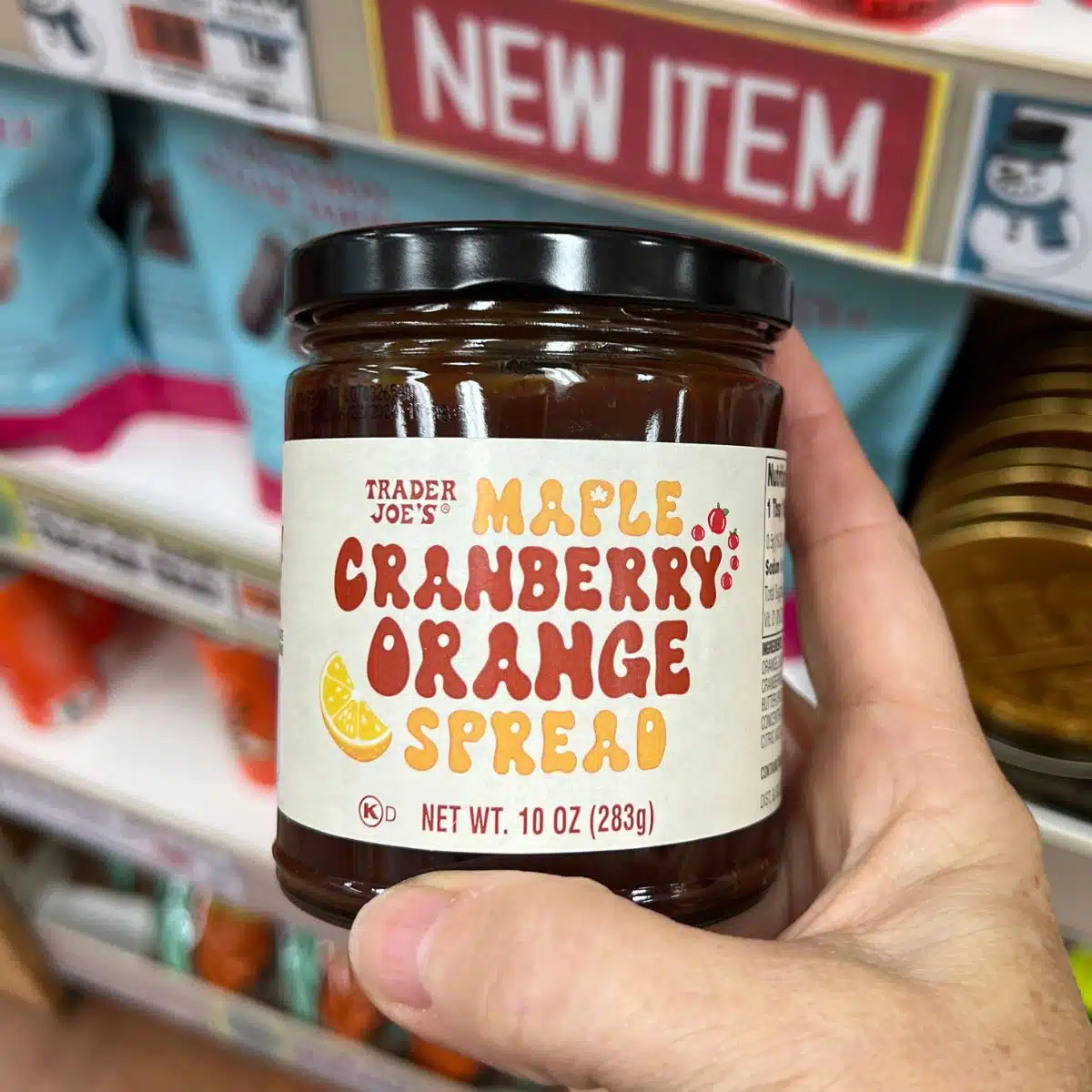 Trader Joe's Maple Cranberry Orange Spread combines the sweet, rich taste of maple with cranberry purée and citrus for a balanced sweetness. There's also a dash of allspice and cinnamon for seasonal warmth, and the addition of butter which helps to make it super spreadable. Serve it as an alternative to cranberry sauce on Thanksgiving, or spread it on toast, bagels, pancakes, waffles, or as part of holiday cheese board.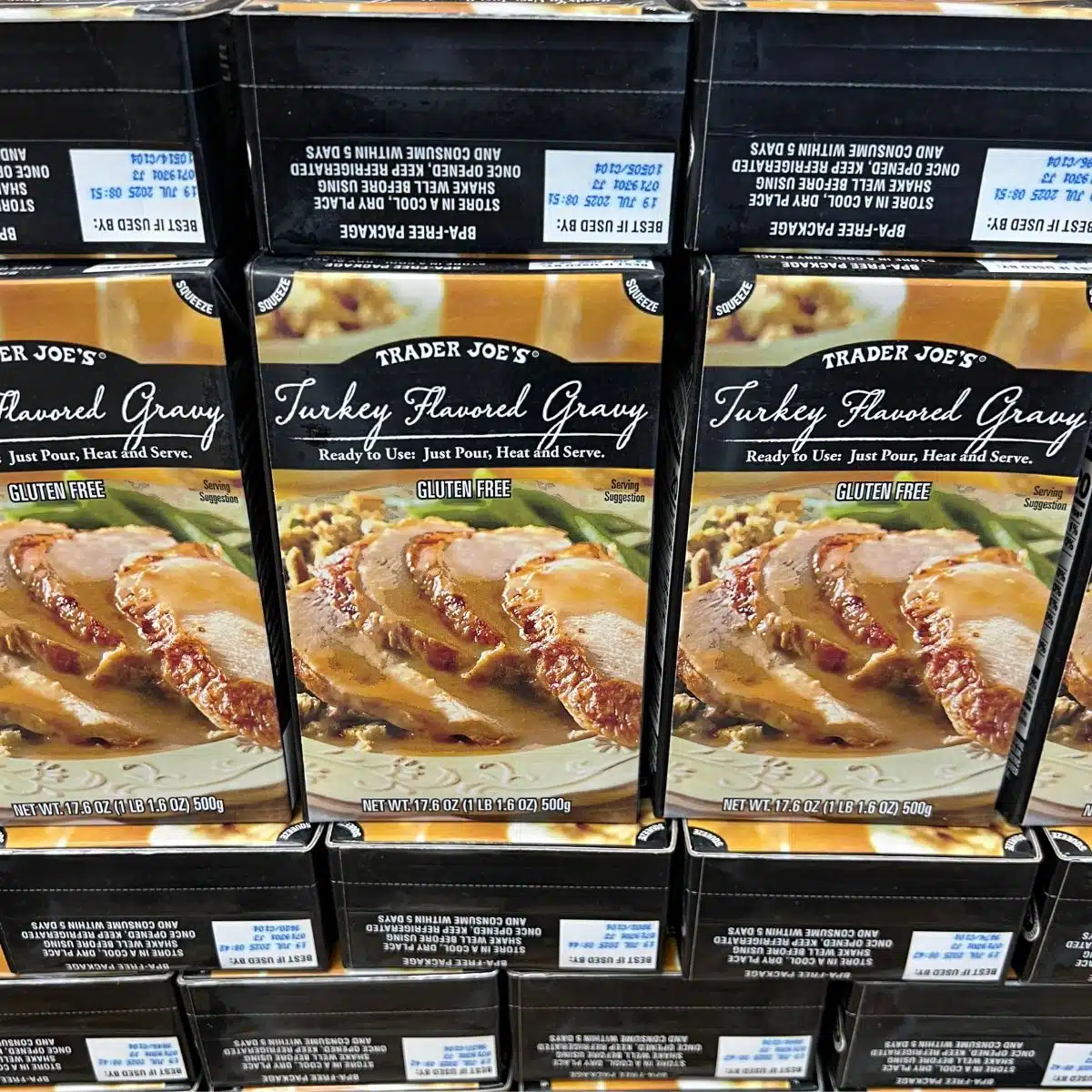 Trader Joe's Turkey Gravy is a great to have on hand as a back-up to gravy made form scratch for the pan drippings, because sometimes things don't go as planned. The gravy offers an open-pour-heat option that can go from shelf-to-table in moments. Its herby flavors are just what you want with this holiday meal.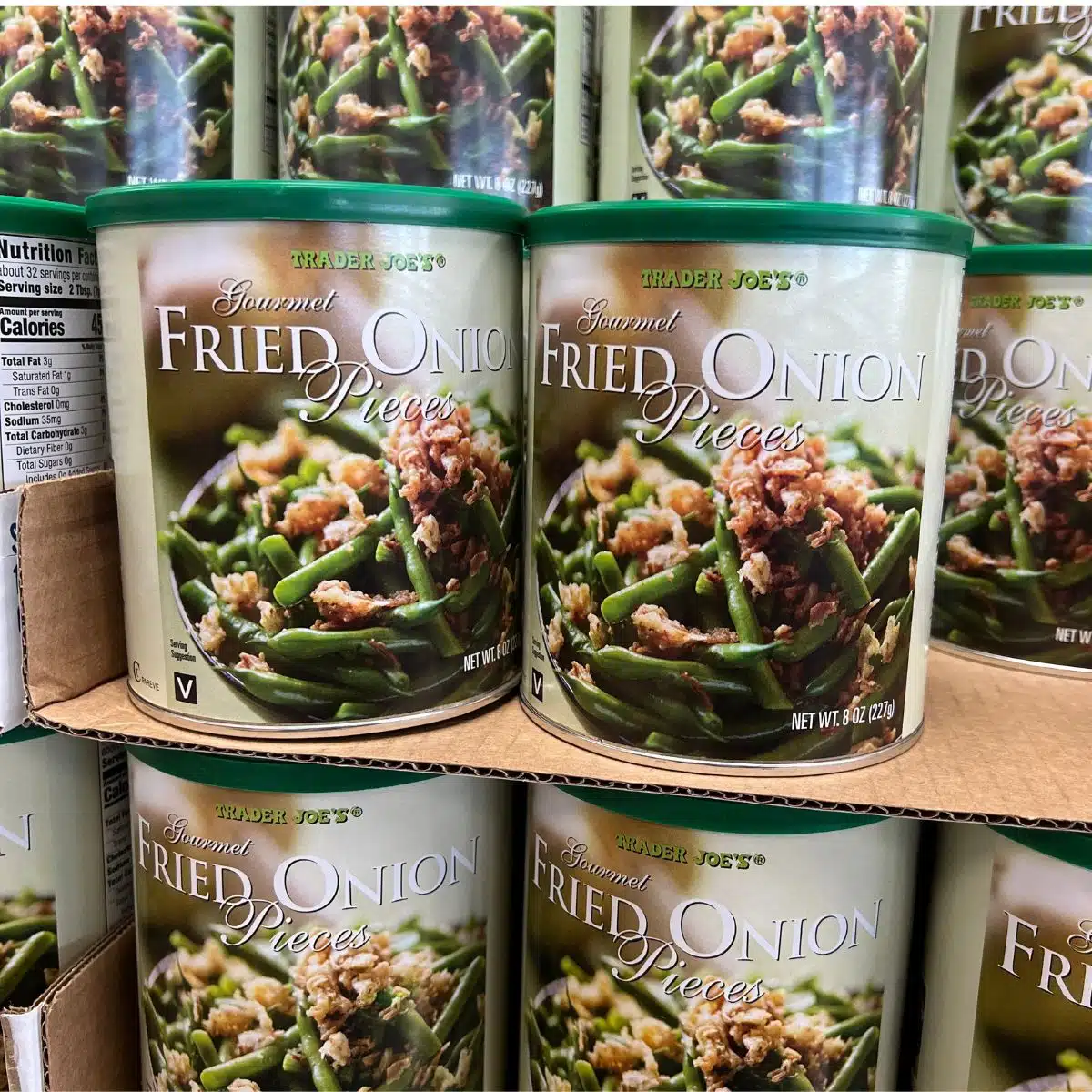 Trader Joe's Gourmet Fried Onion Pieces are made by a Dutch supplier who breads and fries yellow onions in vegetable oil until they achieve that perfect crispy, crunchy, melt-in-your-mouth texture and super savory flavor. These are the perfect topper for the quintessential holiday green bean casserole, but also have other delicious uses, such a sprinkling over a burger, a hot dog, or a leftover-turkey sandwich, which is an absolute game-changer.
Trader Joe's Cranberry Orange & Onion Chili Crunch is a great condiment for serving with the turkey, pork roast, prime rib, and many other staples of the Thanksgiving and holiday season. It also adds some crunch, spice, and a rich, citric zing when tossed with roasted carrots or sweet potatoes, or when spooned over a creamy cheese, like baked brie.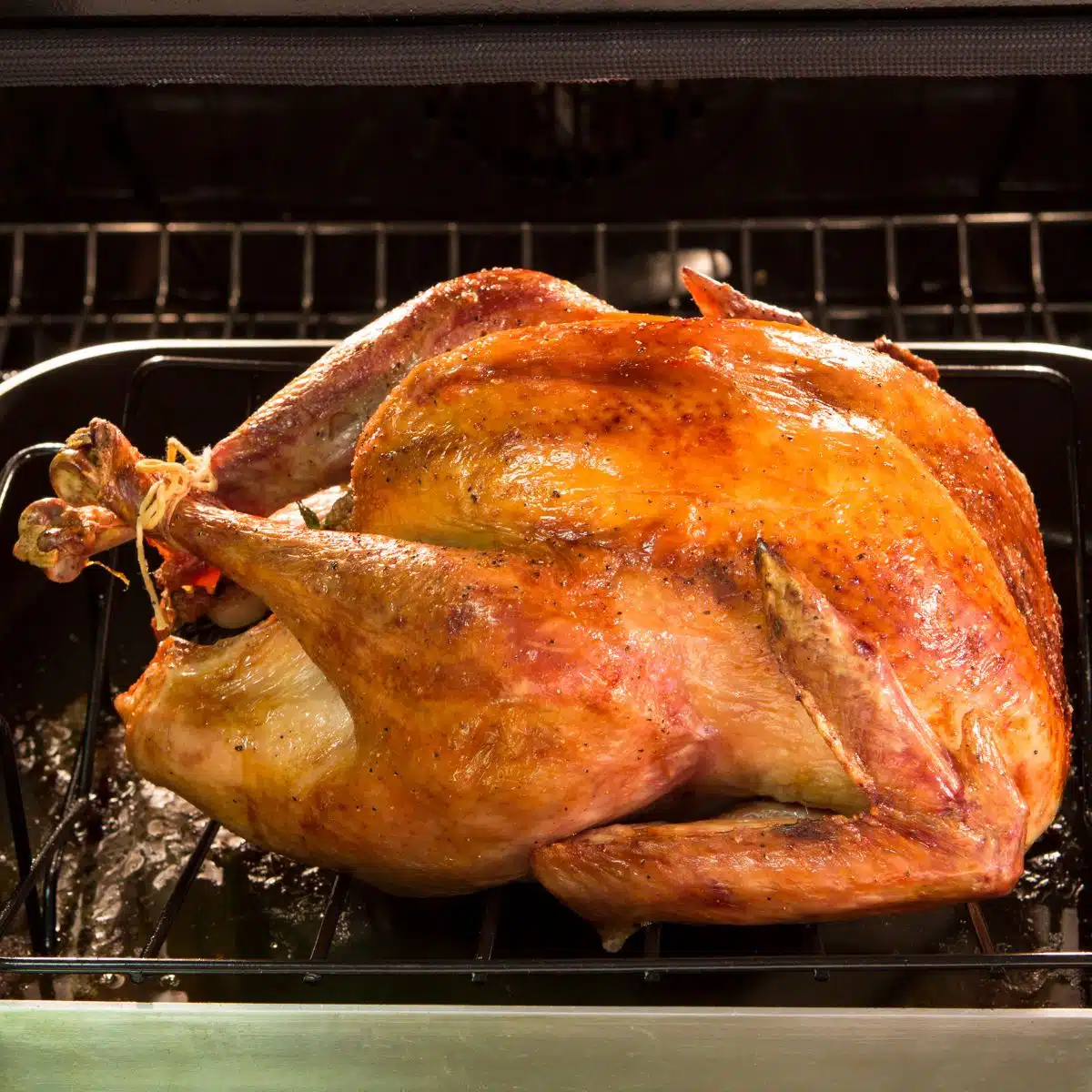 Trader Joe's Whole Turkeys are selected from young hens, ensuring tender, juicy meat. The birds are considered "All Natural," since they are vegetarian fed, given no antibiotics or hormones, and minimally processed. All our Turkeys are 100% fresh, meaning they are never frozen, and depending on which one you choose, they come with a variety of additional attributes. The All Natural Antibiotic Free Brined Fresh Young Turkeys are soaked in a sweet-savory brine so the meat is juicy and tender when roasted.
Trader Joe's Cranberry Sauce is made with three, simple ingredients: whole cranberries, sugar, and water. It's simple, straightforward and delivers a sauce that's uncomplicated and great tasting. Each bite delivers terrific texture and bright, tart, vibrant flavor.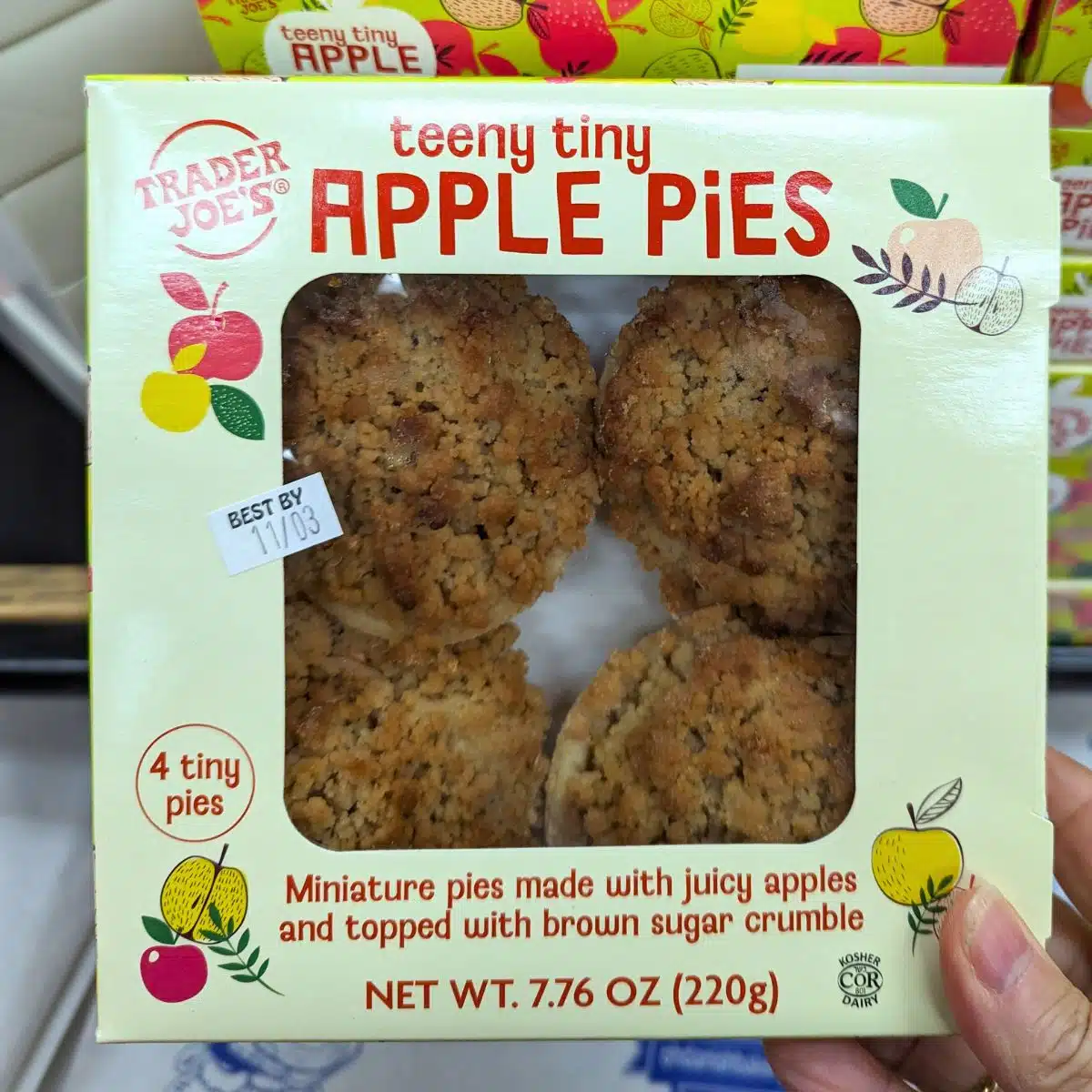 Trader Joe's Teeny Tiny Apple Pies are bite-sized treats made with sweet-tart Northern Spy apples that are nestled in a flaky, buttery crust and topped with a brown sugar crumble. They are packed four to a box, each measuring about three inches in diameter, so you can enjoy their sweet, tender, apple-y goodness whenever a craving for pie presents itself—no fork or pie server required.
A Turkey Walks Into a Pumpkin Patch Cookie Kit offers up some kitchen fun for all ages. Inside each Kit, you'll find cookies in the shapes of turkeys, acorns, autumn leaves, and pumpkins, as well as icing in orange and yellow hues, a packet of green sugar, and two different styles of sprinkles. The creative decorating is up to you!