This Grilled Shrimp Rémoulade is one of my tried-and-true, go-to recipes. Creamy, tart and spicy, the rémoulade sauce is the perfect accompaniment to succulent grilled shrimp. But the best part is, the recipe is a cinch to make.
What I love most about this dish is that it's so delicious and can be ready to serve in 20 minutes! The remoulade sauce starts with prepared mayonnaise that's blended with ingredients like capers, herbs, mustard, vinegar, garlic, and spices. And the shrimp take just 5 minutes to grill.
Jump to:
🍤 Essential Ingredients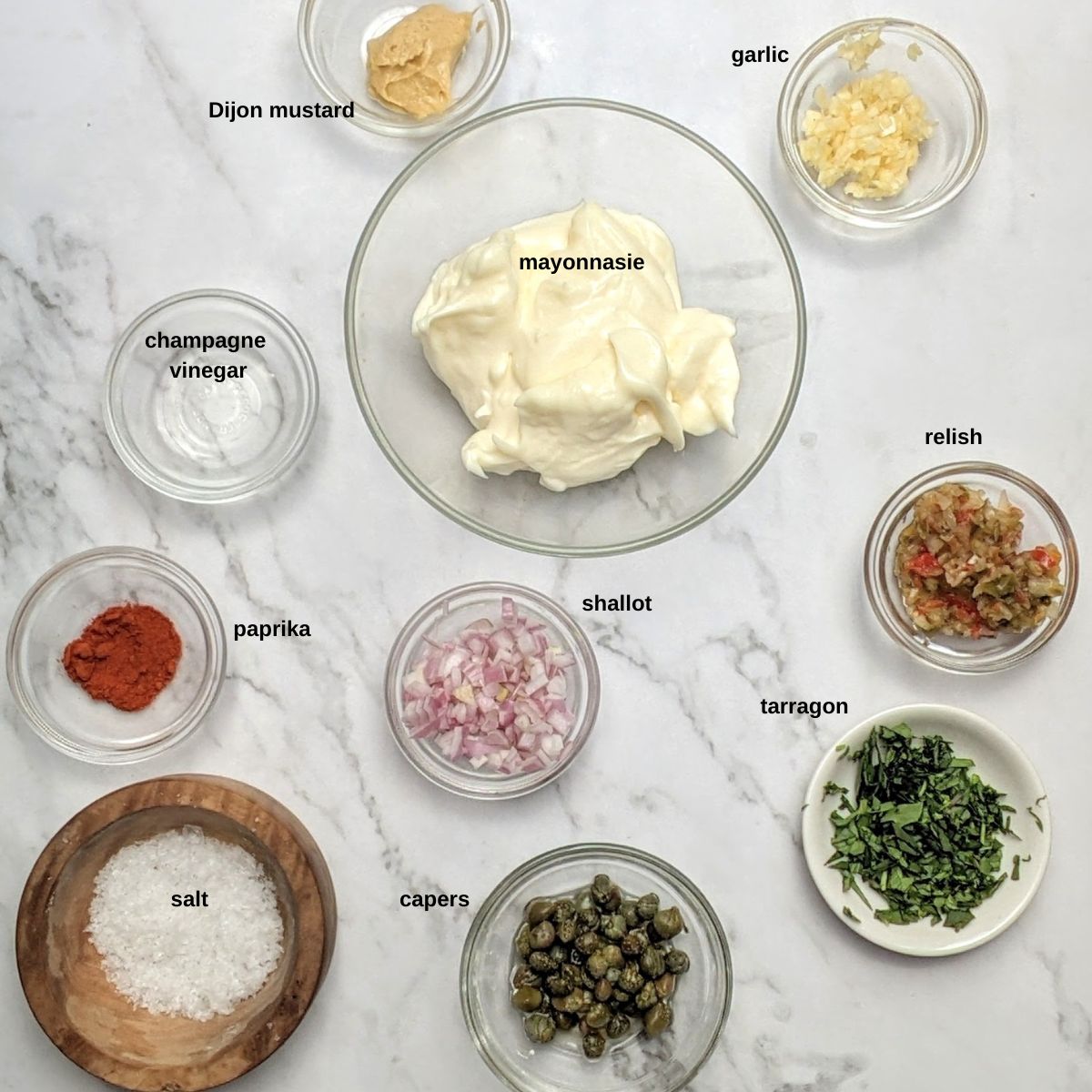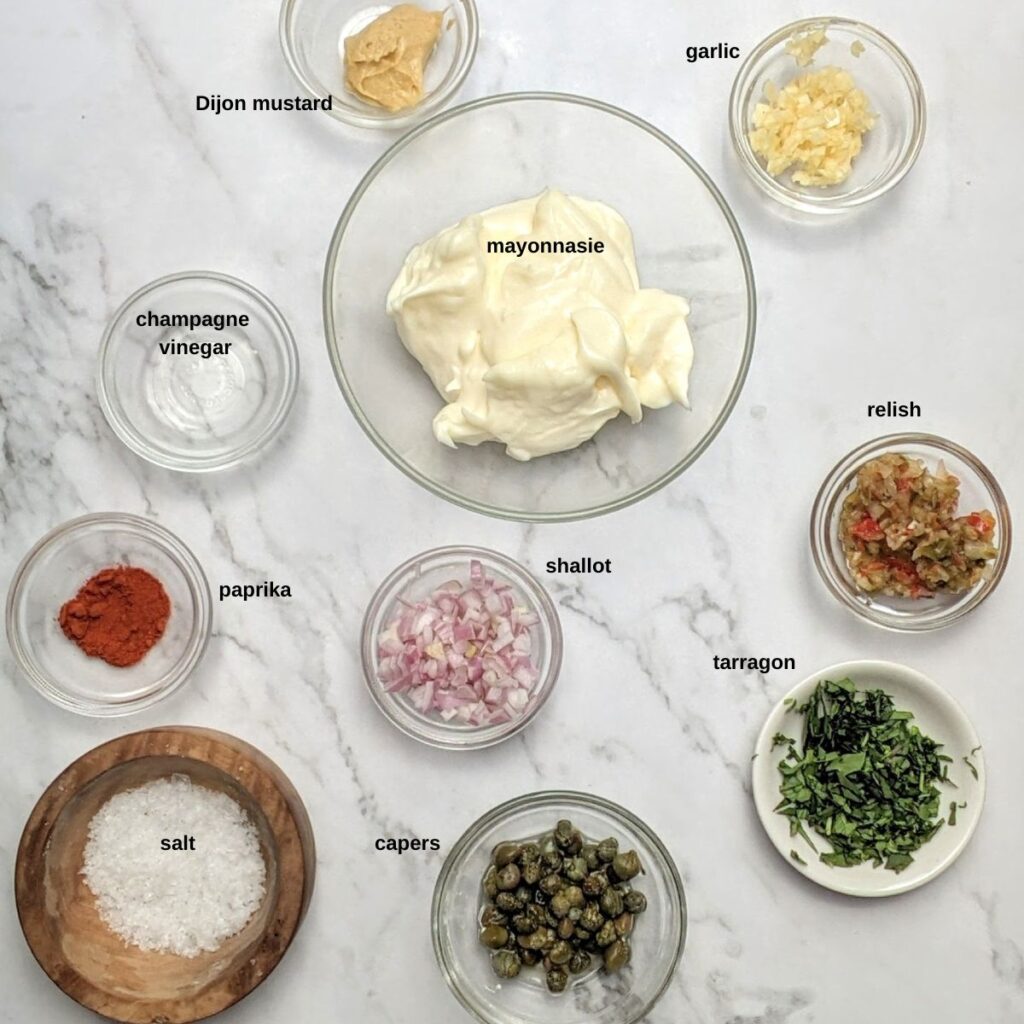 Mayonnaise: Choose a prepared mayonnaise for this recipe that is not too sweet. Good options are Duke's, Sir Kensington's, and Spectrum. You can also make your own mayonnaise (aioli) for this. It will take a little more time to make, but it's simple to do and the results are well worth it.
Capers: Capers come vinegar-brined or salt-packed. For this recipe you want to use brined for their tanginess. Capers come in a range of sizes. The smallest size (nonpareil) is said by some to be the best; others prefer larger capers for their bolder, more interesting flavor. Either size will work in this recipe.
Dijon mustard: Most large supermarkets offer a wide array of Dijon mustards. In France, there are federal standards for what constitutes Dijon mustard, but in the U.S. there are none. If you don't have Dijon, you can use regular mustard with splash of dry white wine.
Tarragon: This is a delicate herb that packs a surprisingly bold anise-fennel flavor. It an essential herb in French cuisine, where it's a component of the fresh-herb blend fines herbes (along with parsley, chervil and chives). If you can't find fresh tarragon for the sauce, use flat-leaf parsley instead.
Shrimp: I like to use jumbo or extra-large shrimp for this recipe, as they are easier to grill. Look for shrimp that are sold by their quantity per pound—16 to 20 (16/20) are the extra-large/jumbo size.
🔪 How to make the recipe
1. Soak 12 long bamboo skewers in cold water for 30 minutes. This will help prevent the skewers from burning while grilling.
2. Preheat the grill to medium high, and clean and oil the grates so the shrimp do not stick to the grates.
3. Make the remoulade sauce by combining all the ingredients, except the salt and lemon juice in a food processor and processing until almost smooth. Transfer the sauce to a bowl and season to taste with salt and lemon juice, and add more of any the other ingredients that you may like more of. Sometimes, I also add a splash of Worcestershire sauce.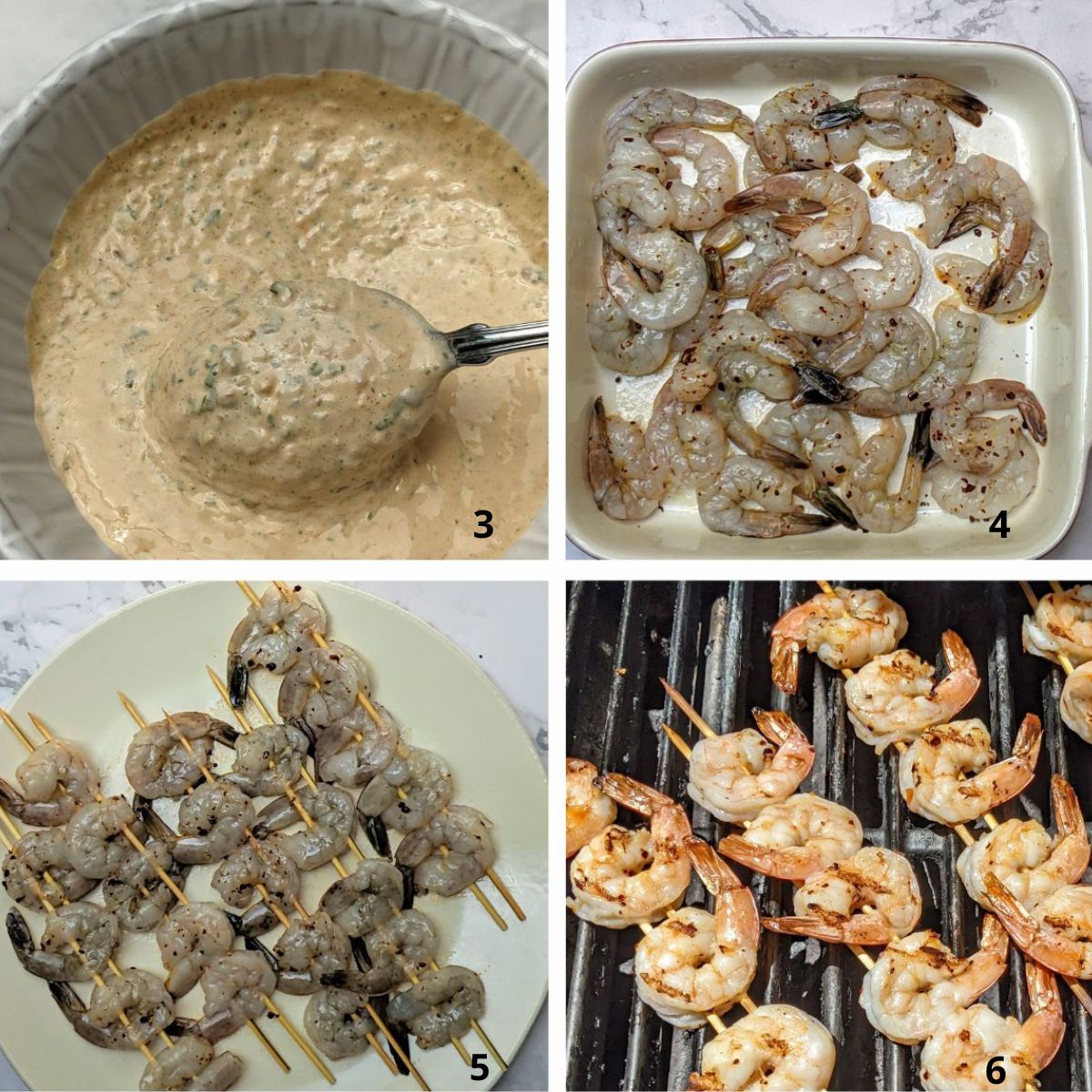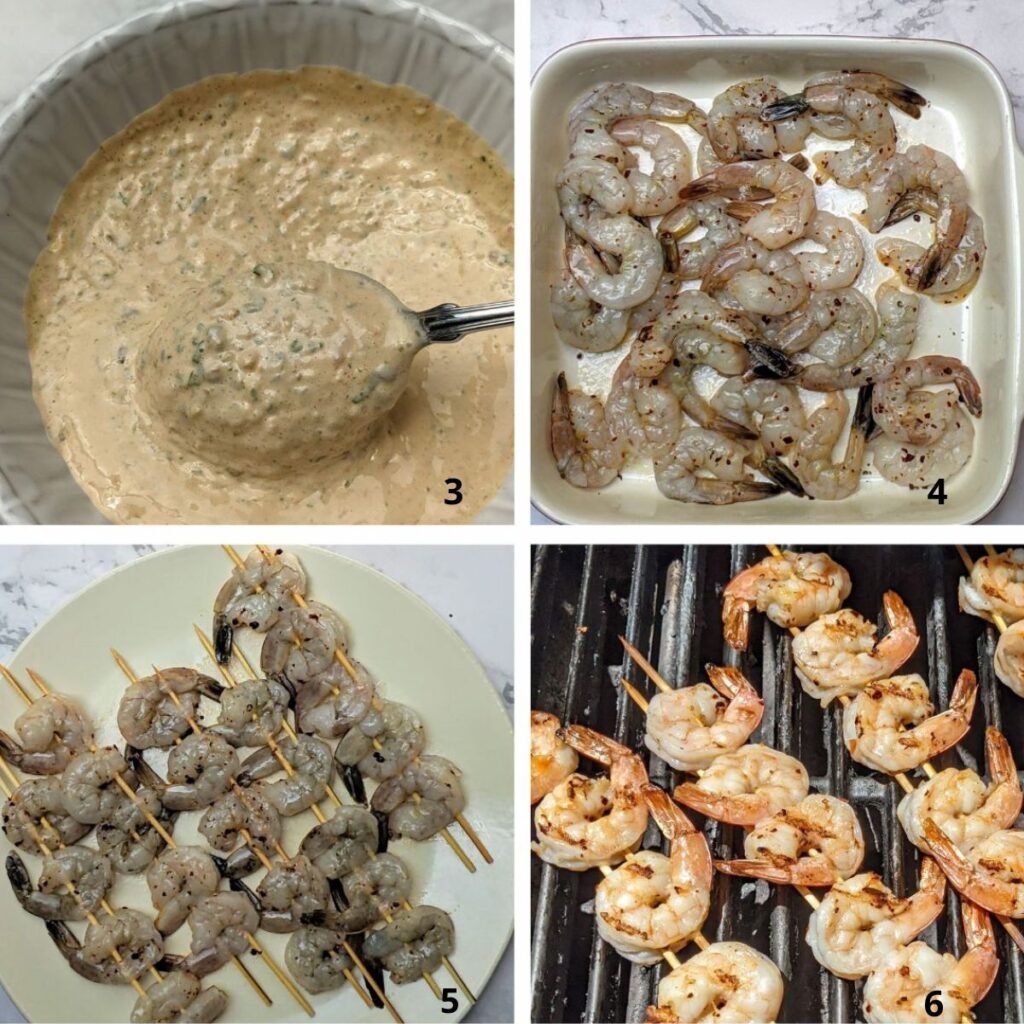 4. Toss the shrimp with the olive oil, crushed red pepper flakes, salt and pepper. Drain the skewers, and then thread the shrimp on 2 parallel skewers to keep them from spinning.
5. Grill the shrimp for 1 ½ to 2 minutes per side. The shrimp should be barely opaque in the center and should feel firm to the touch but with some give.
6. Serve the shrimp warm or at room temperature with the rémoulade sauce.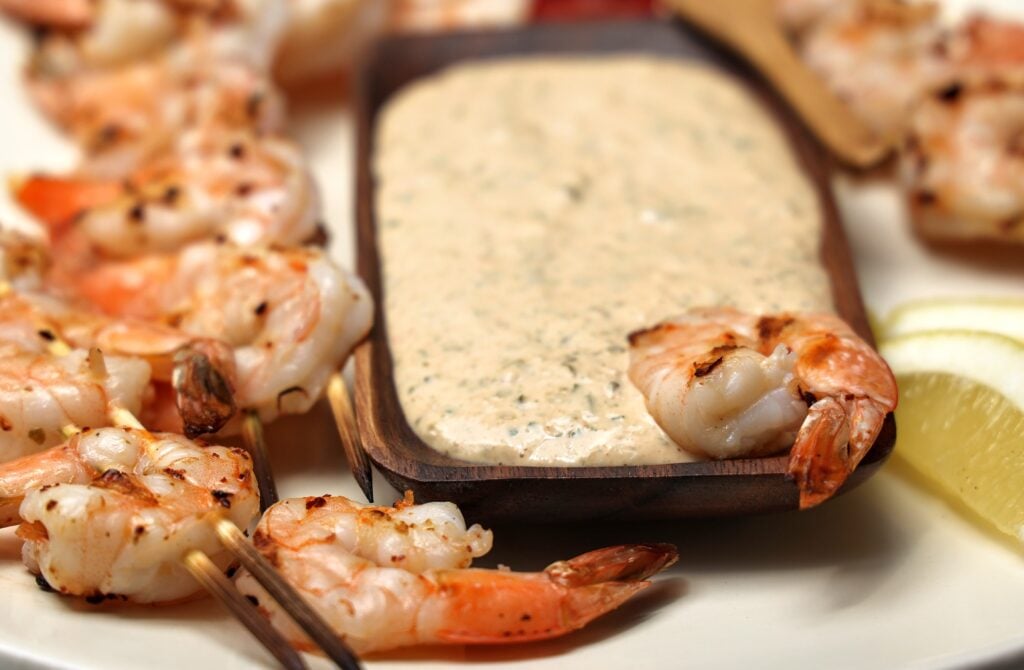 💭 Recipe Tips
The rémoulade sauce may be made up to 3 days in advance, but it's best to grill the shrimp no more than an hour or so before serving.
👩🏻‍🍳 FAQs
What is Rémoulade Sauce?
This spicy mayonnaise-based sauce is a New Orleans/Cajun staple. Originally it hails from France, where it's served like tartare sauce, but once it got into the hands of cooks from New Orleans, it became a spicy, kicked-up version all its own. Most remoulade sauces include mayo and a tangy, briny element like pickles or capers, but from there, the variations are endless.
How do you serve Rémoulade Sauce?
Rémoulade sauce is great with just about any kind of shellfish, whether it's grilled, fried, poached, roasted or sautéed. Besides grilled shrimp, try the sauce with pan-seared or grilled scallops, crab cakes, poached shrimp, fried fish fillets, or calamari, or as a sandwich spread.
What is Shrimp Rémoulade?
In New Orleans, the classic version of this dish is made with chilled poached shrimp. The shrimp and remoulade sauce are tossed together and served on a bed of lettuce.
Print
🧾 Grilled Shrimp Remoulade | Remoulade Sauce
Besides tasting great, the best thing about this Grilled Shrimp Rémoulade is that it can be ready in under 30 minutes! The Rémoulade Sauce can be served with many other items as well, including grilled or fried scallops, coconut shrimp, and fried fish fillets. 
Author: K Kingsley
Prep Time:

15 minutes

Cook Time:

5 minutes

Total Time:

20 minutes

Yield:

serves 4 to 6

Category:

appetizers

Method:

grill

Cuisine:

Southern
For the Rémoulade Sauce
½ cup good-quality mayonnaise
1 Tbs. capers, drained
1 Tbs. pickle relish
1 Tbs. chopped fresh tarragon
1 Tbs. minced shallot
1 tsp. Dijon mustard
1 tsp. tarragon or Champagne vinegar
1 to 2 garlic cloves, minced
¼ tsp. paprika
Kosher salt
Fresh lemon wedges
For the Shrimp
1 lb. extra-jumbo shrimp (16 to 20 per lb.), peeled and deveined
2 Tbs. olive oil
¼ tsp. crushed red pepper flakes
Kosher salt
Freshly ground black pepper
Instructions
1. Soak 12 wooden skewers in water for at least 30 minutes. Prepare a medium-high (400°F to 475°F) grill fire. Brush clean and oil the grate.
2. Make the sauce: Combine the mayonnaise, capers,  relish, tarragon, shallot, vinegar, garlic, mustard, and paprika into a food processor. Pulse several times, until well combined. Transfer to a bowl and season to taste with salt and lemon juice. 
3. Meanwhile, toss the shrimp with the oil and ¼ tsp. each salt and pepper. Thread 4 or 5 on two parallel skewers held about ½-inch apart; leave space between the shrimp for even grilling. Refrigerate, covered with plastic wrap, until ready to grill.
4. Grill the skewered shrimp until just cooked through, 1-½ to 2minutes per side. The shrimp should be barely opaque in the center and should feel firm to the touch but with some give.
5. Serve the rémoulade sauce along with the shrimp.
Notes
Try these other tasty shrimp dishes:
Nutrition
Serving Size:

6

Calories:

132

Sugar:

1g

Sodium:

192.6mg

Carbohydrates:

1.7g

Protein:

0.4g

Cholesterol:

7.7mg
Keywords: shrimp remoulade