Here are the seven best spice blends from Trader Joe's that are sure to tantalize your taste buds and enhance your culinary creations. They offer a delightful assortment of blends that will transform your cooking.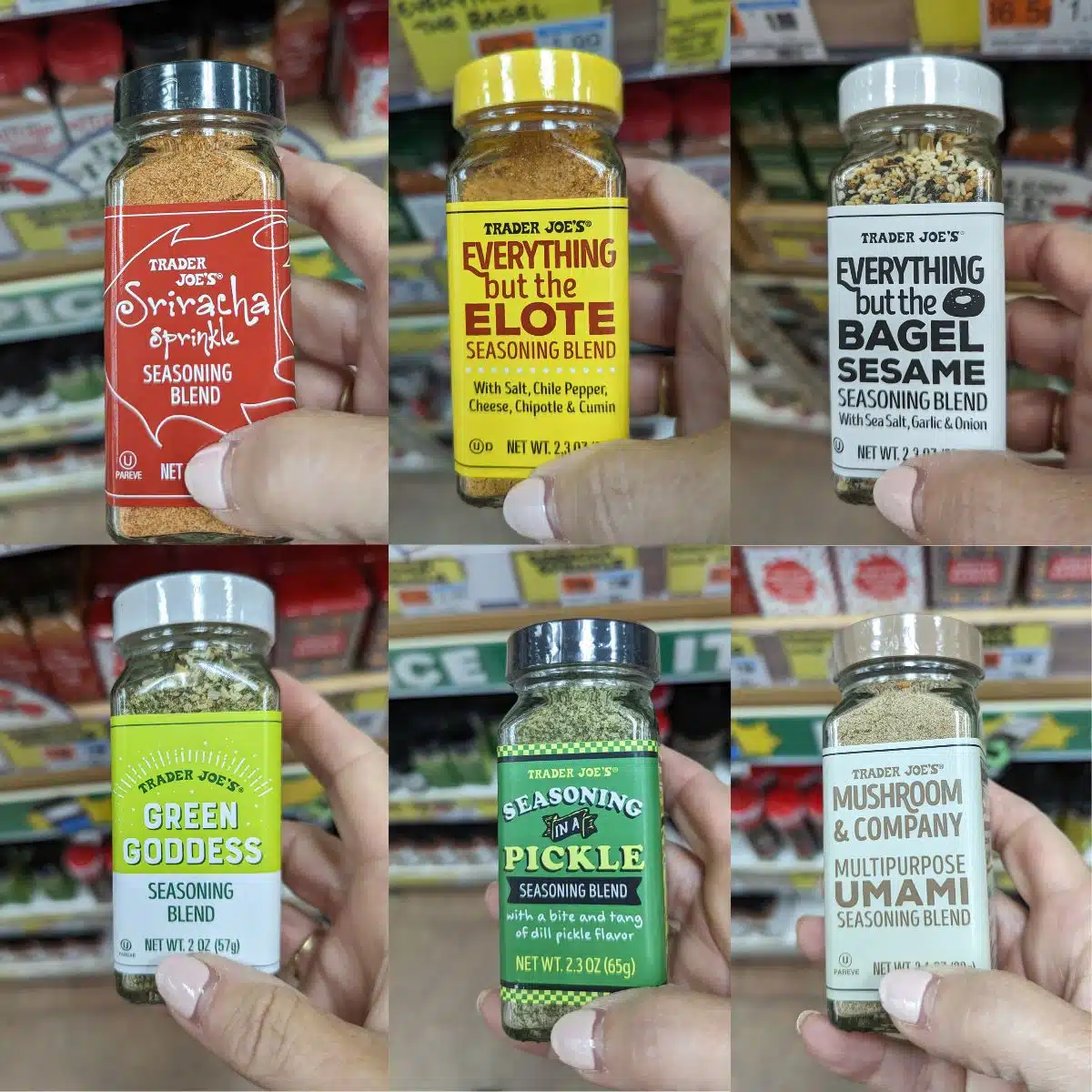 When it comes to adding a burst of flavor to your favorite dishes, nothing elevates them quite like the right spice blend. And these from Trader Joe's are just the thing to add some zing!
Everything But the Bagel Sesame Seasoning Blend: The Everything But the Bagel Sesame Seasoning Blend has gained a cult following for good reason. Inspired by the flavors of an everything bagel, this blend combines sesame seeds, sea salt, garlic, onion, and poppy seeds to create a versatile seasoning that can be sprinkled on just about anything. Whether you're using it to top your avocado toast, season roasted vegetables, or add an extra kick to your scrambled eggs, this blend adds a delightful crunch and a burst of savory goodness to any dish.
Sriracha Seasoning Blend: This blend packs a flavorful punch in a convenient jar. This fiery blend combines the heat of sriracha with a medley of complementary spices, creating a versatile seasoning that adds a spicy kick to any dish. Whether you're sprinkling it on popcorn, adding it to marinades, or using it to elevate the flavor of roasted vegetables, this seasoning blend brings a delightful heat and depth of flavor. It strikes the perfect balance between tangy, spicy, and savory, making it a must-have for spice enthusiasts.
Everything But Elote Seasoning Blend: Inspired by the popular Mexican street food, Trader Joe's Everything But Elote Seasoning Blend captures the essence of the classic elote corn dish. With a mix of chili pepper, cheese, chipotle, and cumin, this blend adds a burst of tangy and savory flavors to roasted corn, grilled vegetables, or even popcorn. The hint of lime gives it a refreshing twist, making it a perfect accompaniment to your summer barbecues and outdoor gatherings.
Umami Seasoning Blend: Umami, often referred to as the "fifth taste," is known for its savory and deeply satisfying flavor. Trader Joe's Umami Seasoning Blend is a savory powerhouse made with ingredients like porcini and white button mushrooms, mustard seed, red and black pepper, and more. This versatile blend can be used as a rub for steaks, a seasoning for roasted vegetables, or even sprinkled over popcorn for a gourmet twist. It adds a rich and complex flavor to your dishes, making them truly unforgettable.
Green Goddess Spice Blend: This is a culinary gem that brings the vibrant flavors of herbs to your dishes. This versatile blend combines the freshness of basil, parsley, tarragon, and chives with hints of garlic, lemon, and black pepper. The result is a zesty and herbaceous seasoning that adds a burst of flavor to roasted vegetables, grilled meats, or even salad dressings.
In a Pickle Seasoning Blend: This is a tangy and zesty creation that will have your taste buds dancing. This unique blend combines the briny flavors of dill, garlic, mustard, and onion to capture the essence of pickles in a convenient spice blend. It's a perfect addition to elevate the flavor of potato salad, deviled eggs, or even sprinkle over popcorn for a flavorful twist. The blend strikes a harmonious balance between savory and tangy, making it a versatile seasoning that adds a delightful punch to your favorite dishes.
And the Chili Lime Seasoning Blend and Pizza Sprinkle Seasoning Blend are also quite good!
Trader Joe's spice blends offer a world of flavor at your fingertips. From bold and smoky flavors to tangy and spicy profiles, these spice blends will unleash your creativity in the kitchen--and leave you craving more.
Recipes to try
Let's connect
Be sure to FOLLOW US on FACEBOOK, INSTAGRAM and TIKTOK Many thanks!