If you like to bake, here are five Costco products that you should be buying. The prices are terrific, and if stored correctly, these items will keep for a long time.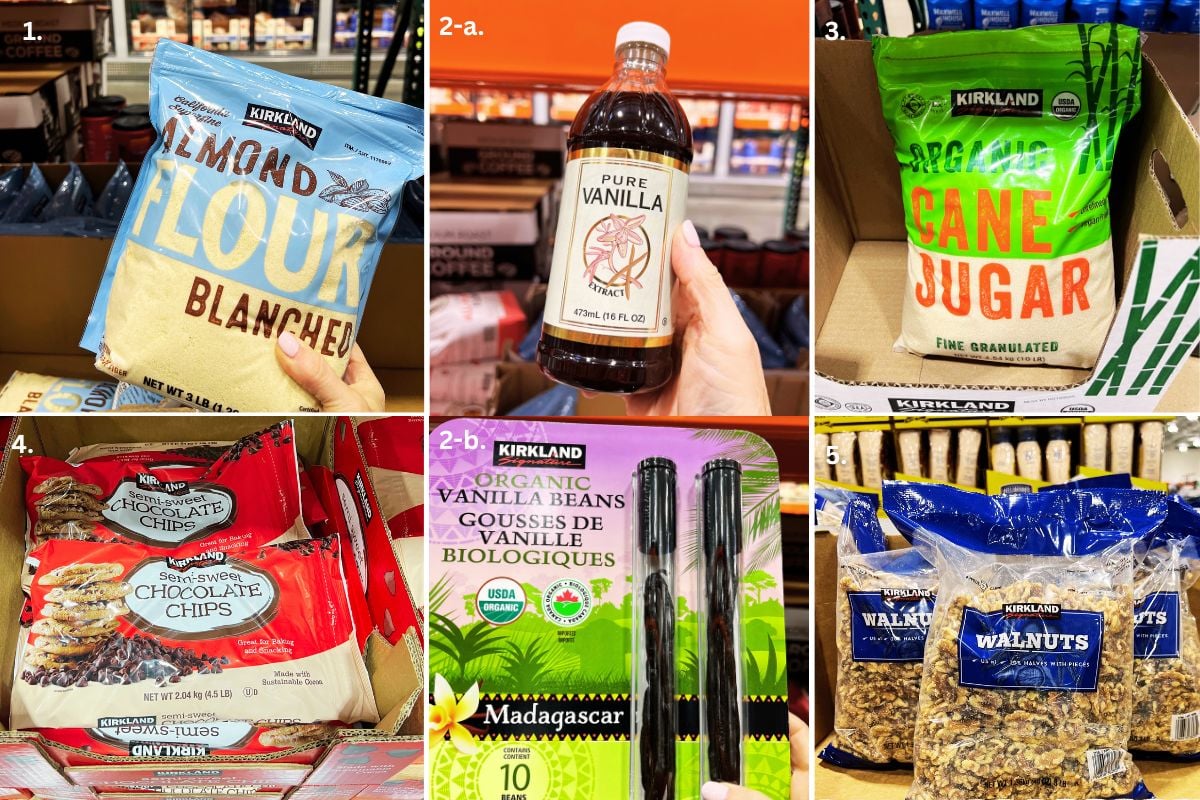 Costco's private label is Kirkland. If you don't have a Costco near you, or are not a member, most of these items can also be purchased online.
Products
1. Almond flour: Costco's Kirkland brand 3-pound bag of almond flour is a very good buy and it's great for making gluten-free baked goods. It also is high in fiber as well as protein, so using it with other flours in baked good adds nutrition. It contains just one ingredient, blanched almonds.
Storage: To store almond flour long-term, keep it in an airtight container in the refrigerator or freezer, as it can easily absorb moistures. When stored in the freezer, almond flour can stay good for up to a year
2. Vanilla, extract and pods: The consensus is that Costco's vanilla is not as good as it used to be, but it is still a worthwhile buy, as it delivers great flavor and aroma for a low price. And if you want to make your own vanilla extract, or have need for vanilla beans, Costco's Organic Vanilla Beans, prominently billed as a product of Madagascar, are also available for a good price.
Storage: Keep vanilla extract in a dark, cool spot and it will last indefinitely. Vanilla beans should store in an airtight glass container, if possible, and also in a dark, cool place. Do not refrigerate or freeze. The beans should keep for 6 to 8 months.
3. Organic cane sugar: This sugar is organic and sustainably harvested without chemical fertilizers, antibiotics, and pesticides. It's made from certified organic sugar cane grown in Paraguay. The sugar is full-bodied with a better taste than refined white sugar, and the 10-pound bags are a great buy.
Storage: Store sugar in a cool, dry location (not the refrigerator) and it will keep for up to 2 years. Moisture make can turn sugar hard and lumpy. Once this happens, it creates problems in usage, and there's no easy way to restore lumpy sugar.
4. Semisweet chocolate chips: The Kirkland bag of chocolate chips weighs in 4.5 pounds and is made of chocolate liquor, sugar, vanilla, and soy lecithin, which helps mix everything together. They aren't vegan, but they are kosher, and are a good buy.
Storage: Store the chocolate chips at cool room temperature (60°F to 70°F), away from sunlight, and tightly sealed — they'll be okay if the environment is a little warmer than that and should keep well for up to two years.
5. Walnuts: Kirkland walnuts come in a 3-pound bag and are a great buy. They're fresh tasting, and about 20 percent of the bag is walnut halves, while the remaining is pieces.
Storage: Keep the nuts in an airtight container, and store in the refrigerator for up to 3 months, or freeze for up to one year.
Recipes to try
Let's connect!
Be sure to FOLLOW US on FACEBOOK, INSTAGRAM and PINTEREST Many thanks!