Print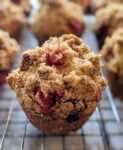 Cranberry Muffins with Streusel Topping
Author:

Prep Time:

15 minutes

Cook Time:

20 minutes

Total Time:

35 minutes

Yield:

12
---
Description
There's nothing like fresh tart, juice cranberries in muffins. Topped with a buttery, crumbly streusel topping, I can tell you that these won't last long!
---
½ cup all-purpose flour
1 pinch of salt
2 ½ Tbs. unsalted butter (melted)
½ tsp. baking soda
1 pinch of salt
1 cup plain low-fat yogurt
1 large egg (lightly beaten)
1 stick (8 Tbs.) unsalted butter, melted and cooled

---
Instructions
Preheat the oven to 400F°. Lightly grease the cups and top of a 12-cup nonstick muffin pan.
To make the streusel: In a medium bowl, mix the flour, both sugars, baking powder and salt. Stir in the butter, then add the pecans and pinch the topping mixture into clumps. Set aside.

To make the muffins: In a medium bowl, mix the flour with 1/2 cup of sugar, baking powder, baking soda and salt. In another bowl, mix the yogurt with the egg and butter; stir in the dry ingredients. Toss the cranberries with the remaining 1 1/2 Tbs. sugar and fold into the muffin batter.

Spoon the batter into the muffin cups and cover with the crumb topping. Gently press the topping onto the muffins so it adheres. Bake for 20 minutes, or until the muffins are golden and a toothpick inserted in the center comes out clean. Let the muffins cool in the pan for 5 minutes, then transfer to a rack set over a baking sheet.

Serve the muffins warm or at room temperature.
---
Keywords: cranberry muffins, streusel topping,