Trader Joe's appetizers cater to a variety of tastes. From their Spanakopita, a Greek classic featuring flaky pastry filled with spinach and feta, to Mini Quiches and tasty Parmesan Pastry Puffs, there's a bevy of frozen appetizers to choose from that are convenient, reasonably priced, and consistently delicious, making Trader Joe's a go-to for party and snacking needs.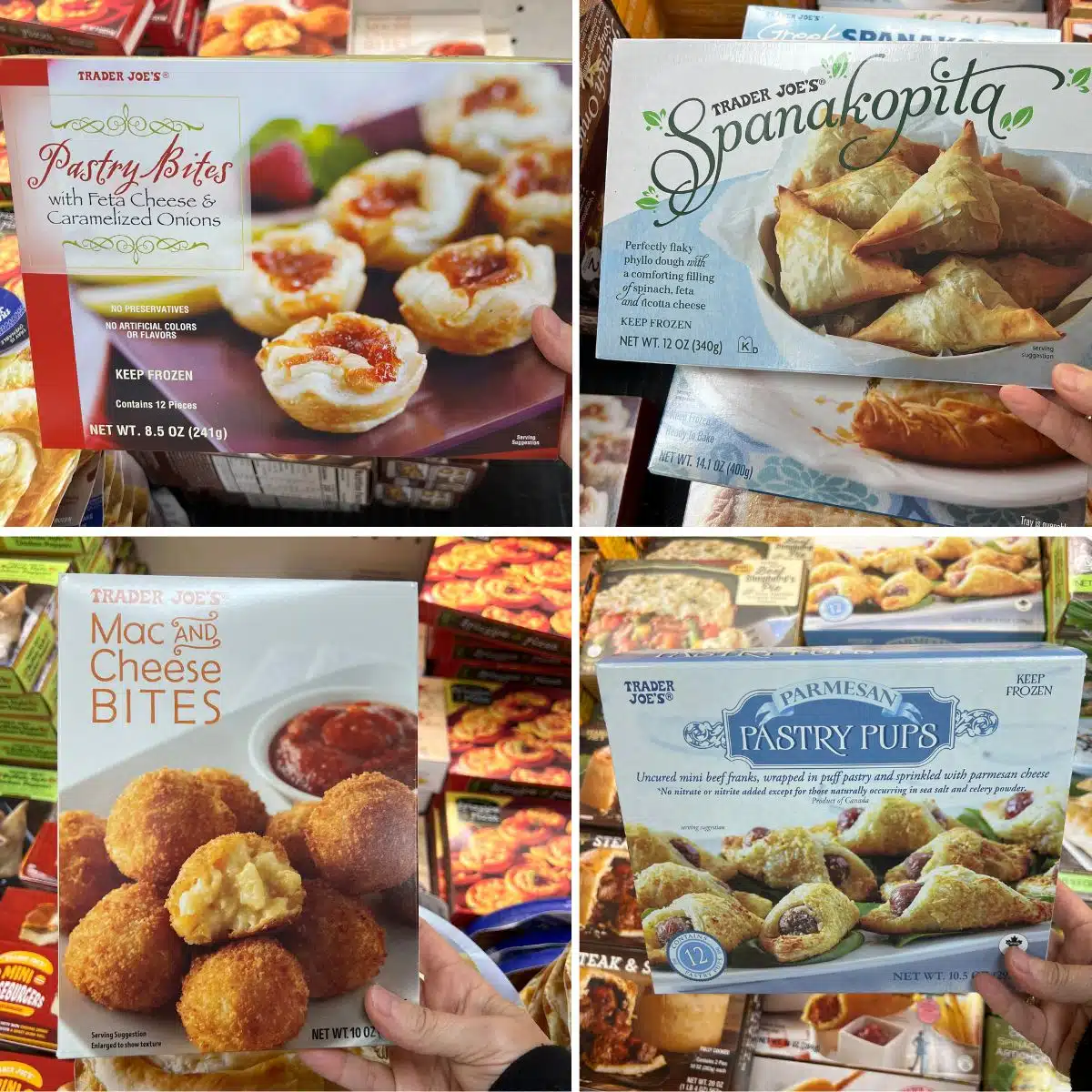 Trader Joe's appetizers offer hosts a time-saving solution for entertaining. With a variety of delicious options readily available, hosts can effortlessly create an impressive spread without the stress of extensive cooking and preparation and making any event more enjoyable.
Top Appetizers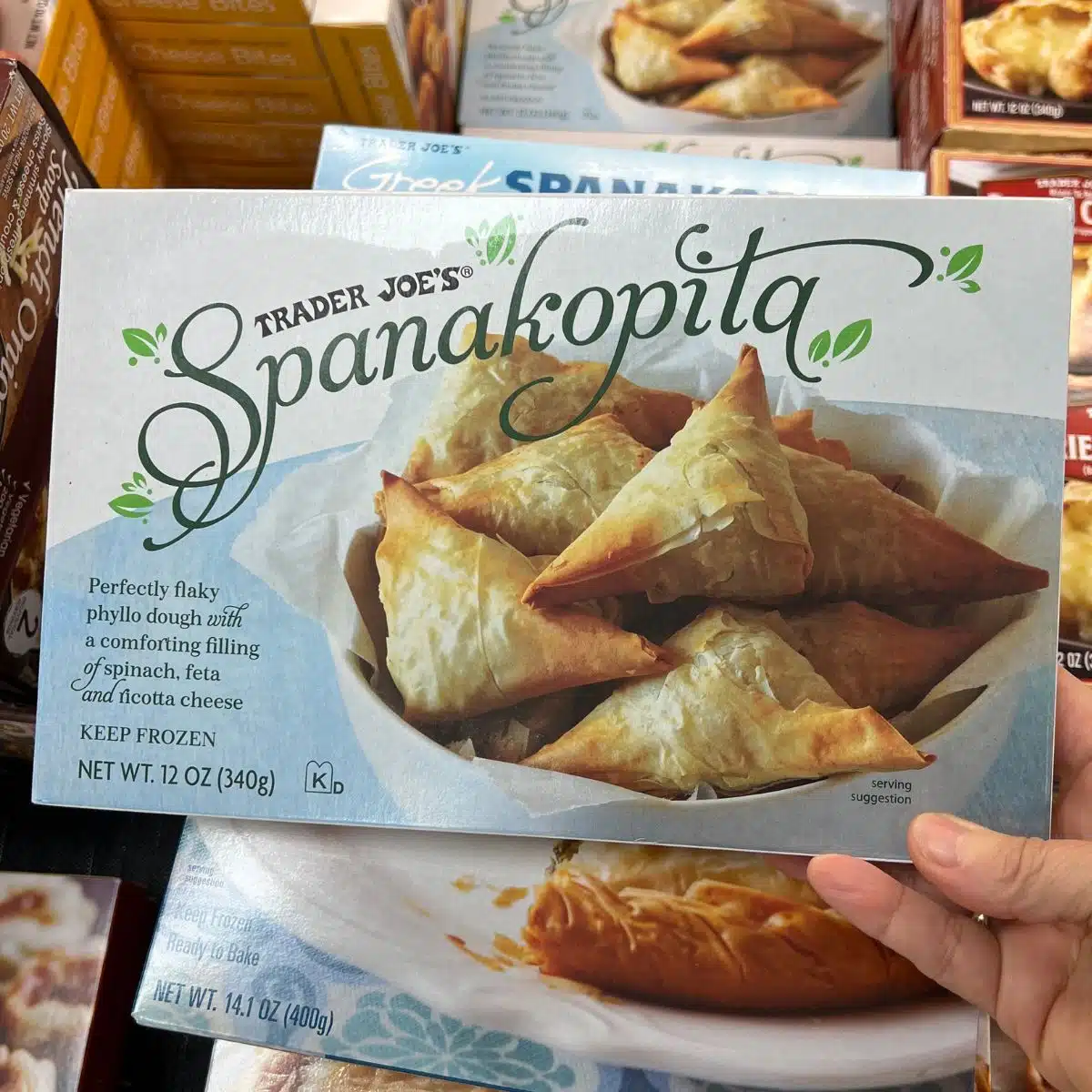 Trader Joes Spanakopita bites are finger foods made with flaky fillo filled with three cheeses (feta, mizithra, and a grating cheese), spinach, onion, leek, olive oil, dill, parsley, salt and pepper. They bake up into crispy, buttery pastries that will disappear quickly.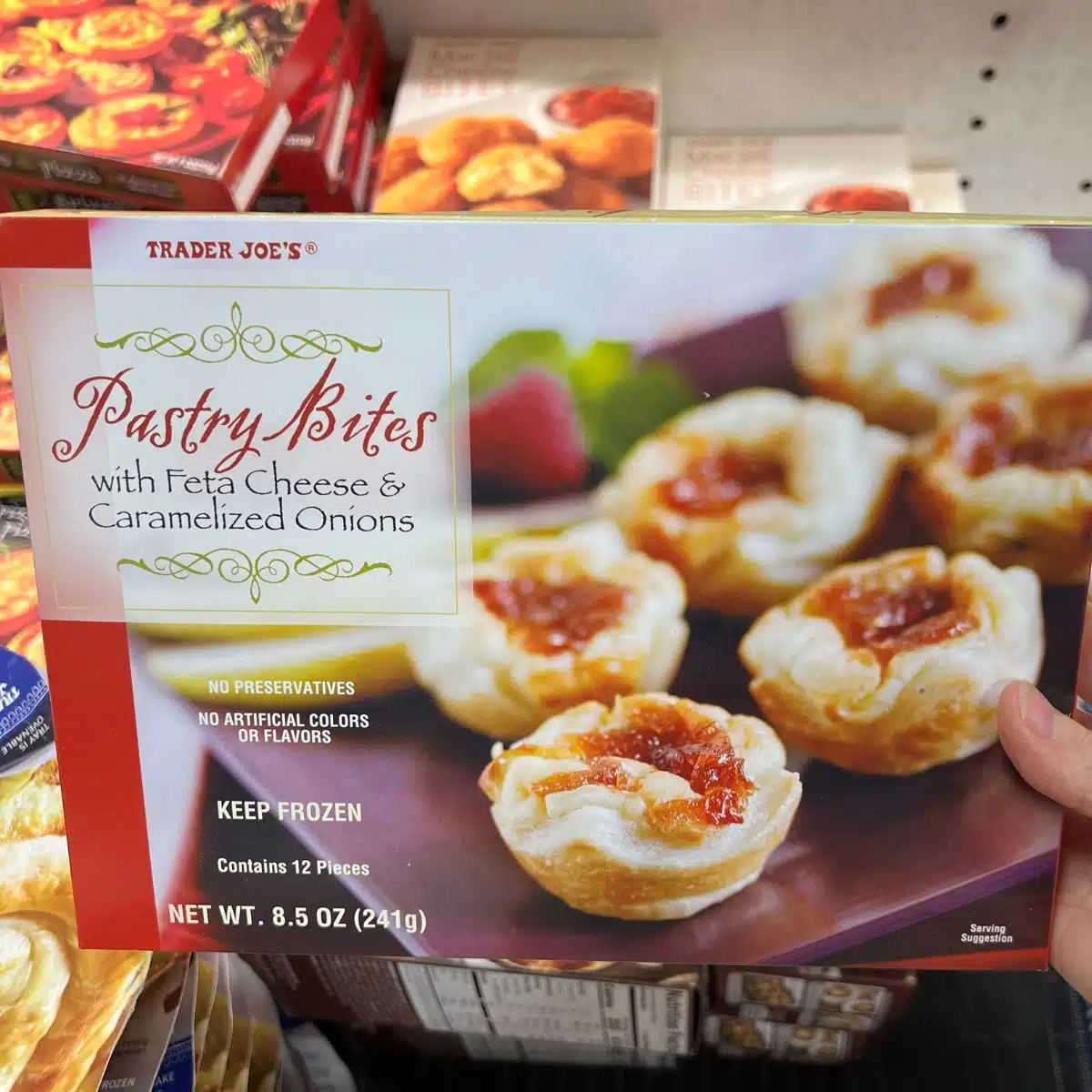 Trader Joes Pastry Bites with Feta Cheese and Caramelized Onions are buttery puff pastry that delivers the perfect balance between a soft, yet crisp and flaky dough. It holds the creamy feta and cream cheese and is topped with caramelized onions for the ultimate melt-in-your-mouth worthy, sweet n' salty concoction. And they can be eaten as finger food, another bit plus for the host.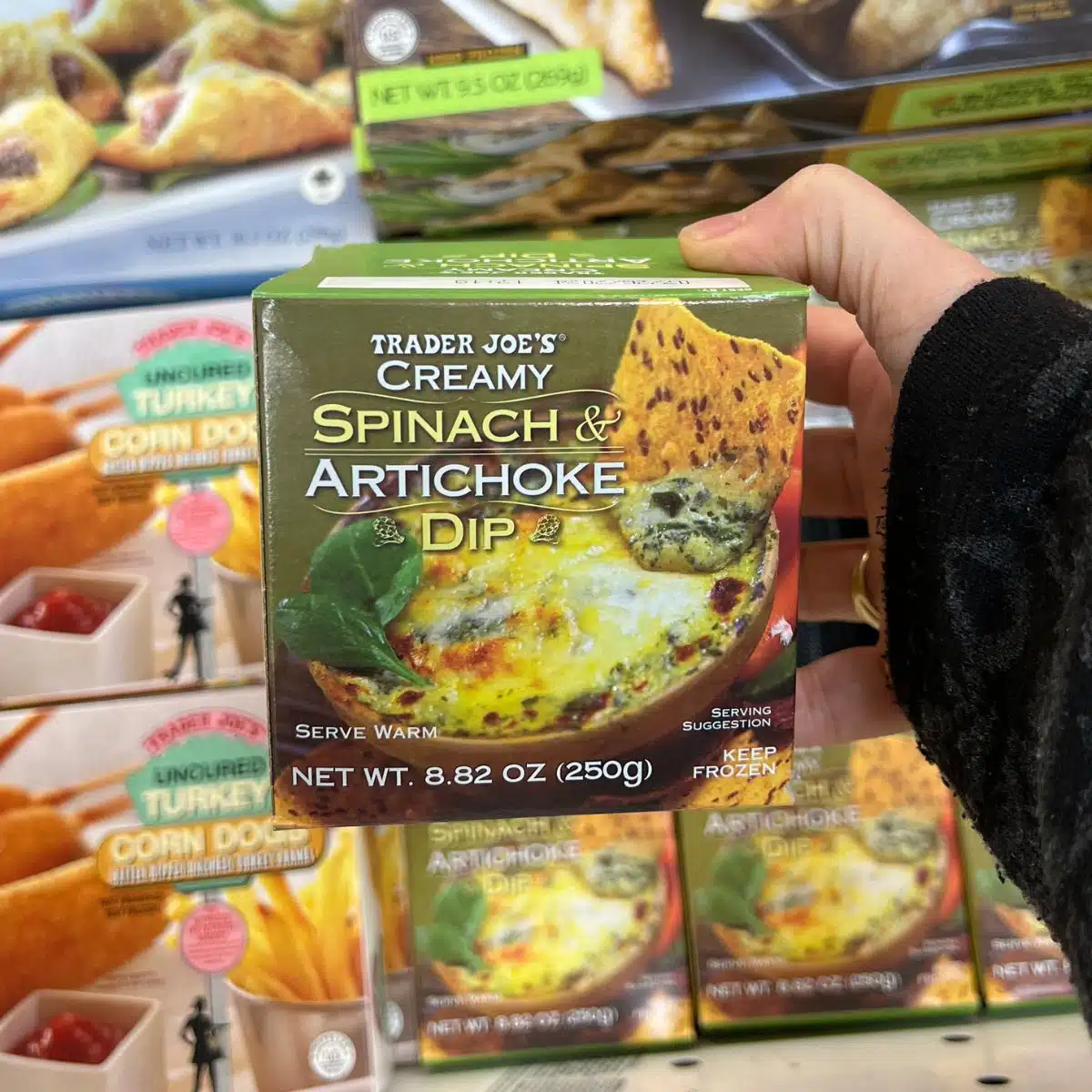 Trader Joe's Creamy Spinach and Artichoke Dip is a blend of rich, creamy goodness combining the earthy notes of spinach and the zesty tang of artichokes. Warmed up, it makes a great addition to an appetizer spread if you're in a time crunch.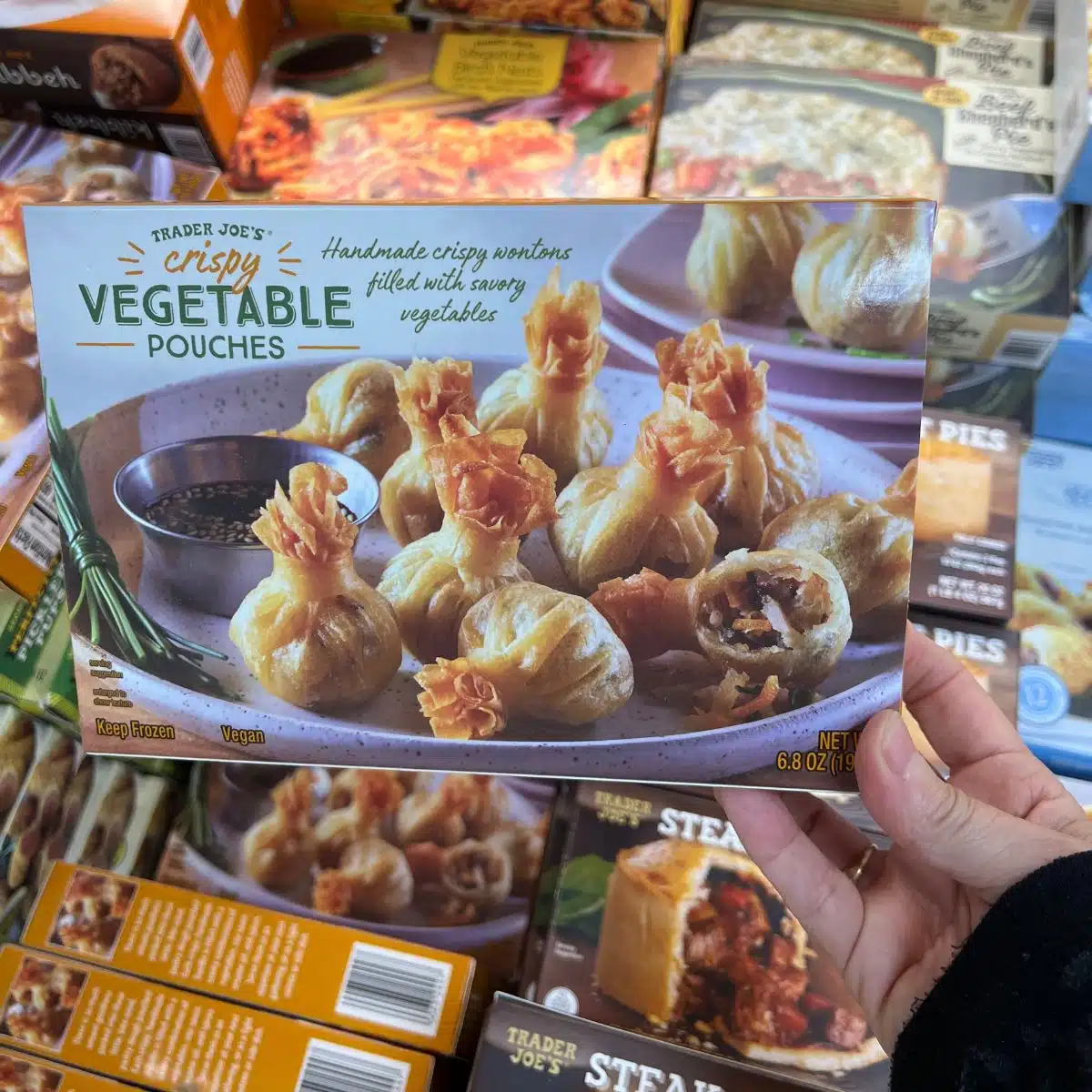 Trader Joes Crispy Vegetable Pouches are handmade pockets of pastry dough filled with vegetables and savory seasonings, gathered and "tied" at the top with a string made of more pastry dough, so they resemble little golden bundles. Inside each wonton pouch is filled with a blend of vegetables including jicama, taro, cabbage, carrots, onions, and shiitake mushrooms flavored with garlic, soy sauce, ginger, sesame oil, and red chili.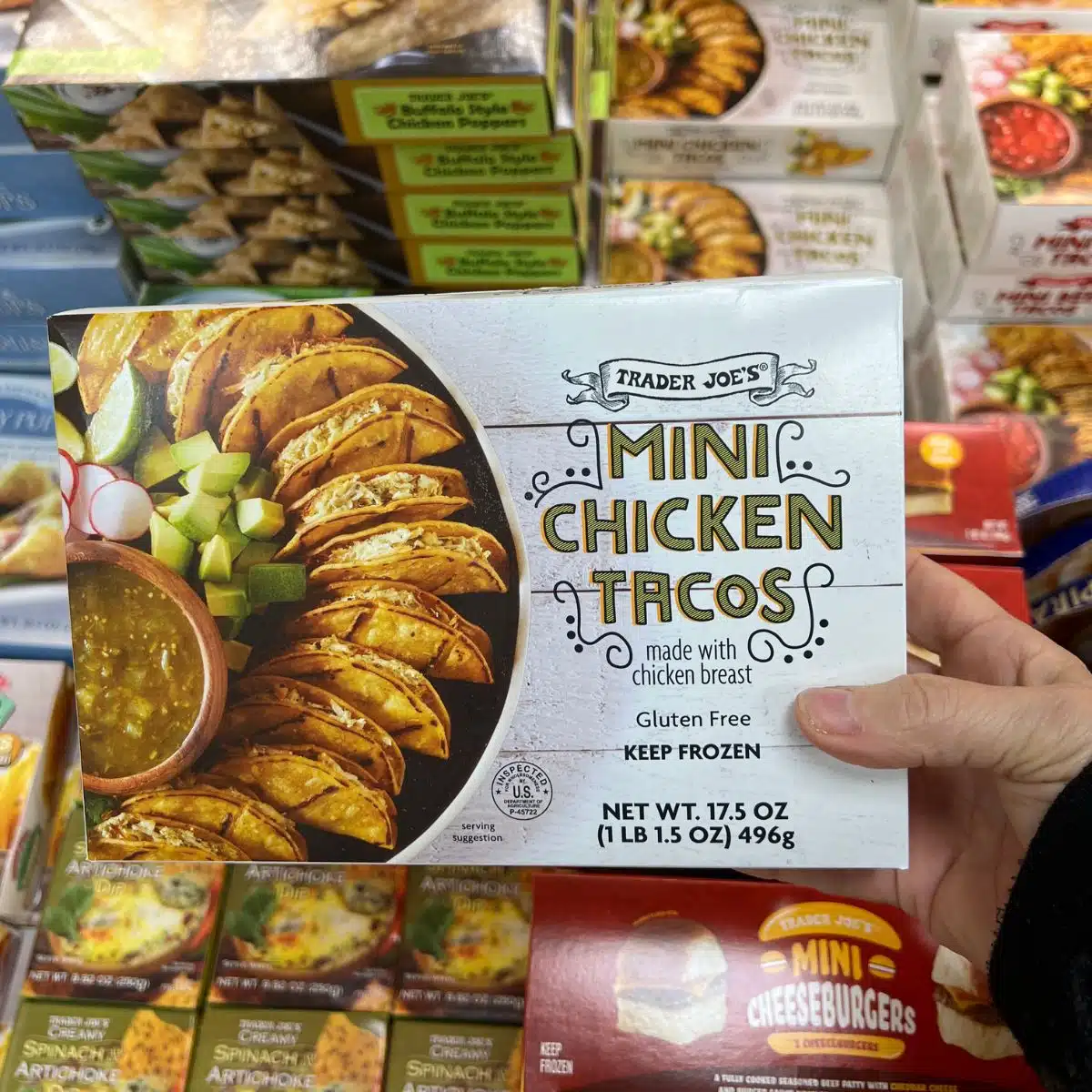 Trader joes Mini Chicken Tacos are tiny corn tortillas filled with a mix of pulled chicken breast meat and roasted green salsa (made with tomatillos, jalapeños, and green bell peppers), then fried in soybean oil. Bake them up and serve with Guajillo Salsa or Garlic Chipotle Salsa for a great party app.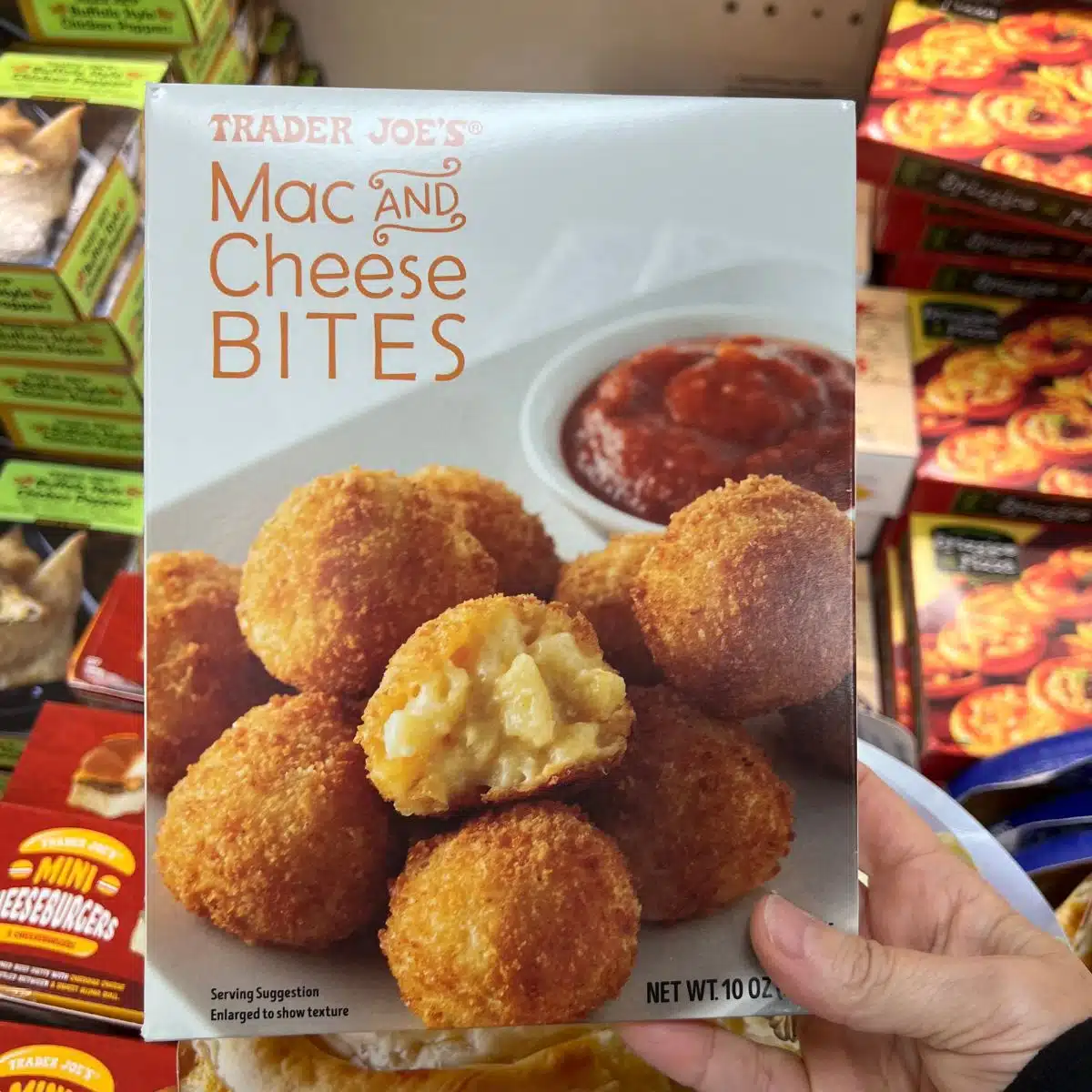 Trader Joe's Mac and Cheese Bites feature a blend of cheddar, havarti, Swiss, gouda, cream cheese, Monterey Jack, and pecorino romano. They also feature a thin, crisp, panko-style breading which makes them extra-crispy on the exterior. Whether you serve them at a party or as a snack, they're ready to go in just 20 minutes.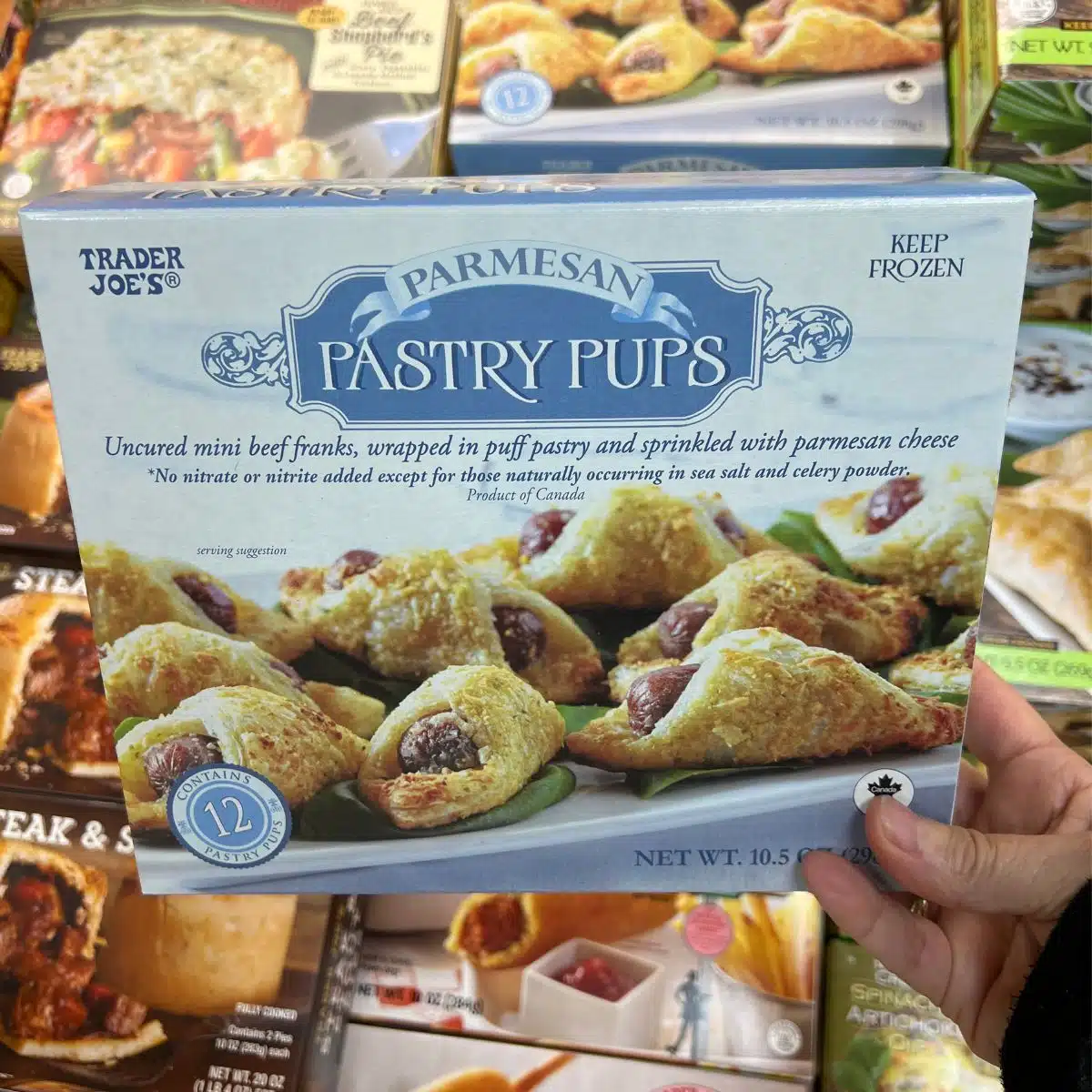 Trader Joes Parmesan Pastry Pups begin with mini hot dogs that are packed with flavor. They're wrapped in all-butter puff pastry and sprinkled with Parmesan cheese. Placed on a tray in your oven, they bake to a flaky, golden finish. Very little effort on your part, and yet, the applause will be directed entirely in your direction.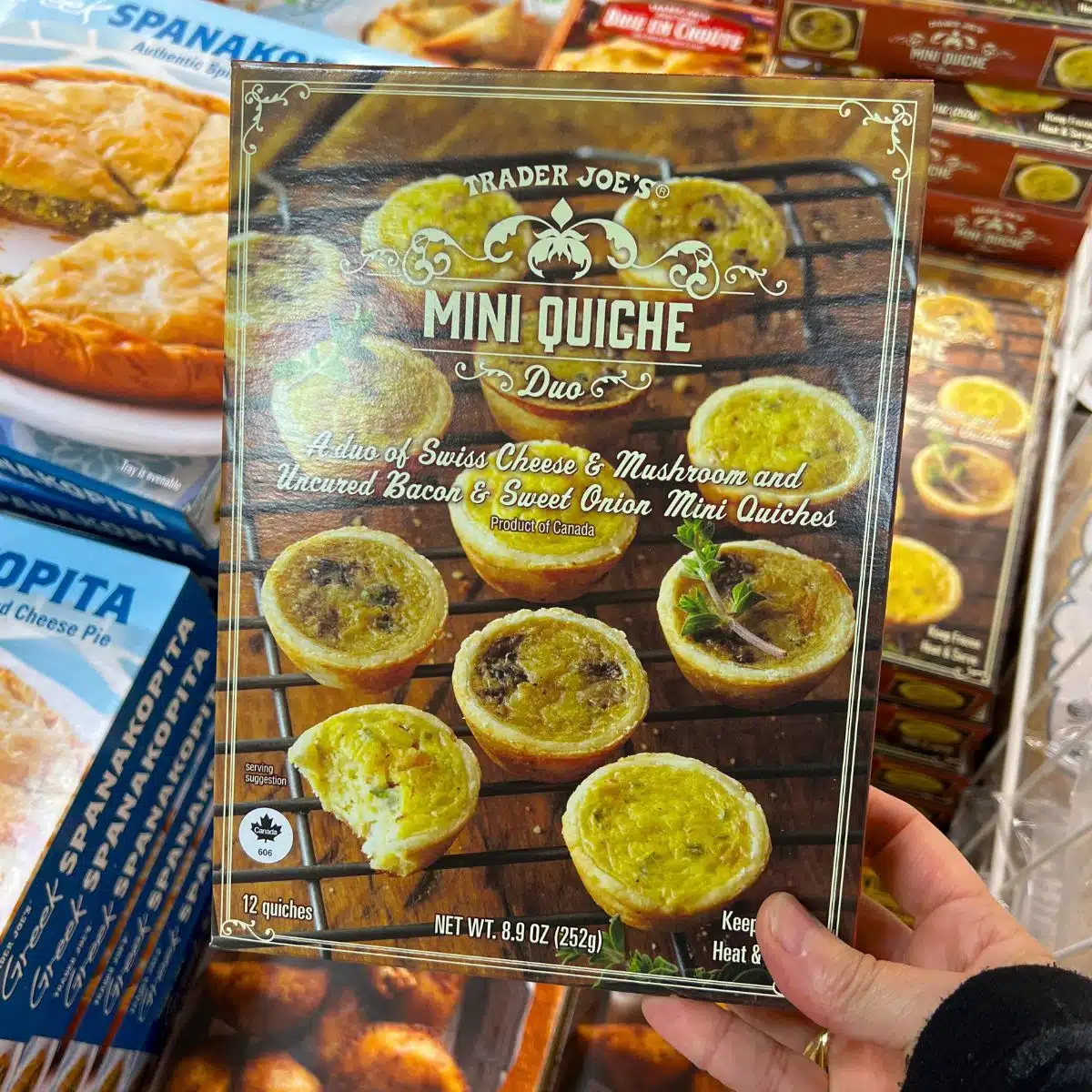 These Trader Joe's Mini Quiches come in two flavors, mushroom & Swiss cheese and uncured bacon & sweet onion, and they make the perfect bite-size nibbles for a party. Add a little fresh herb garnish to the top of each and they will entice your guests.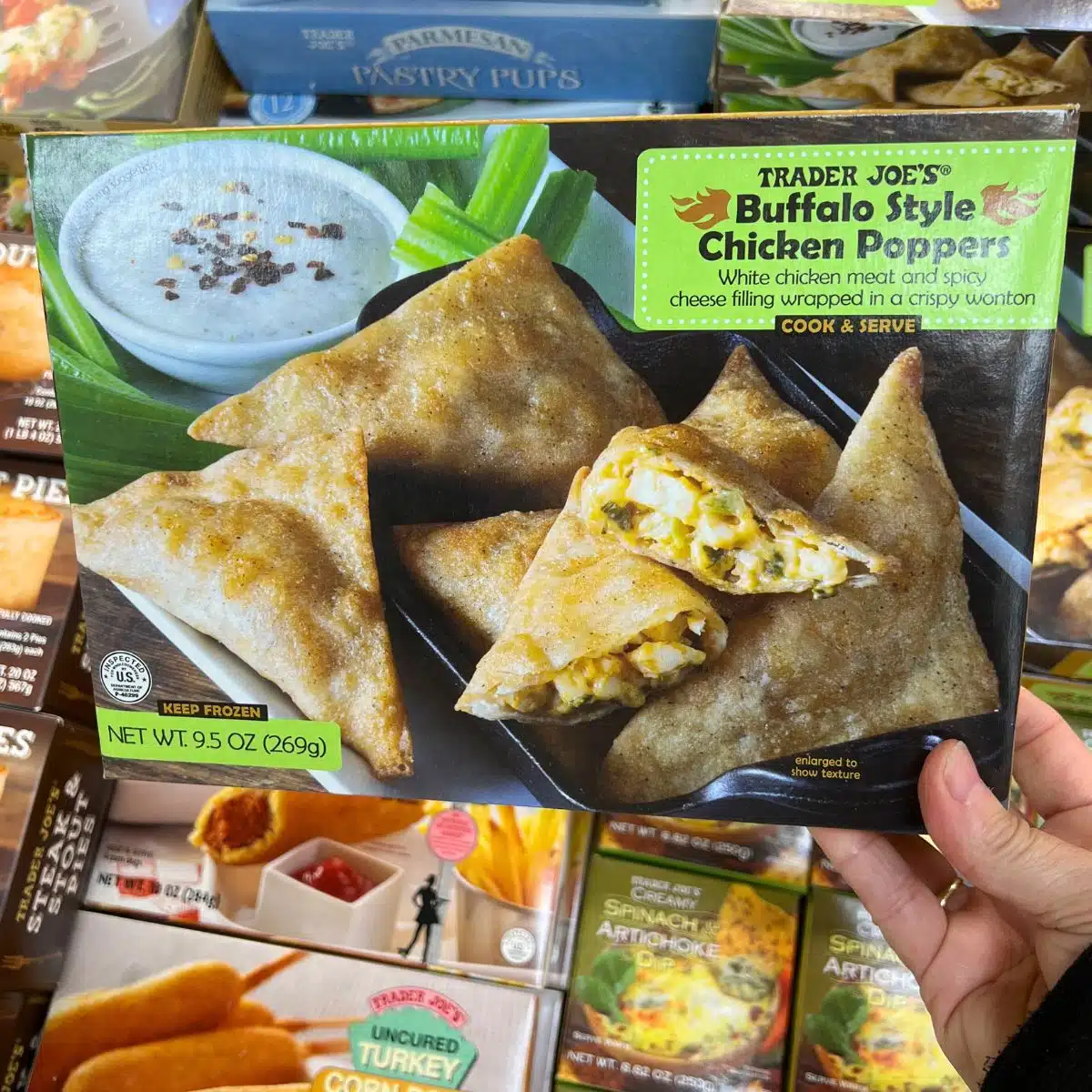 Trader Joes Buffalo Style Chicken Poppers are filled with a cheesy, spicy filling. The filling is made with grilled,diced white meat chicken, cream cheese, fontina, Cheddar, and Monterey Jack—along with a hot cayenne pepper sauce. That filling is folded into layers of delicate fillo dough then battered before it's finally fried to a perfectly crisp bite. They reheat in your oven and ends up as flaky and satisfying app that your guests will love.
Recipes to Try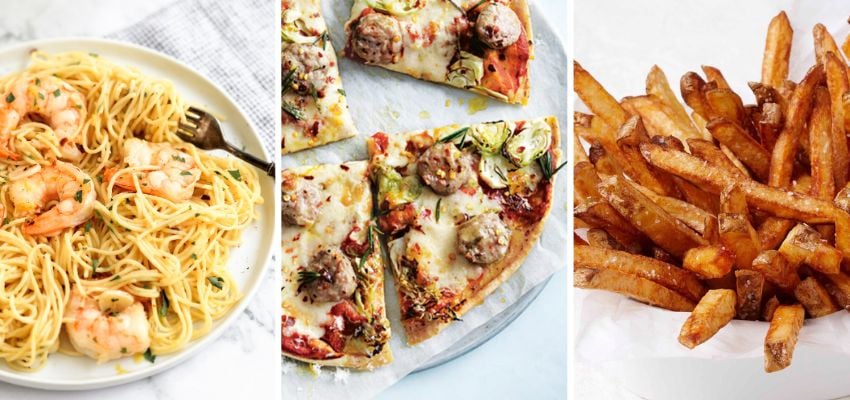 Let's connect!
Be sure to FOLLOW US on FACEBOOK, INSTAGRAM and PINTEREST Many thanks!