Here are 7 new Trader Joe's product reviews just in time for Spring. One of the things I love about Trader Joe's is that they're always adding products and growing their offerings.
The retailer keeps fans on their toes by launching new, one-of-a-kind items, and running a seasonal rotation of established products. Here are some new products that are on the shelves now with a review.
1. Tirokafteri - Spicy Greek 3-Cheese Spread with Roasted Pepper: This is Trader Joe's version of a Greek spicy cheese dip. The three cheeses are sheep and goat's milk feta, rich and salty Anthotyros cheese, and a Greek white cheese. And they added some roasted red pepper for flavor and texture. It's definitely more on the spread side than a thick dip consistency, but its good. Use it alongside a spread with grape leaves, marinated artichoke hearts, and flatbread crackers.
2. Stir-Fried Garlicky Cabbage: Inspired by the Thai dish, Galam Plee Pad Nam Pla—a simple stir-fry of cabbage, a whole lot of garlic, and fish sauce—TJ's version is deliciously similar, but instead of fish sauce, it uses a vegan stir-fry sauce made with yeast extract and kombu. I like it stir-fried with ham or pastrami, or topped with an over easy egg for breakfast or lunch. It's ready in under 10 minutes.
3. Truffly Soy Sauce: Combining the deeply savory flavor of soy sauce with the unmistakably umami-rich taste of white truffle, makes a great combo. It makes an excellent dipping sauce for dumplings of all kinds, adds flavorful flair when drizzled over a hot bowl of ramen, and turns an ordinary bowl of white rice into something tasty.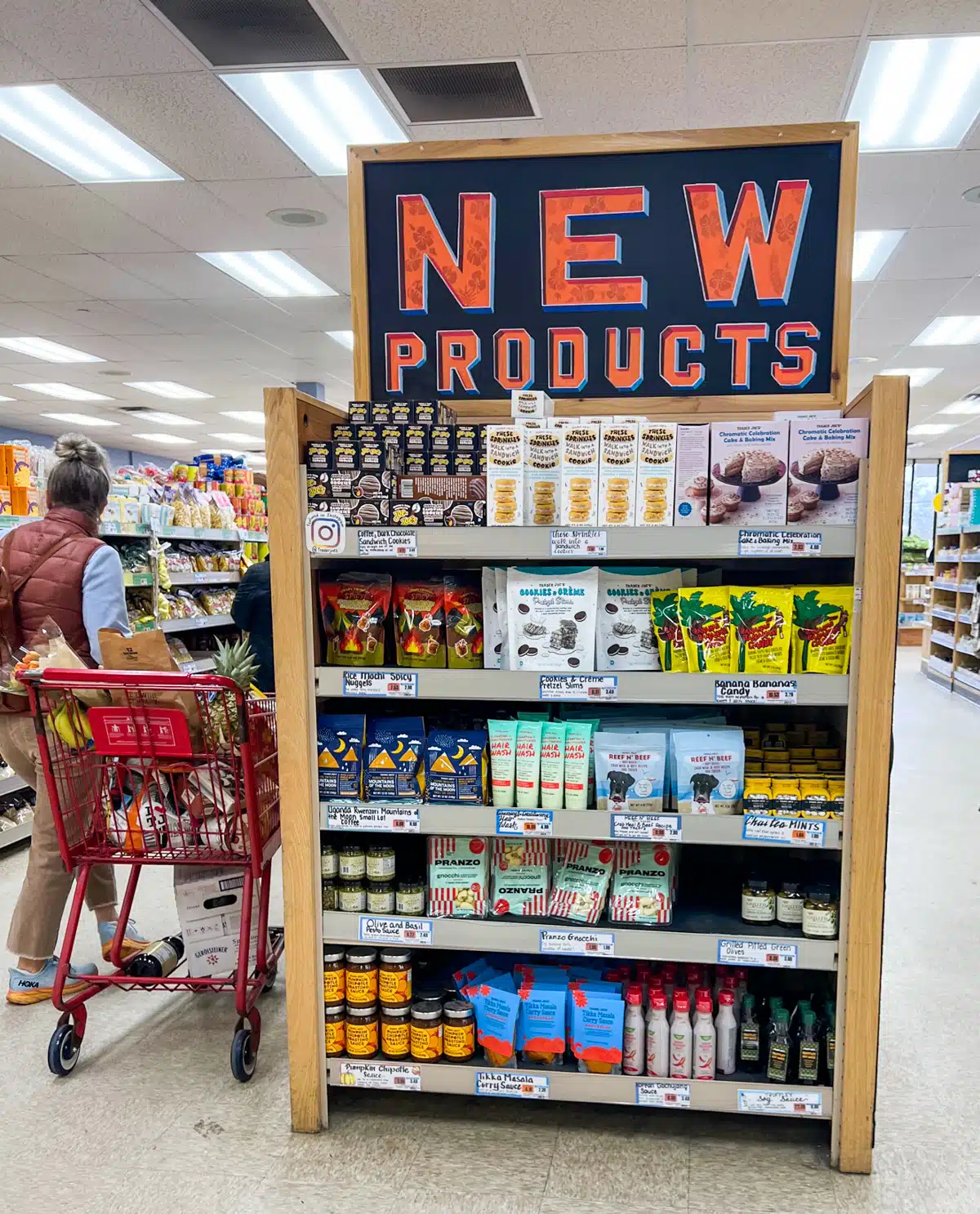 4. French Onion Macaroni and Cheese: Made with a saucy mix of Swiss and Cheddar cheeses, and roasted, caramelized onions, this French Onion Macaroni & Cheese represents is a medley of flavors, aromas, and textures. But I have to day, although it sounds promising, I was underwhelmed by it, as it didn't have much flavor.
5. Olive & Basil Pesto: For a spin on traditional pesto, TJ's latest variety fuses the elements of the beloved pesto pasta sauce with tapenade. I tried it with grilled chicken and it was great. Also, it would be delicious as a sandwich spread, or just tossed with pasta and some fresh cherry tomatoes. Big fan!
6. Chips in a Pickle: Trader Joe's Chips in a Pickle are tangy, russet potatoes from Canada, kettle cooked in small batches to achieve the ideal potato chip crunch. The dill pickle flavor is unmistakable, and a particularly pleasant partner to a chilled lager or pale ale. Try a dip with a Greek Yogurt base – the tanginess of the yogurt is a clever companion to that of the Chips.
7. Korean Gochujang Sauce: Complex, flavorful, and conveniently drizzle-able, TJ's Korean Gochujang Sauce is great as a topper. I've used it rice, noodles, steak and French fries. It's a keeper!
Recipes to try
Let's connect!
Be sure to FOLLOW US on FACEBOOK, INSTAGRAM and PINTEREST Many thanks!