Here are the 6 Trader Joe's products to buy for this summer's backyard barbecue and outdoor parties. From fresh fruit and a great dip to bbq sauce, burgers and dessert, TJ's never disappoints when it comes to great party food finds!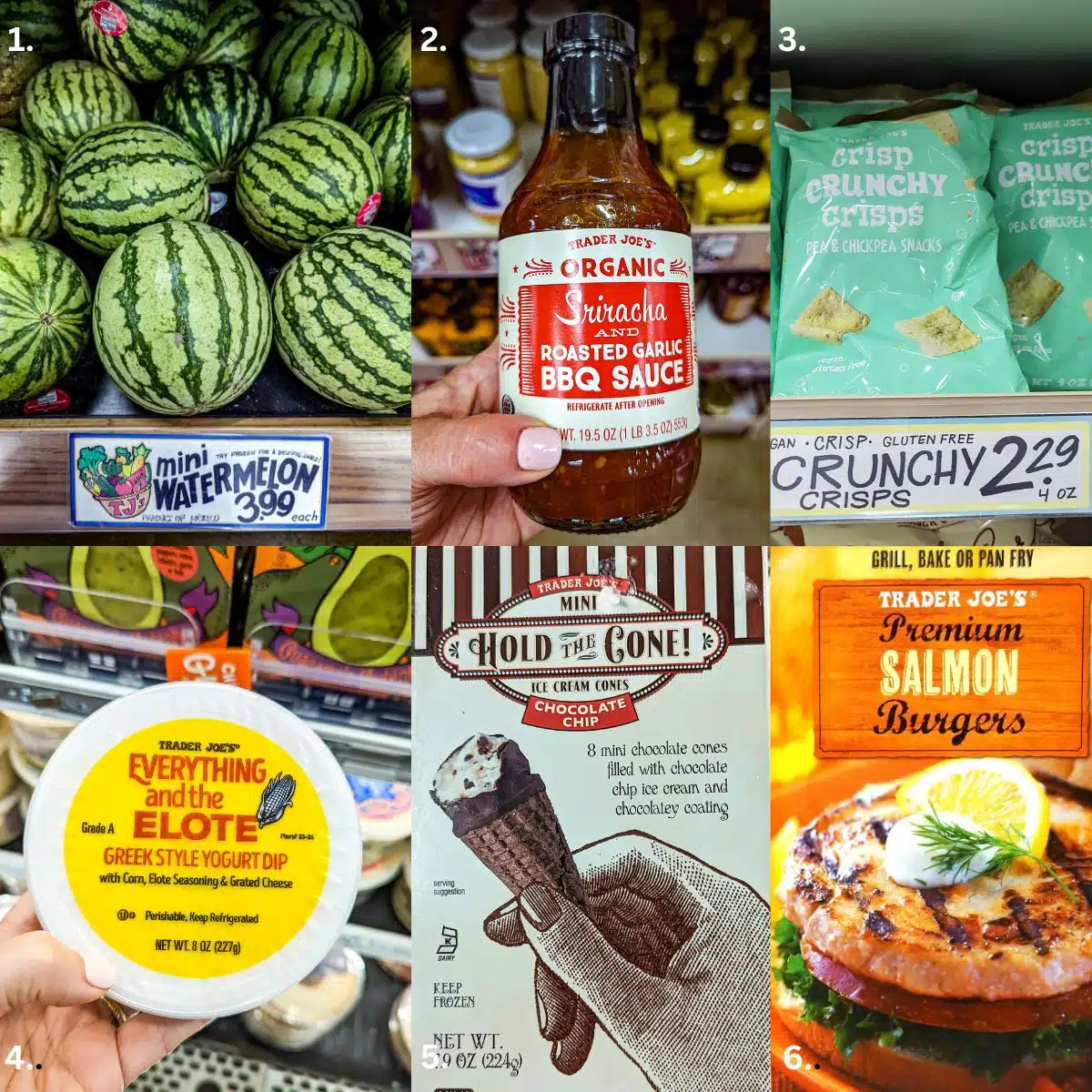 These are a few of the items I'll be stocking up on this summer, plus TJ's Ketchup with Black Summer Truffle and Fresh Squeezed Lemonade.
1 Organic Mini Watermelons
What's summer without fresh, juicy watermelon? TJs mini melons are the perfect snack for one or two, and they're super juicy and sweet. Plus, the small size makes them much easier to slice than your standard large watermelon.
2 Sriracha Barbecue Sauce
What's not to love about the combination of spicy Sriracha and tangy BBQ sauce? It's garlicky, sweet, and spicy—all at once, with a thick texture and reddish-brown color. It tastes great on burgers, meat kabobs, beef or pork ribs, even grilled seafood, but the innovation doesn't need to stop there. There are so many more ways you can enjoy the sauce. Plus, it's organic!
3 Pea and Chickpea Crisps
These snacks owe their crispy, crunchy texture to the main ingredients—pea and chickpea flours. A little sea salt complements the mild, "beany" flavor, making them an addictive snack, right out of the bag. But they're also great for dipping. Try them with salsa, hummus, even guacamole!
4 Everything and the Elote Greek-Style Yogurt
Boldly flavored with garlic, Parmesan, and chipotle pepper powder, and featuring toothsome kernels of sweet yellow corn, Trader Joe's Everything And The Elote Greek Style Yogurt Dip combines all the flavors of the classic, freshly grilled elote (just without the ears of corn) with in a tangy yogurt for a dip that's a great flavor and texture combo— and one that goes with just about any kind of dipper, including tortilla chips, baby carrot, or other fresh veggies.
5 Hold the Cone Chocolate Chip
The chocolate chip flavor is the newest Hold the Cone! Flavor. Rather than traditional sugar cones, these feature chocolate cones, and rather than a simple, smooth, ice cream filling, they are filled with ice cream studded with rich chocolate chips. The chocolate cones are lined with the same chocolatey coating that tops the ice cream – that creamy cone-lining not only tastes great, it also keeps the ice cream from leaking out as you enjoy your Mini Cone. A win-win!
6 Salmon Burgers
Made with wild pink salmon from the icy cold waters of Alaska, these burgers have a fresh mild salmon flavor and flaky texture, and you can grill them right from the freezer with excellent results. If you don't have a grill, or the weather's not cooperating, they're great pan-fried and baked, too. Serve them on buns like a burger with all the traditional burger toppings or crumbled over a tossed green salad.
More Shopping Articles
Let's connect!
Be sure to FOLLOW US on FACEBOOK, INSTAGRAM and TIKTOK Many thanks!